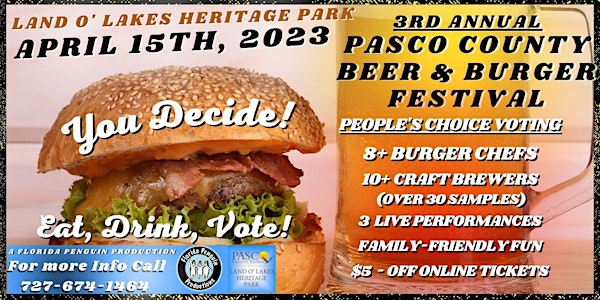 3rd Annual Pasco County Beer & Burger Festival
Pasco County's People's Choice Awards for Best Burger, Best Brew & Most Creative Craft plus 3 Live Performances on the Heritage Park Stage
When and where
Location
Land O' Lakes Heritage Park 5401 Land O' Lakes Boulevard Land O' Lakes, FL 34639
About this event
3rd Annual Pasco County Beer & Burger Festival
The BEST Beer & Burger Festival returns to our beautiful city of Land O' Lakes in Pasco County again and we could not be more excited for our 3rd year at Land O Lakes Heritage Park on Saturday, April 15th, 2023.
This family-friendly, live, in-person event includes at least8 Burger Artisans, 10+ Craft Brewers with in-person sampling of 20-40 different flavors of unique brews, and 3 live music performances on the beautiful Heritage Park stage, plus sponsored giveaways, shop local market, and fun activities between sets on stage.
Live Music Performances at the Heritage Park Concert Stage
12:30 PM - TBA
2:30 PM - TBA
4:30 PM - TBA
OVER 25 UNIQUE CRAFT BEER SAMPLES |12p to 3p* (while supplies last*)
Final Craft Brewer List - will be announced much closer to the show but you can expect all your favorites from last year, and even some new competition to be announced soon.
All adult guests over 21 years old with valid ID will have access to Craft Beer samples(while supplies last). Each guest will receive three tokens upon entry. Best Brew, Most Creative Craft, and Favorite Burger Chef. Craft Beer Sampling is only from 12p to 4p while supplies last so come early to enjoy samples from all the brewers and vote for your favorite. Winners from the craft beer sampling will be announced just before the Headliner hits the stage and dance the afternoon away. But don't stop there. We are bringing 8 of Tampa Bay's favorite Mobile Burger Chefs. Food Trucks, Trailers, and Tents are all welcome to register.
PEOPLE'S CHOICE BURGER COMPETITION – 12p to 6p
Tampa Bay is home to numerous food trucks & restaurants claiming to be the best and it's time to find out. Guests must pick which food truck is their favorite and order their meals directly, and if they deem the food worthy, they can cast a single vote per person for that food truck to win. The winning truck with the most votes will receive the coveted People's Choice favorite burger chef award.
Try one, or try them all. Your choices will be tough! Burger Competitors will be announced soon.
Judge's Choice Winners -
This year we are testing a new Judging method at our Sarasota location, where you the audience gets the option to purchase a boosted Burger Judging Experience. Each VIP Ticketholders gets a random free burger voucher with entry, and access to the VIP Judging Tent, with guaranteed seating to try your burger and grade it on a scale of 1-10.
After the judging ends, our staff will add up all the points, and you the people will decide yourselves, who is the Best Burger in Tampa Bay!?!
TICKET INFO
Online General Admission Pre-Order $10 plus taxes & fees
General Admission at the Gate on event day $15 (21+)
Kids under 18 can get in for free.
About The Promoter
Florida Penguin Productions is a local Tampa Bay event company with combined 20 years of experience in the Tampa Bay event industry. Our events bring economic growth to our Tampa Bay communities and offer a fun affordable experience for the whole family and jobs to thousands of employees, gig workers, and small businesses each year. We could not do it without our sponsors, vendors, patrons, volunteers, and charity partners. Thank you for supporting all of our fun community events throughout the years.
#followthepenguins
WHEN & WHERE
April 15th, 2022 | 12p – 6p
Land O' Lakes Heritage Park | 5401 Land O' Lakes Blvd | Land O' Lakes, FL 34639
Contact 727-674-1464 for questions about the event, tickets, procedures, or limitations.
Facebook @florida penguin productions
IG @flpenguinproductions
www.floridapenguinproductions.com
Email kevin@floridapenguinproductions.com for more info on this show and how to get involved for our return in 2023!