Location
The CambyHotel
2401 E Camelback Rd.
Phoenix, AZ 85016
Sales Have Ended
Ticket sales have ended
We are sorry that you missed our event ticketing cutoff date. Most online tickets will end 7 days prior to the event. If you still would like to attend, you will be able to purchase tickets at the event but will be subject to maximum occupancy restrictions. Contact any of our event organizers if you have any questions or concerns before and at the event.
Where you can mingle with celebrities, professional athletes, corporate executives, socialites and media to support local charities.
About this event
DUE TO (COVID-19) WE HAVE RESCHEDULED OUR EVENT TO JULY 25TH 2020. WE APOLOGIZE FOR ANY INCONVENIENCE THIS MIGHT HAVE CAUSED IN THESE UNCERTAIN TIMES. THE MILLION DOLLAR MINGLE COMMITS TO COMPLY WITH THE GUIDELINES OF THE CDC TO KEEP OUR COMMUNITY SAFE.
THROUGH OUR PARTNERSHIP WITH THE CAMBY HOTEL WE COMMITTED TO ASSURE THE SAFETY OF OUR GUEST BY OFFERING HAND SANITIZING STATIONS THROUGHOUT THE HOTEL AND WE WILL BE OFFERING OUR OFFICIAL MDM ANTI-MICROBIAL FASHIONABLE MASK TO WEAR AT OUR UPCOMING EVENT ON JULY 25TH 2020. PLEASE CHECK BACK ON DETAILS ON HOW TO PURCHASE YOUR OFFICIAL MDM MASK. WE TRULY THANK YOU FOR YOUR SUPPORT!
SINCERELY.
MMILLION DOLLAR MINGLE
Welcome to...
The Million Dollar Mingle Celebrity Fundraiser Party
Welcome to The Million Dollar Mingle Celebrity VIP Event. I am AC Caswell, former Oakland Raider, a serial Entrepreneur and Philanthropist. It is my honor and privilege to cordially invite you to team up with my celebrity friends and me in our efforts to raise proceeds for local charities through our "We Fight For Life Causes" campaign.
This will be an incredible luxurious evening filled with live entertainment on the rooftop, casino night, luxury cars, cigar lounge, celebrity chef's, wine and hors d'oeuvres, luxury VIP rooms and much much more...…
Come mingle and network with your favorite stars from professional athletes, TV and film stars, media, entertainers, corporate executives, and dignitaries!
Please accept my warmest heartfelt thanks in advance.
See you at the mingle!
Many Blessings,
A.C. Caswell - 480-343-5871
Founder/CEO
Million Dollar Mingle
Mission: The Million Dollar Mingle is a high profile luxury organization that raises money for non-profits for our "We Fight For Life Causes" campaign through networking and bringing together celebrities, professional athletes, TV and film stars,media, entertainers and corporate executives. Our goal is to raise funds and shine a light on local charities as we bring together affluent individuals to network and support the non-profit community.
Charitable Partners: Our philanthropic focus is on the 501(c)3 RISE and DREAM Foundation. Their purpose is to Make An Impact In The Lives Of Families Who Need It Most. RISE makes an impact by Restoring, Investing, Strengthening and Empowering children and families in the community.
They put on projects like Harvest for the Hungry, Fresh Start For Back To School, Weekend Feed The Kids Program, Adopt A Family For The Holidays and Athletics Scholarships.
EVENT LOCATION & DATE: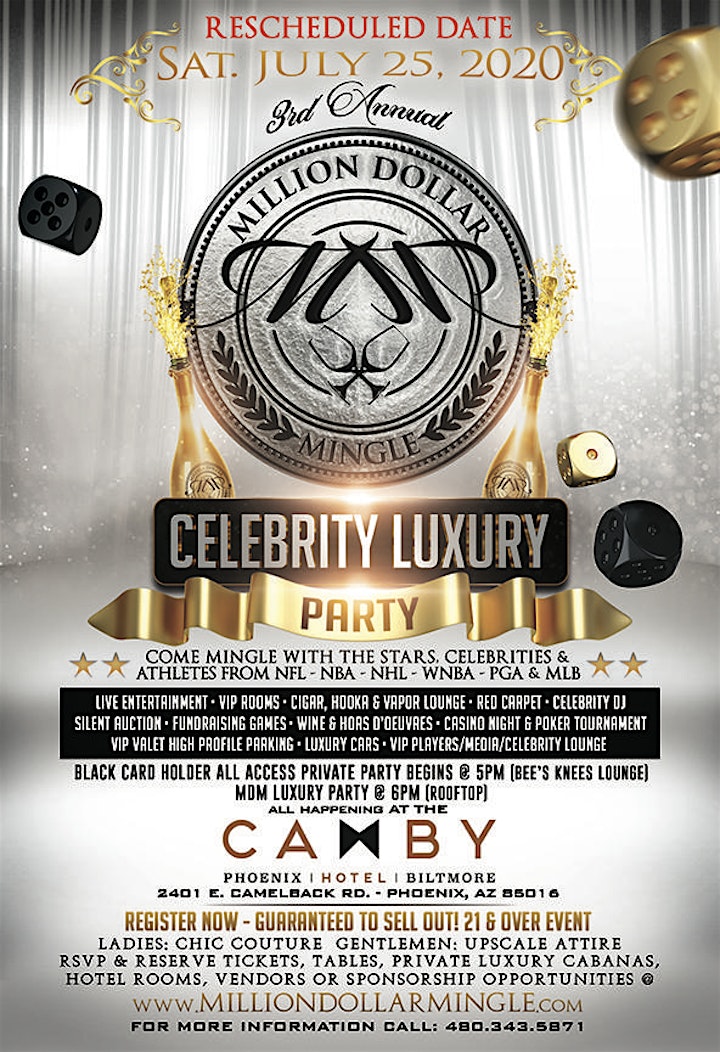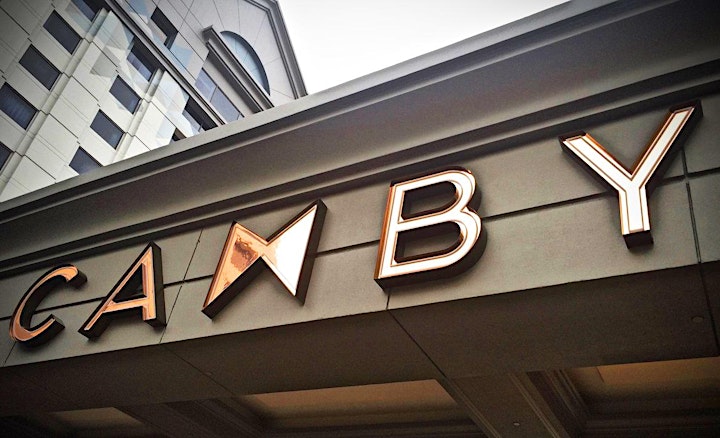 MILLION DOLLAR MINGLE CELEBRITY LUXURY PARTY | SATURDAY, JULY 25, 2020
TIME: 5:00 PM
LOCATION: THE CAMBY HOTEL - 2401 E. Camelback Rd, Phoenix, AZ 85016
RSVP and Register your room ASAP, expected to sellout!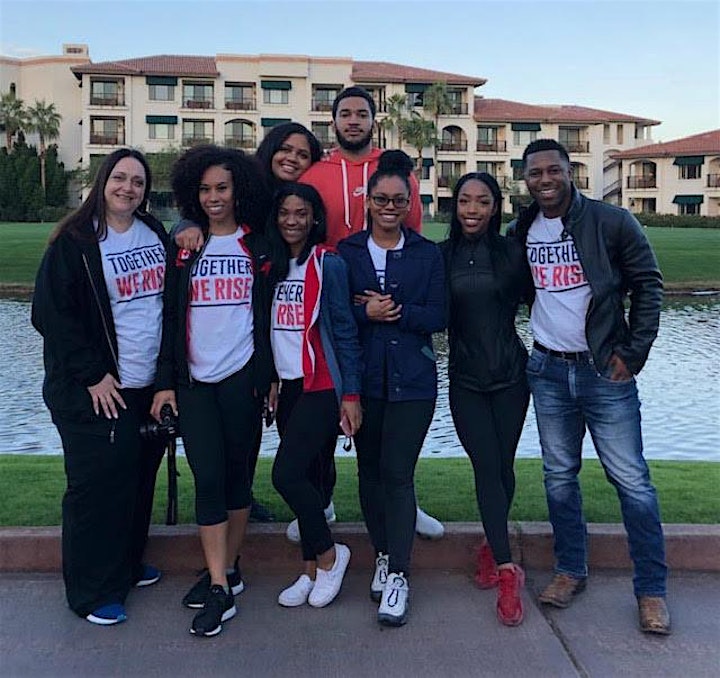 RISE & DREAM Foundation
RISE makes an impact by Investing, Strengthening and Restoring the children and families that need it most.
INVEST - We invest in the families essential needs right now. Without handling what the family needs today, we will not be successful teaching them how to sustain life tomorrow. When some is hungry, we fill their need, allow them to breathe and then we can begin the next step.
STRENGTHEN - Once we've supplied their essential needs, we seek to strengthen them internally through Sports & Fitness. RISE Athletics has youth and adult sports leagues, after school programs, camps, and training sessions designed to get the whole family in motion and keep them in motion. We are able to include every member of the family whether they play, coach, team parent, volunteer, etc. We encourage them to work as a family on something productive.
RESTORE - Once we've invested in their essential needs and we've help strengthen them, then we begin to restore them by teaching them. Giving them skills to advance them personally in the workplace, money management for their family, or tutoring/gifted lessons for the children is essential to getting the family to a place they can maintain themselves. Staying in the same place, with the same mind set will only prove to reap the same results. We seek families with a desire to change their lives and advance their current situation and to give their children a more solid foundation to step out into life on.
Kristin Hodge, Founder & CEO
Hello, My name is Robert Joe Niles Jones V (5th). I am 5 yrs old and I live in Sierra Vista Az with my mommy and daddy. I love Spiderman, Ben 10 and Black Panther! I was recently diagnosed with Melanoma Cancer in my left leg and lymph nodes, but I won't let that stop me! I love playing with my dog Angel everyday. I can't wait to start kindergarten this year! I also hope to one-day visit Disneyland and get on all the rides! I love to run and make people laugh! I have the best knock knock jokes!! My Grandma calls me Sunshine because she says I brighten everyone's day! When I grow up I want to be a game designer! I am a superhero and I'm gonna beat cancer!
You can help by Robert directly by donating to his fight cancer fund by clicking here.