Description
You're invited to the 3rd Annual "Matt Knight" Fishing Tournament to Benefit the American Cancer Society! Join us Saturday, April 29th from 11am-7pm as anglers compete along WaterWays Township's Bill Dance Signature Fishing Lagoon.
Tournament Fees are $45 for adults (ages 12+), and $30 for children (ages 8-11). Adult tournament participation includes a tournament t-shirt if registering before 4/14; please indicate shirt size during registration.
NO GAS POWERED ENGINES WILL BE PERMITTED ON THE PROPERTY. (This includes boats with installed gas engines that could be lifted out of the water.) ELECTRIC MOTORS ONLY.
Prizes to Include: 1st, 2nd, and 3rd place Adult Trophies, and 1st, 2nd, and 3rd place Children's Trophies.
In addition to our fishing tournament, we will have multiple retail and food vendors, inflatables, and activities to make this event a day of fun for the whole family! We will host a silent auction with proceeds benefitting the American Cancer Society. We will also hold a 50/50 raffle, with proceeds benefitting The Matt Knight Family. Please bring cash, checks, and/or card, as different vendors will accept different forms of payment. Silent Auction Bids will begin at 11am and will close at 6:30pm. Item Winners will be announced at 7pm.
For those participating in the tournament, please report to the fishing dock at the North End of Grand Lagoon for check-in by 11am. Boats may begin being loaded into water at 10am. Follow signs through the neighborhood. There will be a MANDATORY Captain's Meeting beginning promptly at 12pm to discuss safety, rules, and regulations with a Q&A afterwards. First cast will be at 1:30pm. EACH PARTICIPANT MUST HAVE THEIR OWN LIFE VEST BEFORE ENTERING A BOAT.
We encourage anglers to pre-register on TourneyX.com , as this is the online resource we will be using for anglers to upload photos of their fish and judge all fish captured. If you use TourneyX.com to upload your photos, you must check back into the registration tent by 6pm. If photos are taken with a digital camera, you must provide a card reader, and be in line for check-in by 5:30 to manually upload your photos into the tournament system. WINNERS WILL BE ANNOUNCED AT 7:00pm.
Sponsorship and Vendor Opportunities are available. Please see the following link:
https://www.eventbrite.com/e/3rd-annual-matt-knight-fishing-tournament-vendor-sponsorship-sales-tickets-32531851644
We look forward to seeing everyone, and together let's "Kick Cancer In the Bass!"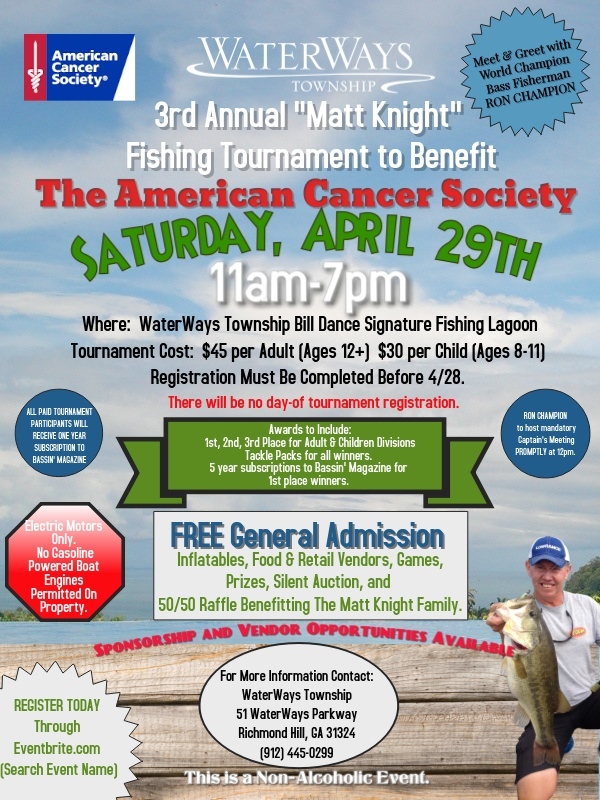 Matt Knight's Cancer Journey:
Matt Knight's fight with Colon Cancer began in February 2015. After an ambulance ride to the ER, many labs, tests, and scans, doctors shared with the Knight Family that Matt had cancer. After days in the hospital, it was determined that Matt had colon cancer that spread to his liver. Together with the doctors, they opted for a surgery that everyone thought would be a simple removal of the cancer in the colon. In the end, doctors found that the cancer had spread significantly more than originally thought. They decided not to proceed any further with the surgery​ and risk putting his body through any more trauma. For the first time, the Knight Family heard "There is nothing more we can do surgically. At best, he will have 1-2 years left with no chemo, and 3-5 years with chemo."
That wasn't good enough for Matt Knight and his warrior spirit, however. So he began planning; getting everything in place for the worst. But he wasn't ready to succumb to "There's nothing more we can do". After enduring 12 rounds of awful chemotherapy, new scans showed that the colon cancer was GONE! The battle wasn't over yet though. The cancer had spread into the peritoneum, so the family decided to seek treatment at Emory University Hospital. For the cancer in the liver, they would travel back and forth to Sloan Kettering Cancer Center in New York to see world renowned oncologist, Dr. Kemeny.
In January of 2016, Matt had a liver pump placed by Dr. Kemeny ​that would send chemo directly to the source of the cancer. He would undergo several "belly washes" of chemotherapy in attempts to target the cancer in the peritoneum. He had surgery to remove the dead cancer in the stomach lining, as​ the targeted chemo was successful! Simultaneously, Matt​ had his gallbladder and appendix removed because ​they were covered in cancer as well. Overall, everything was going perfectly as planned and there was hope that cancer would be totally eradicated in Matt's body.
That is, until Matt began experiencing severe back pain. As if cancer throughout the abdomen wasn't enough, it was determined in June of 2016 that Matt had several tumors that had grown along his spine, even fracturing vertebrae. Targeting a whole new set of issues, Matt began radiation for the various tumors. One by one, they began to respond to the radiation treatments. Matt still struggles with pain from the latest tumor that has emerged on his spine, and requires frequent trips to the hospital for various pain management techniques.
In December of 2016, Matt's family was almost forced to say goodbye to him, as he fought through terrible pain, bouts with C-Diff, Afib, low pulse, fatally low blood pressure, high blood sugar, and an obstruction in the colon and intestines. After a week in ICU and 3 weeks in the hospital, Matt defeated all odds, and was able to return home to his family on Christmas Day. He was a living, breathing Christmas Miracle.
Today, Matt is still fighting the good fight! He is still traveling back and forth to New York. He struggles with immense pain from the tumors on his spine, and every day he makes the conscious choice to wake up, thankful for another breath. Matt, Millie, and their family, are honored that WaterWays Township would host this event to benefit the American Cancer Society in Matt's name. Their faith in God, and perseverance through unimaginable pain and trials will forever be a testimony and reminder to fight, to never give up, and to give God the glory in the midst of it all.