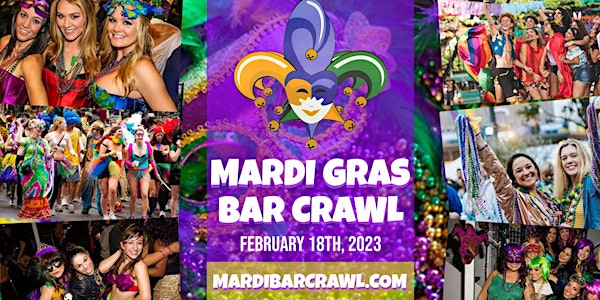 3rd Annual Mardi Gras Bar Crawl - Columbus
The Mardi Gras Bar Crawl is Saturday February 18th, 2023! We're turning Columbus into Bourbon Street for the biggest Mardi party!
When and where
Location
Park Street Cantina 491 Park Street Columbus, OH 43215
About this event
The Mardi Gras Bar Crawl is coming Saturday February 18th, 2023! We're turning Columbus into Bourbon Street for the biggest Mardi Gras celebration and party! It's an incredible day of green, purple, and gold New Orleans style fun!
🎂 BIRTHDAY TIX! Do you have a February birthday and want to celebrate with your friends? Send us a pic of your ID, the city you're interested in, and email and we'll send you a free ticket and discount code for 5 of your friends! Must be 21 years old at the time of the event!
🎉 What's included 🎉
📿 Beads, beads, and more beads! While supplies last!
🎭 Mardi Gras Masquerade mask! (1st 100 at registration)
🎉 16oz Mardi Gras color changing stadium cup for you drinks!
📿 No cover at participating bars with tickets!
🎉 Discounted food and drink specials at bars!
📿 Everyone dressed in outrageous Mardi Gras costumes!
🎉 Group discounts of up to 25% off General Admission!
🎉 EVERYTHING YOU NEED TO KNOW ABOUT THE CRAWL 🎉
REGISTRATION IS FROM 3PM-5PM AT:
PARK STREET CANTINA
491 PARK STREET
COLUMBUS, OH 43215
🎟️ REGISTRATION: You'll receive your beads, 16oz color changing Mardi Gras cup and wristband. If you can't make it by 5pm have a friend pick everything up for you and they will need to have your ticket.
🎟️ TICKETS: You MUST have either a printed copy of your ticket with you or on your phone. Screenshots will not work, it must be the actual ticket.
🚌 ROUTE: You're able to go to any of the participating bars at your leisure after you register!
🍺 DRINK SPECIALS: All specials are listed below or can be found on the Facebook event page at https://www.facebook.com/events/587871003057202
🌎 INTERACTIVE MAP: All the drink specials and bars on an interactive map are at www.mardibarcrawl.com/columbus
🙋 ID: DO NOT FORGET YOUR ID!! It will be checked at every participating bar that you choose to go to. All participants must be 21 years old or older.
☀️ WEATHER: Event goes on rain, snow or shine! Must be 21 to attend. All sales final, no refunds. Bar specials subject to change at bars discretion.
🎉 Participating bars 🎉
Park Street Cantina (Registration 3pm-5pm)
$5 Mikes Hard Seltzers / Corona premier 16oz cans
$6 margaritas
$10 2 shots of tequila
$20 buckeye of beer
Brother's Bar & Grill
$5 Abita purple haze drafts
$5 gummy bear shots
$7 double wells
Granero Lounge
$5 Mikes Hard Seltzers / Corona premier 16oz cans
$6 hurricane
$4 white gummy bears
$20 buckets of beer
Callahan's
$5 Mikes Hard Seltzers / Corona premier 16oz cans
$6 hurricane
$4 green tea
$20 buckets of beer/ seltzers
$3 Shiner Cheer beer
$3 12 Dogs Thirsty Dog
Gaswerks
$5 double whiskey coke
$4.50 Busch Light draft
$5 Jack Daniels
$6 High Noon
$1 mini cherry bomb/Jager bomb
$5 bud light tall boy
$4 Tito's
$6 Tito's doubles
$5 green tea / lemon drop shots
Howl at the Moon (open at 5pm)
$3 High Noon, Truly Hard Seltzer, Coors Light, Miller Lite
$4 32oz Buckeye Mini Buckets, Angry Orchard, Blue Moon, Corona, Corona Premier, Barefoot Wine
$4 New Amsterdam Vodka + Gin, Cruzan Rum, Jim Beam Bourbon, Jose Cuervo
$6 9oz Specialty Howl Cocktails: Sex on the Moon, Fruit Roll Up, Margarita, Cherry Limeade
Park Street Tavern
$3 PBR
$4 VooDooRanger Juicy IPA pint
$5 Hand Grenade Bombs
$6 Hurricane Drink
****DISCLAIMER**** Bar Crawl Events, LLC does not own, operate, staff, or manage the participating bars. We promote the event and list specials that we are given by the participating bars. Specials and participating bars subject to change without notice or knowledge to Bar Crawl Events, LLC or ticket holders. For additional questions or concerns regarding this, please contact the participating bars.
Be safe and have a great time! Please don't drink and drive. Call a cab, Lyft or Uber, or have someone who will be a designated driver. Must be 21 to participate. Event will go on rain, snow, or shine! Bars and bar specials are subject to change at the bar's discretion.
HAPPY CRAWLING!