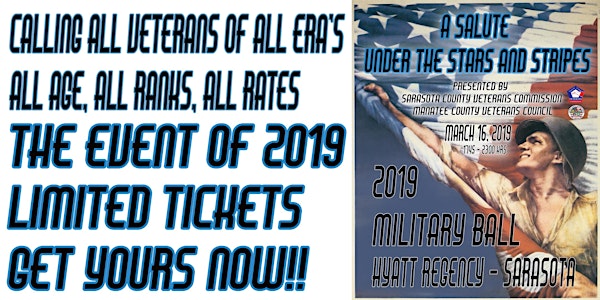 3rd Annual Manasota 2019 Military Ball
Location
Hyatt Regency Sarasota
1000 Boulevard of the Arts
Sarasota, FL 34236
Description
Our veteran community will hold their Annual Military Ball. This is a formal military ball, uniforms, black tie and gowns.
The 2019 Military Ball will be held on Saturday, March 16, 2019, at the Hyatt Regency Sarasota.
The event starts with our cocktail hour at 6 pm in the Boat House on the premises of the Hyatt Regency of Sarasota.
Dinner will start at 7:00 pm and will have International known Comedian Tim Wilkins, who has appeared on HBO, HSN, ESPN, Fox Sports, TLC, CW, WE Network, MOR in Tampa and worked the USO shows in the Middle East. The dinner will involve military tradition, laughter, camaraderie, and dancing.
This event is open to all veterans of all ages, eras, ranks, rates, families and community supporters. You don't want to miss the military event of 2019. We salute you all - under the Stars and Stripes, a night of fun and good times with those who served in our nation's military. Thank you for your service.