3rd Annual Just Say YES STEM FEST in celebration of GA STEM DAY
Sales Have Ended
Registrations are closed
Aww shucks! Looks like registration time for this event has ended. Be sure to follow us on social media @MetIncPowerCo for the latest updates for events, programs, and resources.
Sales Have Ended
Registrations are closed
Aww shucks! Looks like registration time for this event has ended. Be sure to follow us on social media @MetIncPowerCo for the latest updates for events, programs, and resources.
Description
Help MetIncPowerCo celebrate GA STEM DAY 2019 at our "3rd Annual Just Say YES! STEM FEST!" in partnership with Microsoft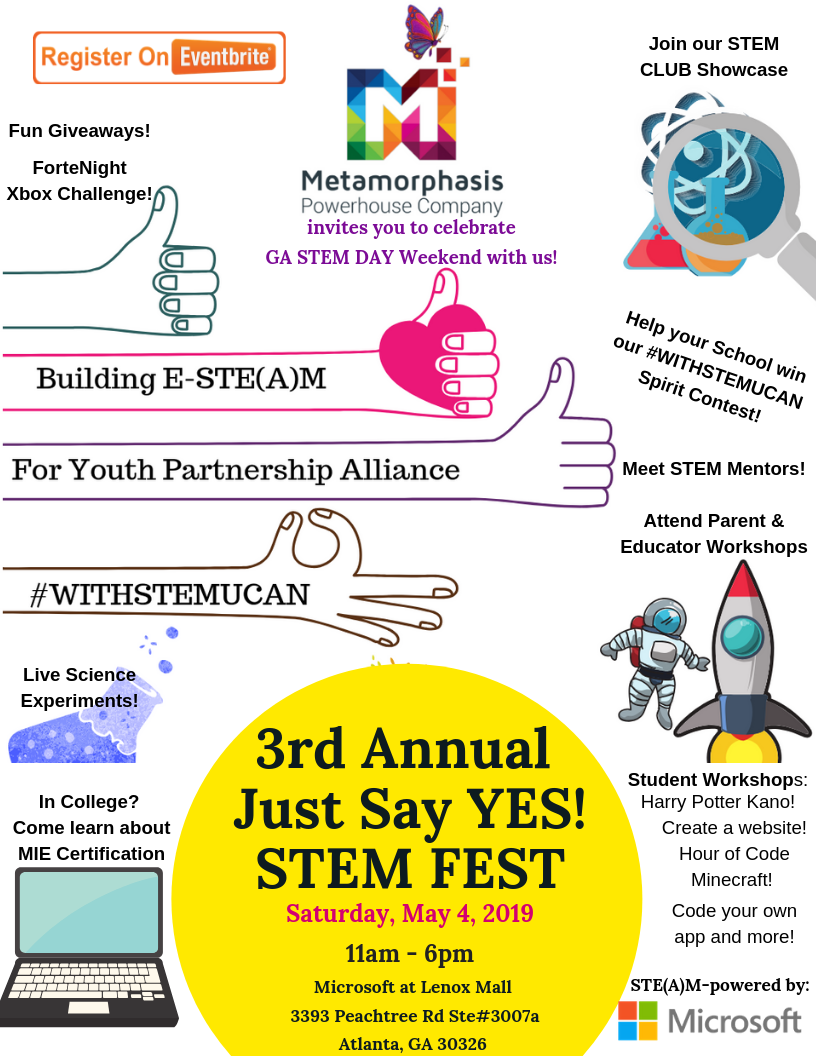 During this fun, educational, and STEM-packed day, Metamorphasis Powerhouse Company, in partnership with Microsoft inside Lenox Square Mall is turning everyday places into a Public Learning Classrooms to get students excited about the possibilities of STEM!
For our 3rd Annual Just Say YES STEM FEST, we're inviting the community to this on-site hands-on and virtual learning experience, to have hands-on access to coding, app and website development, gamification with the new Harry Potter Kano, learn about digital device resources, 3-D maker software, Fresh Paint program via Surface tablets and resources.
Fun for students of all skill levels! Most workshops during this year's event are perfect for students 3rd grade and up, and during this year's 6 POWERHOUR of instruction we have something for parents, K-12 educators, college students, and STEAM providers as well.
"Just Say YES! STEM FEST" is an annual event that launched on GA STEM DAY 2017 as part of Metamorphasis Powerhouse Company's Just Say YES! to Youth Initiative showcasing our Building E-STE(A)M For Youth Partnership Alliance to resource information
What is GA STEM Day?
TAG EDUCATION COLLABORATIVE PRESENTS Georgia STEM Day every year the first Friday of May.
Georgia STEM Day is a day for schools &companies to raise awareness and engage in activities involving science, technology,engineering and math! Last year's event attracted over 2,000,000 students from more than 92 different school districts in the state.
Metamorphasis Powerhouse Company is honored to celebrate such a special day over GA STEM DAY weekend by resourcing information in a fun family-filled day out in the community with amazing partner Microsoft.
Learn more about how you can get involved by visiting the Tag-Ed Collaborative website at:
https://www.tagedonline.org/wp-content/uploads/2018/07/stem-day-2019-flyer.pdf
Why Celebrate STEM?
STEM is Georgia's future!
Innovative and quality education in STEM is vital for providing professional opportunities forstudents as well as strengthening Georgia's futureworkforce and economy.

Inventive and engaging STEM learning starts with each teacher in each classroom across the state.
Why digital skills?
From basic digital literacy to advanced computer science, digital skills are often out of reach for the young people who need them most. In a world being transformed by technology, all youth should have the opportunity to develop the creativity, critical thinking, and problem-solving skills gained by learning computer science.
The focus of this event is to:
Reinforce growth mindset in young people and transition their thinking from "I CAN'T" into "I CAN" for STEM-related curriculum and careers

Help connect parents, educators and STEAM providers together to increase a capacity for a wider opportunity for partnership of resources and youth enrichment

Increase impact for the lives of children needing a deeper exploration of computer science, technology, engineering, the arts, mechanics, math, and medicine.

Serve the community in free open public spaces to increase the opportunities for fun learning environments for all people
The event is free and open to the general public, parents/guardians are strongly encouraged to pre-register for their child's attendance because workshops are first-come, first-served until capacity is filled.
Come Learn & Explore at our Parent University and Educator workshops!
Learn more about the impact of computer science education for students, see it in action, and get started with apps, as well as at-home or in-classroom resources at our Parent University and Educator stations!
Don't forget to register!
Workshop Pre-Registration:
Register for morning or afternoon Youth Workshops:
All youth workshops will be provided on a first come, first served basis and each student can participate in any workshop in 2 block options: Pre-registration is required for all workshops.
Students are strongly advised to arrive at 11am for event kick off if attending the morning sessions.
Morning 12pm-3pm and Afternoon 3pm-6pm
Here is just a sneak peek of some of the workshops students will participate in during their workshop segment: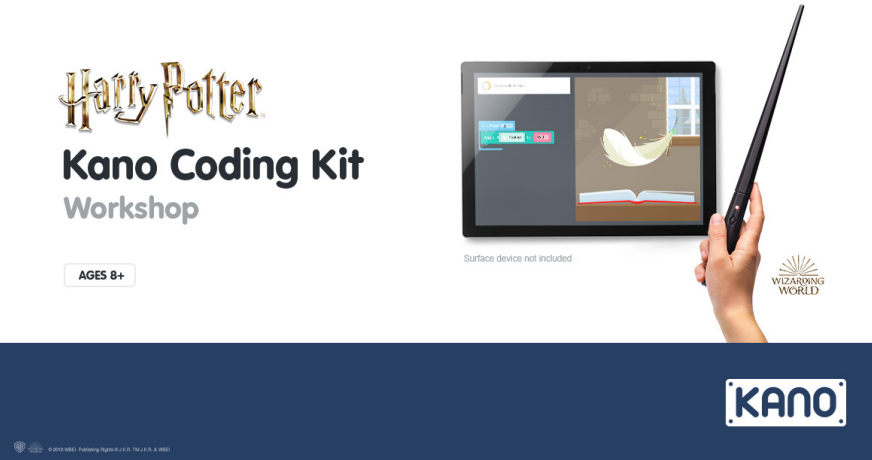 BRAND NEW Microsoft Workshop! Harry Potter Kano Coding:
This magical coding workshop introduces beginners aged 8 and above to the foundational concepts of coding. Students will make a wand and follow simple steps using drag-and-drop code blocks to create Harry Potter spell motions, and make feathers float, Bertie Bott's Every-Flavour Beans multiply, and so much more! All with the Coding Wand and a Surface device.
Hour of Code: Minecraft coding – learn computer science with your favorite game ages 8+
In this free camp series, students ages 8+ learn key fundamentals of computer programming with Minecraft, using the Microsoft's MakeCode platform.
Create original coding programs in their own Minecraft world

Learn new computer science concepts, such as events, coordinates, variables, and conditionals

Practice using computational, problem solving, and creative thinking skills
NEW to STEM FEST! Everybody Can Be a Superhero: Paint 3D
We're unleashing the super hero within all of our students as they design their own super hero costumes using Paint3D.
Create Digital Art With Fresh Paint
In this class we're getting STE(A)M powered by showcasing how art & tech work hand in hand. Students will learn to create and share their own digital art with the Fresh Paint app for Windows 10. They'll explore the basics of Fresh Paint, using lifelike oil and watercolors, pastels, and more to craft their own unique works of art using a surface tablet. Note: Designed for students 8-12; PK-3rd graders can participate with assistance from a parent/guardian.
Just for Girls- Intro to DigiGirlz Experience
This intro hands-on session is a fun way for girls in middle school and high school (ages 14–18) to understand why computer science is important, and how they can use computer science to do things they already love doing even better.
NEW to STEM FEST! Create a Vision Board with OneNote
...because having a plan, and living life on purpose through positive life choices is just one way we can ensure students understand #WITHSTEMUCAN do amazing things. During this workshop students will feel encouraged to spring into action and create a digital vision board for their interests while learning the basics of OneNote.
NEW to STEM FEST! [6:00pm only] Xbox One Xs Gamer Power Hour Experience
In this first come-first served experience students will learn inside tips and tricks on Xbox One XS on all the most current and popular games. At 6pm, to end STEM FEST in a fun way students are invited to take turns sharing their best practices playing ForteNite Challenge.
*********
Parent University Class: Huddle around our Parent Resource Table to learn how to empower your student through Growth Mindset, Apps & More in this partnership between the Microsoft Store and Metamorphasis Powerhouse Company!
Optional for purchase: #WITHSTEMUCAN T-shirt will be available for purchase at registration table for class at the cost of $18.
What is Building E-STE(A)M For Youth Partnership Alliance?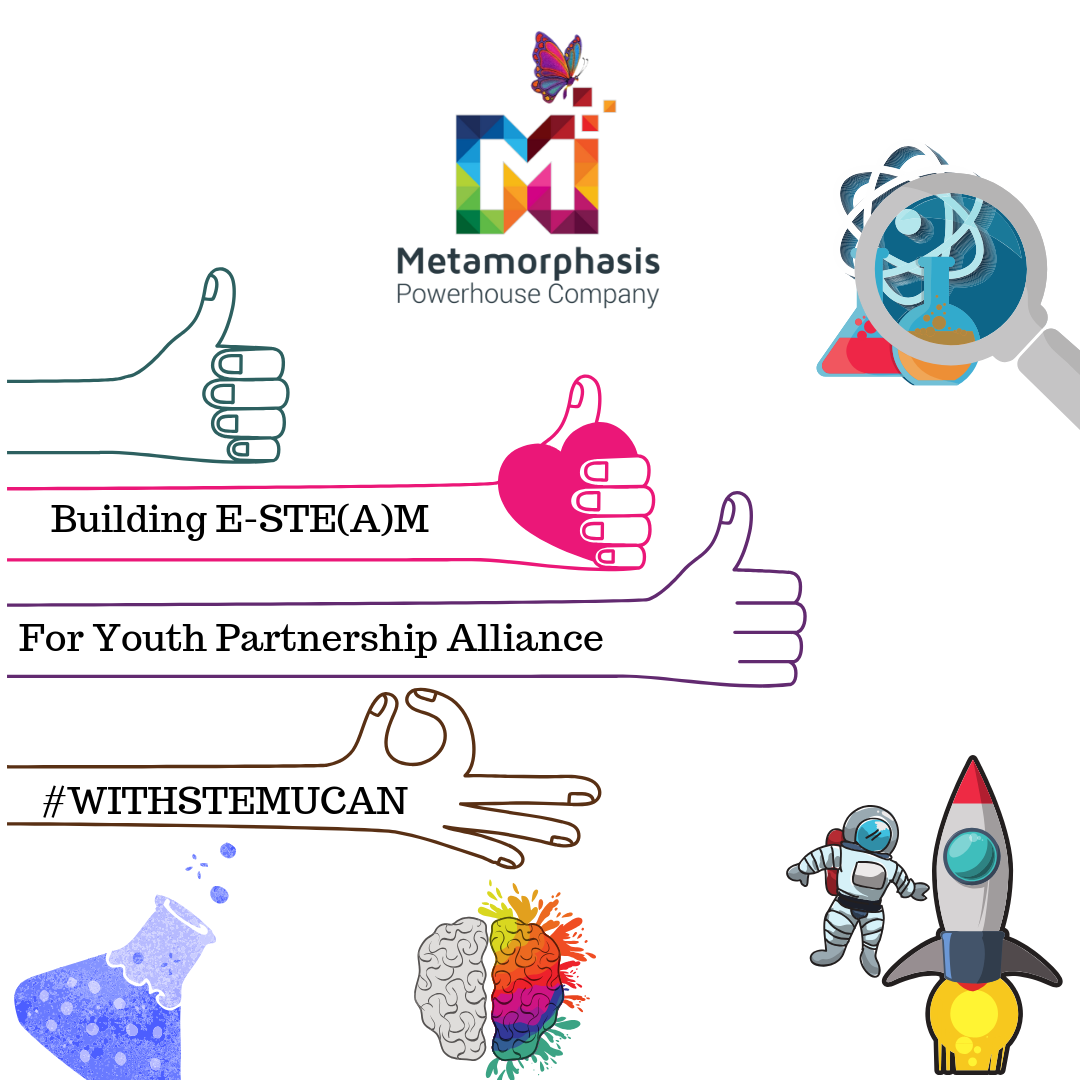 In our aim to empower kids and #JustSayYES to Youth in a world where they are often told what they aren't doing right, our programs aim to build self-esteem for all students, inspire them to learn skills that will emower their future, and specifically target areas where we can help close the gap for historically undersserved students.
Beginning in 2016, MetIncPowerCo began identifying STEM educators, STEM mentors, STEM advocates to create a loosely knit regional collaboration of key organizations and individuals from across Georgia focused on elevating STEM and STEAM by working together in an alliance to advance student and parent access to STEM workforce development, STEM academic resourcing and events.
Watch our "BOT" video on YouTube:
https://www.youtube.com/watch?v=-HDbJkuGu7Y
Volunteer with us for this event, or all year long:

See our current listings on Volunteer Match:
https://www.volunteermatch.org/search/org993923.jsp
Complete our volunteer intake form/ application:
https://forms.gle.rRNWWJQfDsJkddM9
Please note: all volunteers are required to complete a criminal background check and attend training prior to working with student participants.
Please email volunteer@metincpowerco.org with any questions or concerns related to volunteering.
#OurPartnersRock
MetIncPowerCo routinely partners with other nonprofits, government agencies, educators, and businesses to reach young people who are least likely to have access to supplemental curriculum inside and outside of the classroom.
Our ongoing partnership with Microsoft increases access to Computer Science education, while immersing historically underserved students with access to free public spaces to learn, explore and remain inspired.
Help us Transform "I CAN'T" into "I CAN":
Metamorphasis Powerhouse Company is a 501(c)3 nonprofit organization creating safe havens for children to learn and excel, while partnering with community stakeholders to increase the opportunity for healthy families and thriving communities.
Your donations and in-kind gifts are welcomed and tax-deductible.
For more information on ongoing resources for the community or ways to partner, connect with our online communities at:
Facebook.com/MetIncPowerCo and Facebook.com/WITHSTEMUCAN
or via email at partnerships@metincpowerco.org
Become a Sponsor! Choose Your Level and Register right here on Eventbrite! Deadline May 1, 2019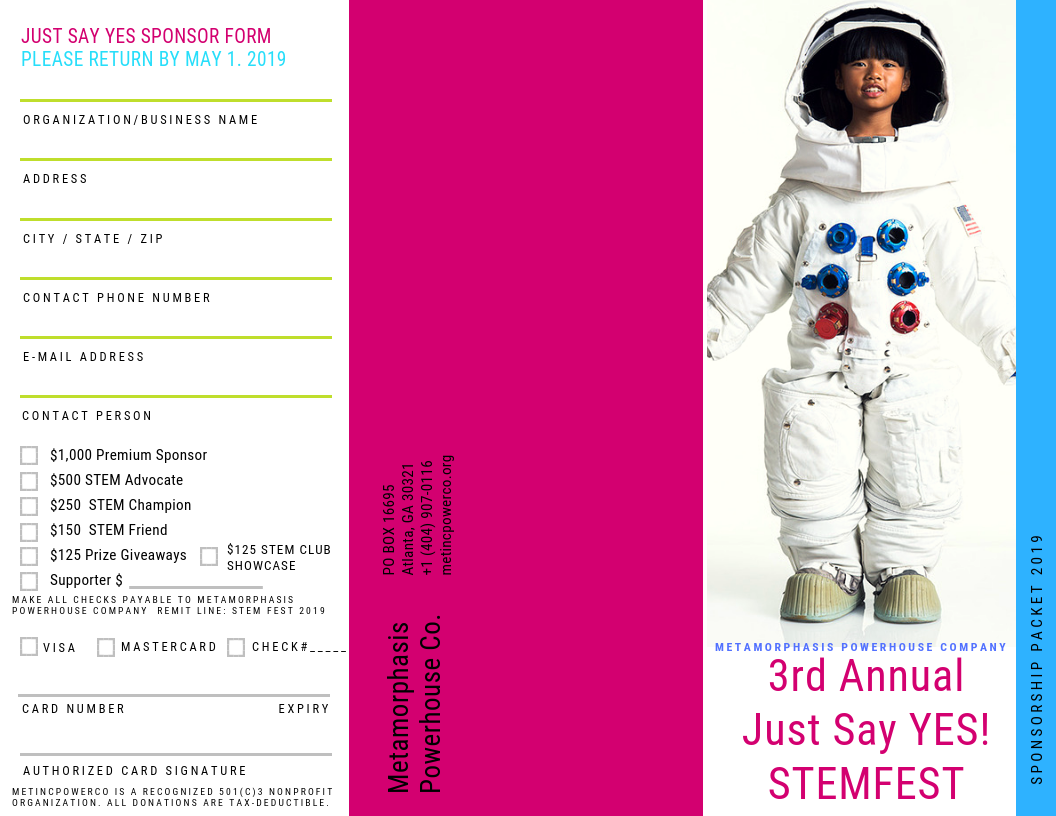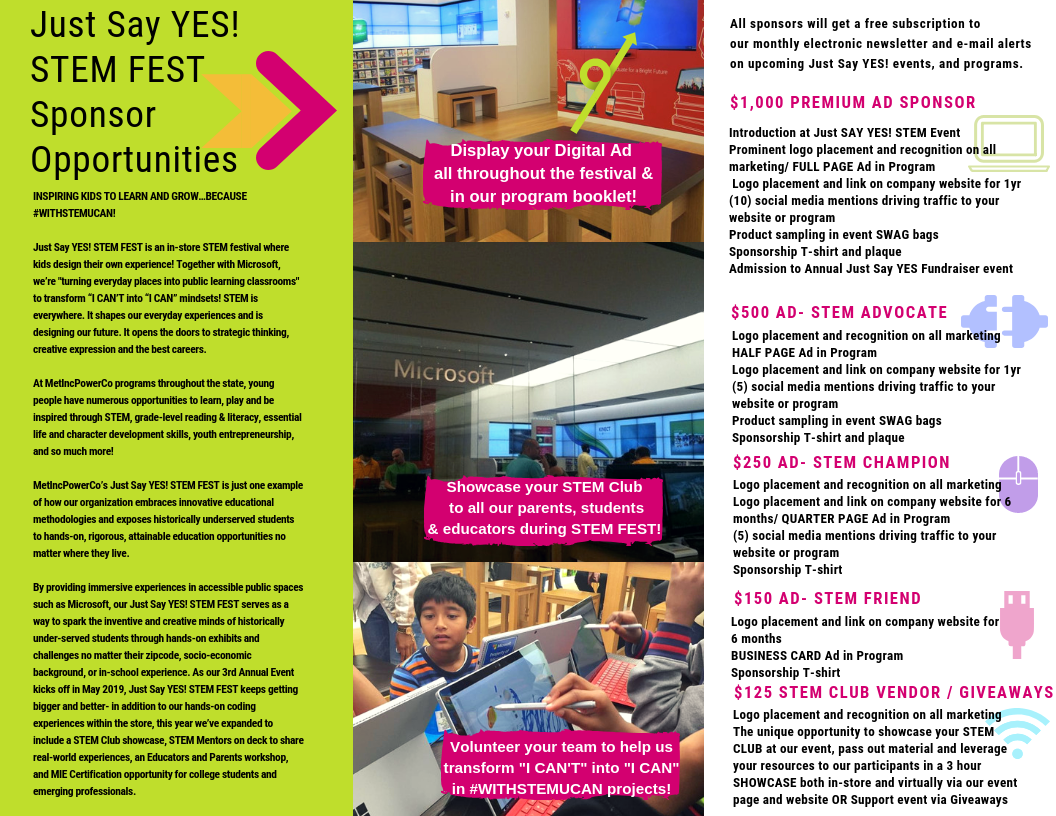 FAQs- 3rd Annual Just Say YES STEM FEST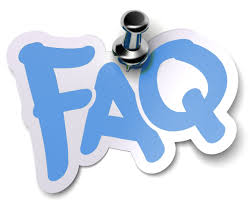 Registration/ Time & Attendance
Student Learning Labs for Just Say YES STEM FEST start promptly at 11:00am. Please have students arrive a little early to get signed in and properly equipped for their learning stations.
Parents are asked to be on time for pick up. There is no after-care provided for Learning Labs or on-site student care provided during STEM FEST.
As this is a rotation station event, please allow for flexibility as we safely transition from activity to activity.
Are there ID or minimum age requirements to enter the event?
The 3rd Annual Just Say YES STEM FEST is a learning lab commensing over the course of 6 hours intended for students ages 8 and up. Curriculum for this event is free, and youth workshops are intended for students 3rd grade through 9th grade, and meets the following subject requirements:
Parent University, and the College-level, Professional/MIE Educator Workshops are intended for adults 18+ interested in learning how to incorporate technology and free Microsoft resources at home, work, or for academic and professional development
What are my transportation/parking options for getting to and from the event?
The Microsoft store is located inside the Lenox Mall, Main level. Please park on the Bloomingdale Entrance and enter the mall.
Lenox Mall is accessible by public transportation including MARTA bus and train. See the MARTA schedules here:
MARTA Train Schedule: https://martaguide.com/train-schedules/
MARTA Bus Schedule: https://martaguide.com/marta-bus-schedules/
Driving? Use our Google Maps link here: https://goo.gl/maps/LMcWfDLaDVT2
Uber? www.uber.com
Lyft? www.Lyft.com
What can I bring into the event? Can other children attend?
Due to the limited space of the classroom stations inside the store, and for the protection of your private property, we ask that students not bring any items such as laptops, tablets, and gaming devices- all students registered for youth workshops for STEM FEST will be provided all necessary tools & equipment.
For the safety of participants and to provide an appropriate learning environment for our students, we ask that only registered students attend workshops.
As this event is designed for rotating stations, there will be multiple workshops happening simultaneously for both morning and afternoon sessions. Students under 9 are welcome to attend our #WITHSTEMUCAN Dance-off in the middle of Lenox Square Mall at the Microsoft Dance Station located directly across from the store.
By attending STEM FEST and participating in #WITHSTEMUCAN Dance-off, students will be photographed, videoed, and may be subsequently shared online on our Facebook page.
How can I contact the organizer with any questions?
We welcome your questions and feedback! Using Eventbrite, choose "contact organizer" link or email us directly at programs@metincpowerco.org with subject line "Q&A STEM FEST 2019" so we can answer you right away! You can also call us at 404-907-0116- please allow 24 hours for a call back. Our programs are run by volunteers.
What's the refund policy?
This event is free and open to the public. Giveaways are first come, first served until depleted.
For purchased merchandise such as T-shirts, in lieu of refunds, we are happy to issue you a transfer credit.
Fees related to out reduced-cost programs are a way for our organization to continue providing free events within the communities we serve, and 90% of all ticket sales are used for programming supplies and sponsorships for at-need students within the community to participate. We appreciate your understanding of our policy.
#OurSponsorsRock
Donations and/or Sponsorships made to our organization help fulfill our mission to turn everyday places into public learning classrooms. All donations are tax-deductible and non-refundable for this event.
For questions and/or concerns with your donation or sponsorship please contact us at partnerships@metincpowerco.org
Thank you to all of our event sponsors!