Event Information
Location
Dr. Von D. Mizell-Eula Johnson State Park
6503 North Ocean Drive
Dania Beach, FL 33004
Refund policy
Contact the organizer to request a refund.
Eventbrite's fee is nonrefundable.
Join us for this free festival of joy for the entire family!
About this event
Juneteenth for Joy is a celebration of Black liberation through the lens of joy!
Join us for a full immersion in delight and joy -- and experience the dream that your ancestors struggled for. Black Joy is an essential part of Black Freedom-- that's what the hustle and grind are supposed to bring you, right?
In our 3rd Annual Celebration, we are bringing you the joyful stories of eight historic Black communities in Broward County: Carver Ranches, Pompano Beach, Liberia, Lauderhill (Harlem-McBride), Sistrunk, Miramar, NW Hallandale and Deerfield Beach. Experience them with us at the "family picnic" atmosphere of Von D. Mizell / Eula Johnson State Park, which is the historic Black beach in Hollywood.
Park Admission is $6, and our event is free. RSVP to pay for park admission in advance (which is HIGHLY RECOMMENDED) to ease your way in to the festival.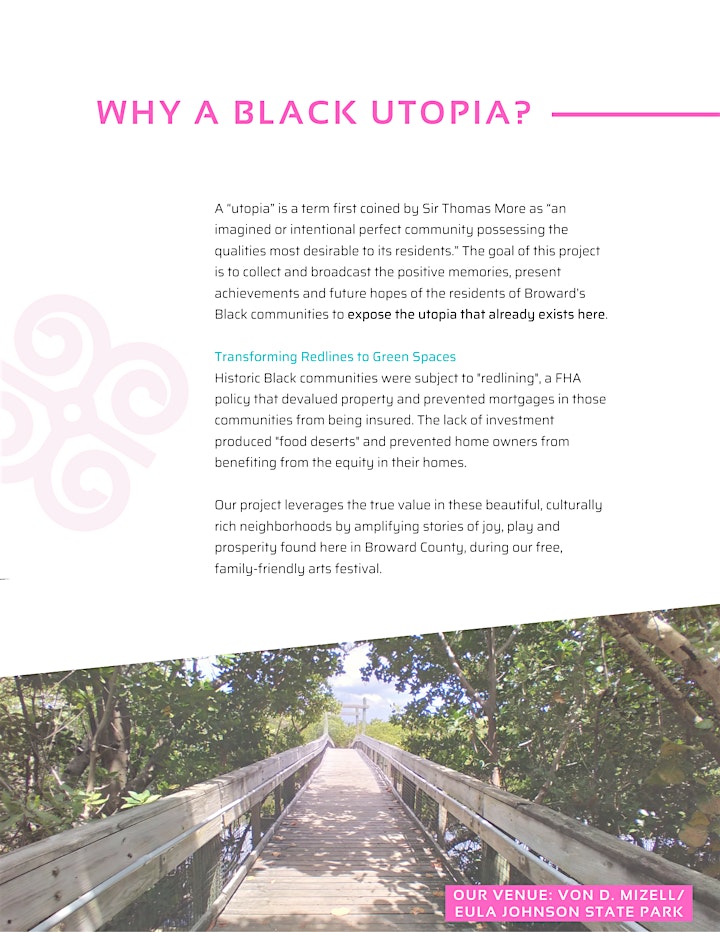 This project is possible with support from the Broward County Cultural Division, and these Community Foundation of Broward funds: the Helen and Frank Stoykov Charitable Endowment, Louis and Rudi Dill Charitable Fund, and the Mary and Alex Mackenzie Community Impact Fund.
Vendor tables are available and sponsorship packages are available as well. Please reach out to juneteenthforjoy@gmail.com or visit juneteenthforjoy.com
Event waiver and release:
Registering for and participating in any of the Juneteenth for Joy and Building Black Utopia events acknowledges the below:
I agree to be filmed, photographed and/or digitally recorded by the official photographer(s) and network(s) of Be Your Own Answer and Juneteenth for Joy and give the event organizers the right to use my name, picture, likeness, and biographical information before, during or after the period of my event participation. I understand that any event participation, especially near the water, may involve risks and dangers which include, without limitation, the potential for serious bodily injury, illness, permanent disability, paralysis and death. I understand that these risks may be caused in whole or in part by my own actions or inactions, the actions or inactions of others participating, or the acts, inaction or negligence of the released parties. I voluntarily and knowingly recognize, accept and assume these risks. I agree to be familiar with and abide by the signage and instructions on site. I also accept sole responsibility for my own conduct and actions while participating in the event.
If I bring a minor: as the undersigned, parent(s), natural guardian(s), or legal guardian(s) that minor child(ren) does hereby represent he/she (they) is (are), in fact, acting in such capacity and agrees to save and hold harmless and indemnify each and all of the parties herein referred to above, as releasees, from all liability, loss, cost, claim, or damage whatsoever may be imposed upon said releasees because of any defect in or lack of such capacity to so act and release said releasees behalf of both of the undersigned.
Date and time
Location
Dr. Von D. Mizell-Eula Johnson State Park
6503 North Ocean Drive
Dania Beach, FL 33004
Refund policy
Contact the organizer to request a refund.
Eventbrite's fee is nonrefundable.