Polyvagal in Education: Establishing Felt Safety for the Return to In-Person Learning in Schools.
About this Event
Early Bird Full Conference , June 1-4 ($259 / $299 regular price)
Early Bird Full Conference, June 1-4 ($999 for 5 team members)
Early Bird General Conference, June 2-4 ($159/$199 regular price)
Pre-Conference Day for School Leaders ONLY, June 1 ($99)
Education in 2020 and 2021 has proven significantly challenging for students and educators in the US and the world. Teacher burnout and student social and mental health challenges are at record high levels.
What this conference will deliver:
Understanding the Polyvagal Theory and how it applies in schools
Practical tools and strategies for building relationships and regulating physiological state in staff and students
An examination of the intersection of trauma-informed anti-racism and equity work in schools
Instruction from educators, practitioners, and leaders experienced in applying these principles in school environments
Opportunities to participate in conversations with presenters and other attendees.
What you will gain from attending:
An understanding of the language related to this new paradigm in trauma-informed education, bringing needed clarity and intention to change efforts in your school community
Resources to readily apply what you've learned
An ability to recognize and challenge the reiteration of white-supremacy culture deeply embedded in ways educators have been taught to address behavior challenges in the classroom
Learning from the experience and insights of peers in education who have been on this journey
The opportunity to build connections and a supportive community with like-minded professionals in education
Our goal-- to leave you supported, inspired, and better prepared to take on the challenges of the 2021-2022 school year!
Felt safety has been severely disrupted. Felt safety is another way of describing a regulated physiological state in the body. When we experience felt safety, we can attune to others, engage in appropriate social behaviors, and be available for learning.
A prolonged dysregulated physiological state can result in mental illness, disease or illness, inappropriate or maladaptive survival behavior, substance misuse, suicidality, etc. When we feel threatened - we defense mobilize - which makes it nearly impossible for us to "think straight" and learn. Many children, teens, and educators have experienced prolonged distress as a result of the last year.
Our single greatest priority right now is to establish felt safety as we return to in-person learning. Experiencing more felt safety will aid the healing of our students and our staff.
In this conference experience, HERE this NOW will teach educators how to cultivate conditions for felt safety through the application of the Polyvagal Theory.
This thoughtfully designed conference experience will help educators apply the Polyvagal Theory to education.
We are bringing together passionate educators, community change makers, and scientific experts to help us determine how to heal the collective trauma we've endured and to make the most of this unprecedented time in our schools.
RECORDINGS OF ALL SESSIONS WILL BE AVAILABLE FOR REGISTERED PARTICIPANTS.
Full conference details can be found here: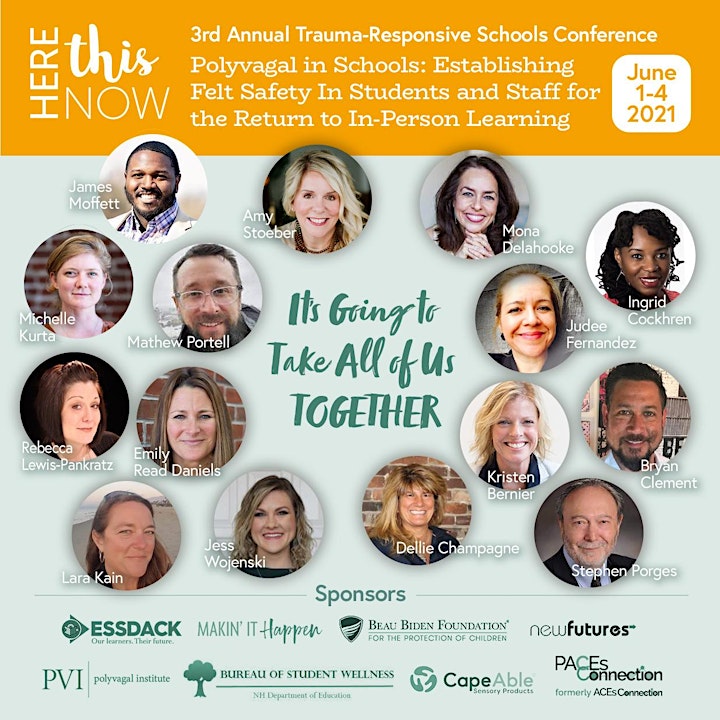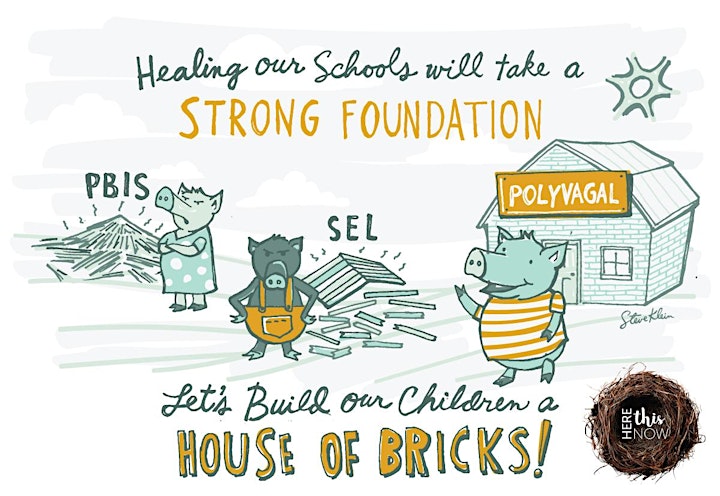 91% of 2020 Conference Attendees Rated the Conference as "Very Good" or "Excellent"
Testimonials from last year in response to the question, "what did you like about the conference?"
"The virtual format. Without this platform, I would not have been able to attend. Secondly, the structure and flow of the presentation and the presenters. I appreciated the modeling of "taking the temperature of the room" with the opening feelings poll. The breakout session were awesome! Being able to discuss topics with attendees from across the country allowed each of us to gather ideas from a range of options - similar districts in other states to vastly different settings. I am thankful for the wide variety of resources that were shared and look forward to the resource guide that will follow. Being able to access the recording will also be beneficial to relight the spark or to refresh my memory."
"Really relevant but also covered the gamut"
"Really appreciate how tuned to the current day this conversation was. Really super relevant. "You are not doing Trauma work if you are not doing anti racist work!!!" You guys are great. The resources are amazing. And I really loved it when James Jr called it for what it was "BULLSHIT" lets keep in touch, you guys. - Vermont David"
"Break out rooms worked well, though I wish we could have stayed with the same people on each day and met more times with them. All of the varied perspectives. Some conferences I attend have tunnel vision about one theory or practice, but you all made sure to bring in research and guest from so many different areas of education. The ability to share resources with one another in the chat was great too. I wish we had this kind of capability at all conferences! Nothing like a good crowd source!"
"It was packed with information."
"Amount of resources shared, knowledge of facilitators, humor and engagement of the conference."
"Validation and camaraderie with folks doing this work, practical strategies/examples."
"Providing both theory and practice for participants made it clear to me the WHY behind doing this work but also the HOW."
"Break out sessions; all the information that was provided and the excitement each of you brought to each day"
"Loved how engaging and relevant it all was. Resources are absolutely fantastic. You all did an amazing job!"
Planning this conference has taken several months and we would not be able to pull it together without the help, support, and effort of our conference sponsors and partners. We thank them greatly!
Scholarships are available. Please inquire at emily@herethisnow.org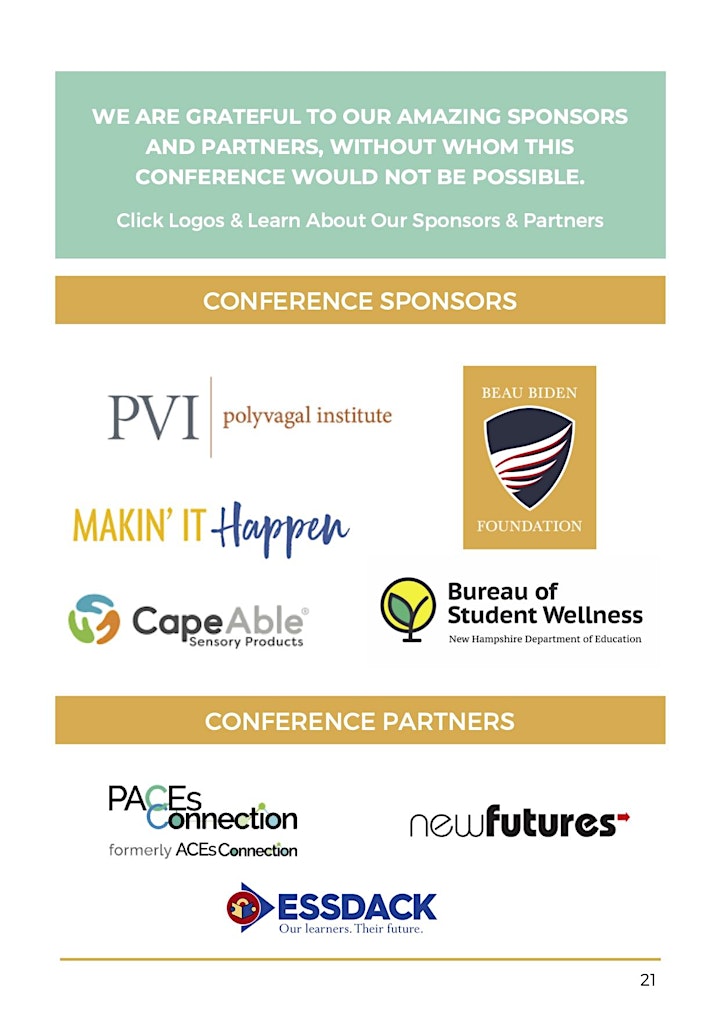 Date and Time
Location
Refund Policy