Description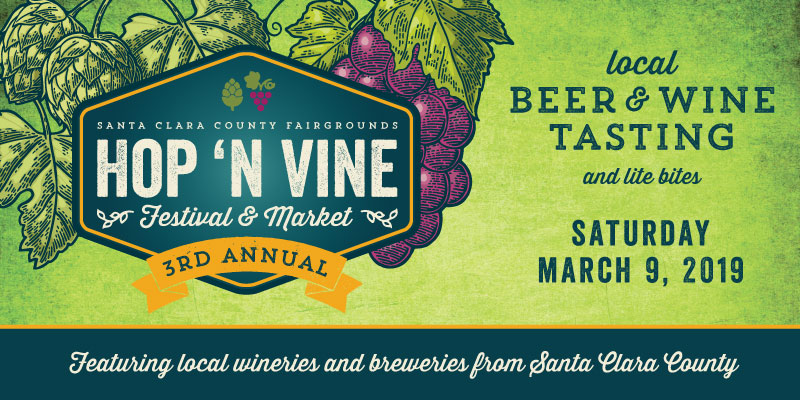 Join us for the 3rd annual Hop 'N Vine Festival & Market at the Santa Clara County Fairgrounds on Saturday, March 9, 2019 from 2 - 7 pm. Hop 'N Vine is held rain or shine since it is entirely indoors in our classic mid-century modern Pavilion Hall.
This fun event features tastings from wineries and craft breweries located right here in Santa Clara County, as well as lite bites, a history exhibit, great lectures in the "Hop 'N Vine University," entertainment, and fun and games on Pavilion Hall patio.
Location
INDOORS in Pavillion Hall
Santa Clara County Fairgrounds,
344 Tully Road. San Jose, CA 95111
Parking
Parking will be available for $10 (cash or credit card at parking lot entrance) You can enter through Gate B or Gate D. Please enjoy the Hop 'N Vine Festival & Market responsibly and consider taking Uber or Lyft to and from the event!
NEW! VIP Pass
New this year we are offering a VIP pass that includes early admission at 1:00 pm, access to a VIP Lounge with pasta bar, and complimentary parking within the Fairgrounds closer to the building. VIP passes are $125 each.
Featured Wineries and Breweries
All participating wineries and breweries are producing their wine and craft beer right here in Santa Clara County! Please check back for confirmed list of wineries and breweries.
Have more questions?
Website: hopnvinesj.com
Email: atercero@thefair.org
Phone: 408-494-3103