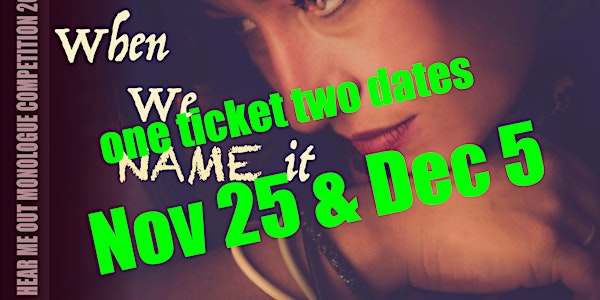 3rd Annual Hear Me Out Monologue Fest: WHEN WE NAME IT
Hundreds of script writers from around the world compete in the 2022 Hear Me Out Monologue Competition. Live Perfs by Finalist Winners.
About this event

Attend January 2nd Awards Ceremony for Free
2022 Hear Me Out Festival - Revised Schedule
Your ONE ticket provides entry to TWO nights of monologues:
Friday November 25, 2022
6:30PM, EST/3:30PM, PCT
+
Monday December 5, 2022
6:30PM, EST/3:30PM, PCT
2022 FESTIVAL THEME: WHEN WE NAME IT
In a world in which social norms, political systems, economic laws and the natural environment are all facing existential challenges, the language we use to describe the world around us takes on new urgency. In order to change a thing, we first need to name it. In order to care for something or someone it matters that we name it. If we want to understand something that confuses or frightens us, first we must name it.
Since human beings created language, the labels we assign to things, people, places, activities, relationships, complex issues, etc. etc. have influenced our view of them. There are things we carry with us throughout life that feel so important, so powerful, that sometimes we dare not name them for fear that naming them might invite them to consume us. And yet, oftentimes the act of finally naming something we've been living with results in a newfound freedom. And, yes, we also name people, pets, places, projects and creations.
And sadly, these days, our choices regarding how we identify certain things can even threaten to tear apart our most treasured relationships.

Hear Me Out Monologue Competition began in the summer of 2020 as the world was coming to terms with a global pandemic and subsequent shutdown. Theatre as we knew it was either on hiatus or had moved online. Determined to encourage the lifeblood of theatre (its writers) to explore, stretch, refine and celebrate monologue as a form of theatre that doesn't die in the confines of the Zoom box, Hear Me Out began with a call to writers to submit a monologue on the theme 'Me & My Masks' to compete for thousands in cash prizes.
Then in 2021, the competition continued with the. festival theme: Borders.
The third annual Hear Me Out Monologue Competition & Labor Day Fest welcomes writers from all over the world to write a monologue inspired by this year's festival theme: WHEN WE NAME IT.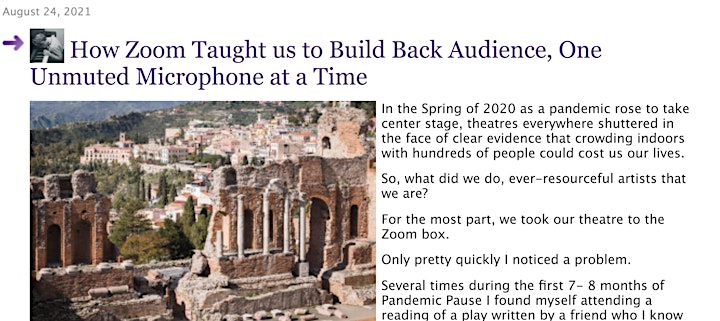 Watch footage from the 2020 Competition & Labor Day Fest including all 4 top prize-winning entries in their entirety.
"A Good Turn" written by Patrick Mulcahey, performed by Eric Michael Gillett (winner of the 2020 Golden Ear)
"You Labor" written & performed by Michael Wells-Oakes (winner of the 2020 Silver Ear)
"Film Studies 101" written & performed by Lizzie D. Combs (winner of the 2020 Bronze Ear)
"The Sticking Point" written by Fran Handman, performed by Carla Brandberg (winner of the 2020 August van der Becq Special Prize for Daring)
for more 2020 'Me & My Masks' monologue entries, visit the 'Me & My Masks' YouTube Channel. And please remember to LIKE and SUBSCRIBE.