3rd Annual Haunted Corn Maze
About this Event
We are thrilled to once again partner with the local youth theater group, The Coastal Repertory Representatives, to host the Haunted Corn Maze. Due to popular demand, we have added a third night this year!!
Reservations are Non-Refundable
*This is the first year we will use online reservations.
PLEASE BE RESPECTFUL AND PATIENT WITH US!*
About:
The maze covers seven acres and is filled with both live actors and animatronics. The first hour (6pm-6:45pm) of the maze is more family friendly Wizard of Oz Theme, and appropriate for families with small children who enjoy a lightly spooky activity. The last two hours are for those looking for a frightful thrill and wanting to fill the air with screams. Please come in costume if you are so inclined! Please NO DOGS during this event.
Details:
We encourage you to wear your costumes!
Reminders:
Please remember all actors are children. You may not touch, scare, or otherwise frighten the actors in the maze. No touching of any of our props or characters. You MUST keep 15 ft. of space between yourself and any actor or guest in the maze. YOU MUST WEAR A MASK AT ALL TIMES**
You are welcome to move around the farm in groups of six or less. Each person 3 years and older needs a paid ticket.
NOTE: Covid Restrictions Must Be Followed At All Times On The Farm
If You Are Sick PLEASE STAY HOME!
You Must Wear A Mask At All Times On The Farm.
You Must Maintain a Distance of 6 feet between yourself and others at all times.
No Food Or Drink.
No Public Restrooms Available This Year
We Encourage You To Bring & Wear Gloves For Pumpkin Shopping
Disclaimer: We are doing what is in our power to make our venue safe for everyone, however, if you are immune compromised or otherwise vulnerable, staying at home is the safest thing you can do.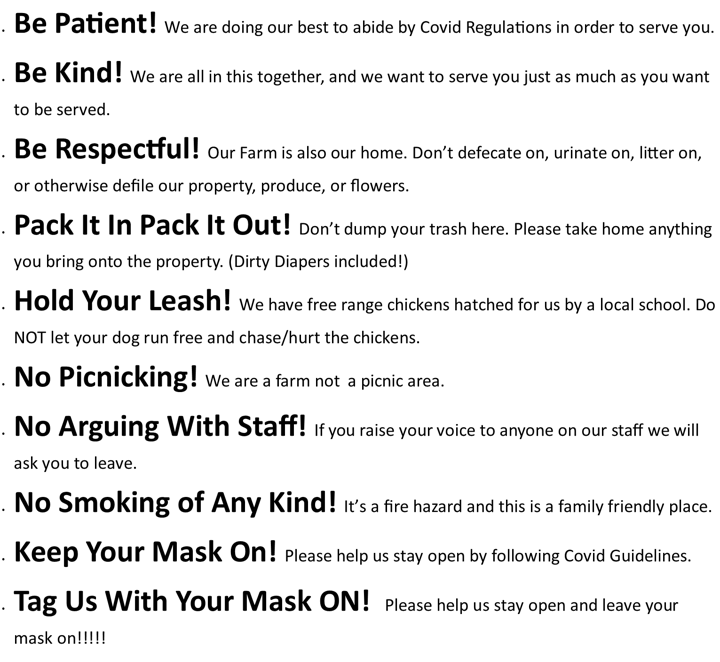 By purchasing this ticket I agree that I understand and agree to the terms of the below release of liability.
Andreotti Family Farms is a working farm. In connection with our Fall Season on the coastside, Andreotti Family Farms is specially opened for sales and to give visitors, especially children, an opportunity to see and make a positive relationship with our farming heritage.
Like other farms, Andreotti Family Farms has farming equipment, antique tractors and trucks, hand tools, power tools, lumber and metal objects, irrigation equipment, animals, and other farm related items. The roads are dirt and gravel. The farm has taken normal precautions to remove dangerous objects from visitors' path of travel but cannot absolutely guarantee the safety of visitors who are not ordinarily careful, nor the safety of unattended children, immune compromised, and the elderly.
By purchasing this ticket, I agree that I understand the terms of the Release and I agree as a condition of entry and use of the premises to release Andreotti Family Farms, Dino, Terry, and Frank Andreotti, as well as their families, affiliates, employees and representatives ("the Releasees:), from any claim or liability arising from or related to my entry upon the premises of Andreotti Family Farms. If any family member or other adult traveling with me has failed to sign this release, I agree to indemnify and defend the Releasees from claims or liabilities related to them.