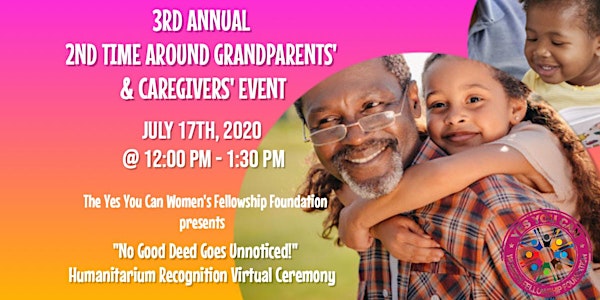 3rd Annual Grandparent's and Caregivers Appreciation Day
Yes You Can Women's Fellowship Foundation is proud to host our first virtual event recognizing Grandparent's and Caregivers of the community
About this event
Yes You Can Women's Fellowship Foundation will host our 1st Virtual event on July 17, 2020, at 12:00 PM EST for our Annual 2nd Time Around Grandparents and Caregivers Appreciation!
For over eight years, Gloria Brooks, founder of the Yes You Can Women's Fellowship Foundation, along with its members, has aided in the needs of the grandparents and caregivers. Often, these grandparents and caregivers are overwhelmed with the need for extra food, clothing, school supplies, medical care, and so much more, and that's when we step in to be that beacon of hope!
This year's event will honor 25 or more grandparents and caregivers with a monetary donation and certificate of appreciation. Our goal is to provide a monetary donation of $100 or more to each recipient. Your sponsorship or generous donation will aid in this support.
We hope that we can count on your help again to make this year's event successful!
Should you need additional information, please contact me at Latonya Riley 813-451-2082 or Margo Roberts at 678-536-7151 and via email at info@yycwf.org.
Thank you in advance for your sponsorship and consideration.