Actions and Detail Panel
3rd Annual Grand Sabbat
Fri, Jul 15, 2016, 12:00 PM – Mon, Apr 3, 2017, 12:00 PM CDT
Description
The North Dakota Grand Sabbat is a weekend long community festival, celebrating Beltane!
Our Mission: The main purpose of this event, is to foster and nurture our Pagan Communities statewide while learning and growing together. To provide a forum for the exploration, comparison, contast and growth of diverse spiritual and religious ideas. To expand our theories, practices, traditions and views.
This year the event is a whole weekend long and will be located at the campground site of Buffalo Lake, near Esmond ND.
Date of Event: May19th-21st 2017
The cost is $25.00 +tax per Adult.
Children ages 12-17 are /$10.00 +tax per child
Children 11 yrs of age and under are free.
If you would like a T-shirt to commemorate the event, the cost is $15.00 +tax AND WILL BE LOCATED ON THE BOTTOM OF YOUR REGISTRATION PAGE, LISTED UNDER EVENTS MERCHANDISE.
The site is rustic and does not have any showers, but it does have a few shelters for food storage and tables to eat at. No indoor bathrooms, but does have your basic outhouses for restrooms.
Please bring your tents and anything else you will need while camping.
Food is also potluck, so please feel free to bring anything for the community to share.
We will have the traditional Maypole, with the crowning of the May Queen and her consort. Newest addition will be crowning a May Princess and May Prince for the children's Maypole. A communal fire, workshops, children's programming and more!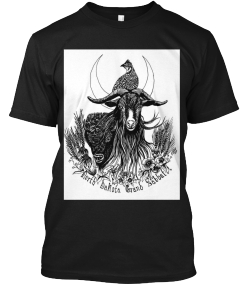 3rd Annual Grand Sabbat Apparel
$15.00
We partnered with Teespring to create some awesome merchandise for this event. Show your support and look good wearing it. Check it out!
Date and Time
Location
Esmond, ND
Sportsmans Club Buffalo Lake Campground Esmond, ND
42nd ST NE
Esmond, ND 58332