Description
The official "GHOE BARCRAWL"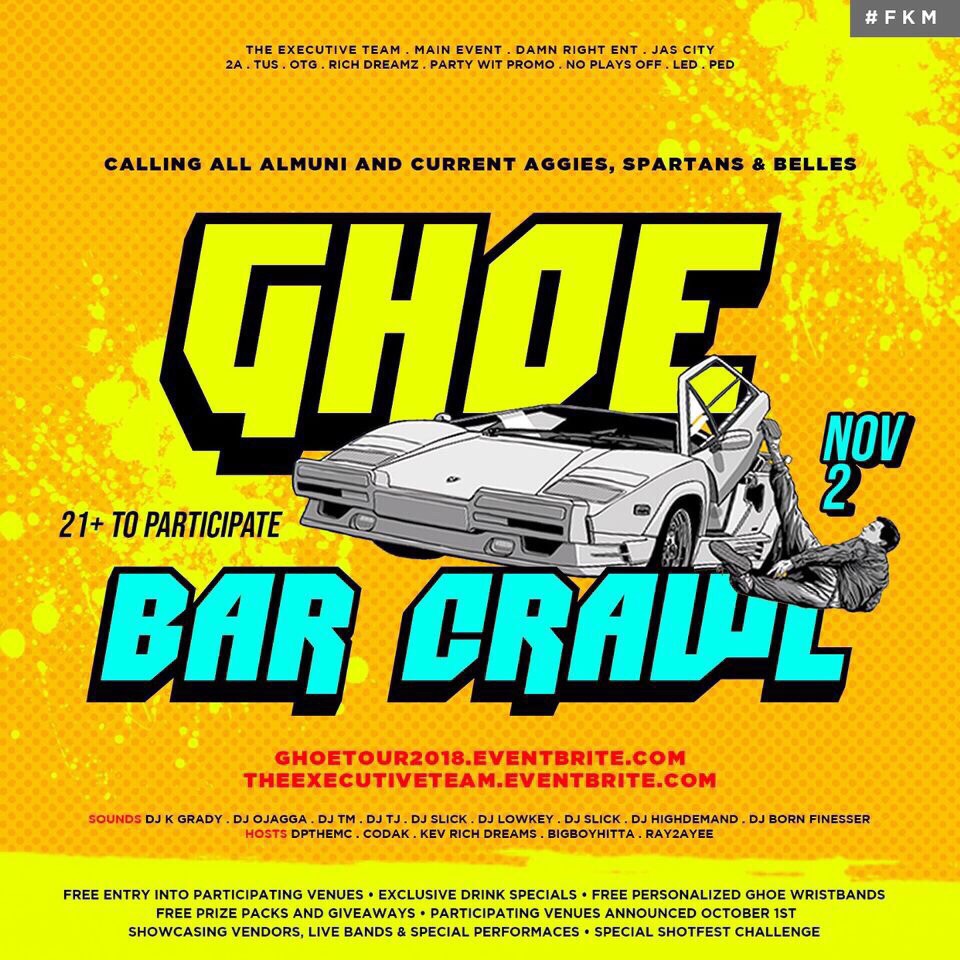 THE EXECUTIVE TEAM / MAIN EVENT / ELEVATE LIFE NC PRESENTS:
The 3rd Annual GHOE Bar Crawl!!
Friday, November 2nd #GHOE2018
Time: 2pm-until


You must be 21+ to participate in the Bar Crawl
CALLING ALL CURRENT & ALUMNI AGGIES, SPARTANS & BELLES!!
Ticket price includes:
Free entry into participating venues!

Exclusive drink specials!

FREE personalized GHOE wristbands

Free prize packs and giveaways!
---


Participating Venues:
BoxCar Bar + Arcade - 2:00 pm ( Live DJ & First come first serve on Free TOKENS )
Horigans House of Taps - 4:00 pm ( First come first serve on FREE HOOKAHS)
McGee Street (Formally known as Boiler Room) - 5:00 pm ( Live DJ )
Natty Greens Brewing Company - 5:00 pm
Grey's Tavern - 6:00 pm
Rue Bar - 7:00 pm ( Live DJ )
Special #GHOE Shotfest Challenge throughout the Crawl
On the Main stage..the LATEST music will be provided by the HOTTEST AGGIE ALUMNI DJ!
Dj's will fill the streets with music as you make your way to each bar!


Registration and pick up of custom bar crawl wristbands is from 11:00am to 1:00pm at the Box Car + Arcade
( if you cant make the registration from 11-1, You can pick up Wristbands at the Box Car from 2-4)
Don't Spend your day stuck in ONE building! You've been asking for something NEW so these Exclusive events are for YOU! Don't miss out on the 3rd Annual GHOE Bar Crawl!
See you soon! Happy Homecoming!!
For more info contact Marcus at (347) 515-0121