Description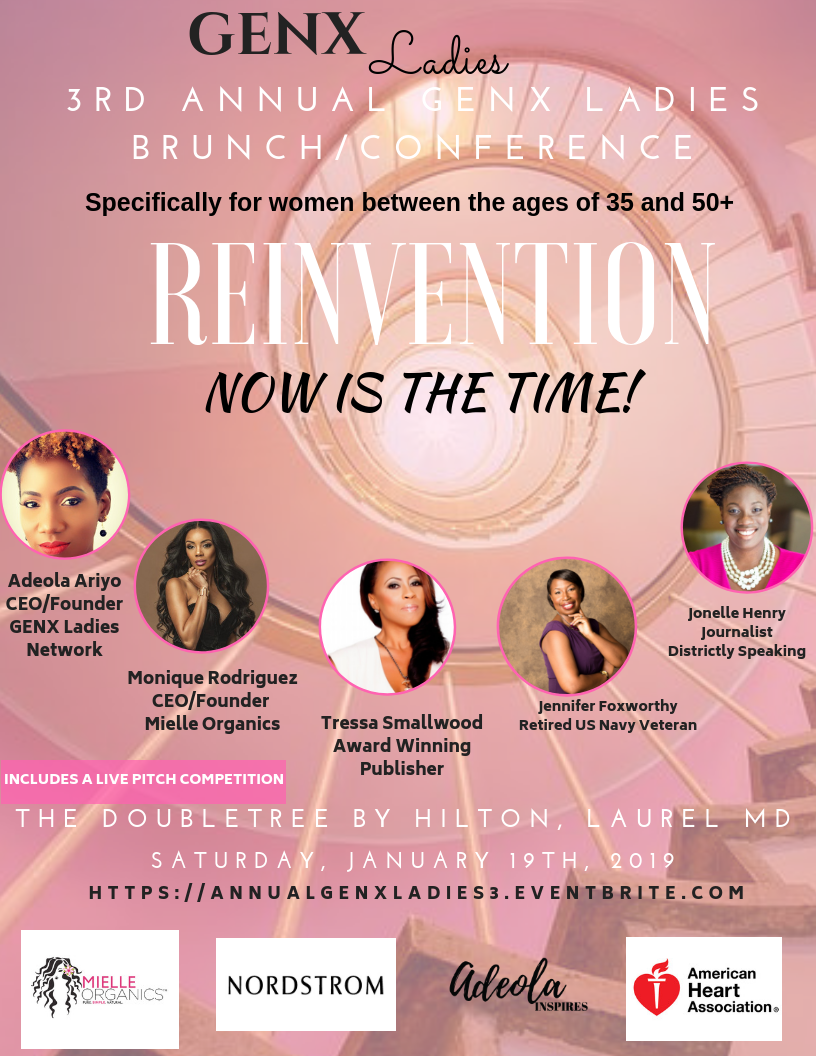 You are cordially invited to the 3rd ANNUAL GENX LADIES Annual Brunch/Conference organized by
THE GENX LADIES NETWORK - A professional and lifestyle platform for professional and entrepreneur women between the ages of 35 and 50+.
The theme this year is "Re-Invention. The time is NOW."
Have you ever longed to be in the room with other like-minded women who strive to live the next phase of their lives being intentional about thriving in every area of their lives?
Join us and several other like-minded women for our 3rd and best Conference to date as we engage in real conversations, experts-led sessions, great networking and amazing food.
Some of the workshops will include but not limited to Entrepreneurship and Raising Capital for your Business, Career Advancement after age 40, Finances, Health and Self-Care.
The day will include but not limited to:
Power Networking Sessions
Powerful Speakers
Impactful and Intensive sessions and training
Full Brunch Buffet
Engaging Panel Discussion
Prizes and Raffle tickets
Awards
Vendors and much more.
And for the first time ever, Every registered attendee will have a chance to enter into a pitch competition to win an investment/seed money towards launching or scaling a current business venture you might have or furthering your education to change your career. More details about the pitch competion will be provided to every registered attendee.
Pitch application opens up on Dec. 1st, 2018.
Each year, we SELL OUT so hurry and grab your limited Early Bird Tickets before it's gone.
Ticket purchases are FINAL and non-refundable.
A percentage of the proceeds from this event goes to THE GEMZ, a mentoring program for tween and teen girls in the Washington DC metro area
Hope to see you soon.
THE GENX LADIES NETWORK.