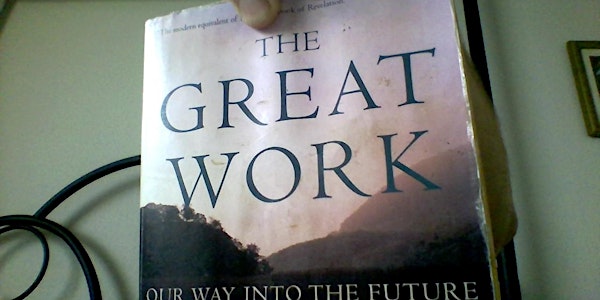 3rd ANNUAL FLARING FORTH CELEBRATION w/Brian Thomas Swimme-The GREAT WORK!
What is Your's, Mine and Our Great Work on this stupendous "Garden planet of the Universe?" The 2020's CE Decade allures us in Celebration!
When and where
Location
Holy Names University, Former Sophia Center Classroom (Next to Chapel and Epicurean Cafeteria) 3500 Mountain Boulevard Oakland, CA 94619
Refund Policy
Contact the organizer to request a refund.
Eventbrite's fee is nonrefundable.
About this event
Twenty years ago, in 1999 CE (Common Era), Thomas Berry released The Great Work: Our Way into the Future  to the Human Community. With the crucial climate crisis decade of the 2020's CE right around the corner now is Humanity's time to name their individual, interior and communal Great Work.
Join us at the historic Sophia Center classroom at Holy Names University (HNU) Campus where the Sophia Center and the Institute of Culture and Creation Spirituality began through the Great Work of Thomas Berry, Brian Thomas Swimme, Jim Conlon, Matthew Fox, Mary Evelyn Tucker, John Grim, Miriam MacGillis, Belvie Rooks, Peter Mayer, Mary Schmitt, Carl Anthony, Drew Dellinger and many others. Come together with host Thomas Spiritbringer of The Universe Story Calendar Initiative and our Earth-wide community to celebrate through story, music, networking, poetry, book & CD releases, dance and educational opportunities at this 3rd Annual Flaring Forth Celebration!
The day will celebrate the Great Work within our three Great Communities: *The Universe Community *The Earth Community *The Human Community
UPDATED SCHEDULE FOR THE DAY
9-9:30am Gathering- The Universe Story (TUS) Gift Exchange Table (bring personal Great Work books, projects, CD's, etc. to offer to others at no cost), Walk TUS Experience
9:30-10am Welcome!-Thomas Spiritbringer Opening: A Ritual with The Universe Story
10-11:15am "Evoking The Great Work within the Human Community"-Thomas Spiritbringer
11:30-1pm Lunch with Brian Thomas Swimme and Robert McDermott- Epicurean Cafeteria on HNU Campus/Networking
1:15-2:15pm "The Path of The Great Work" - BRIAN THOMAS SWIMME in dialog with ROBERT MCDERMOTT.
2:30-3:30pm Report back from the North Carolina "Living Legacy of Thomas Berry" Gathering-Allysyn Kiplinger
3:40-3:55pm Ecozoic Era Ritual: Celebrate Earth!
4-5:15pm "The Great Work of Loving Water & the Whole Earth Community (with some inspiration from taiji & qigong)"-Elizabeth McAnally
5:15pm Supper -Epicurean Cafeteria on HNU Campus
Happy 20th Anniversary-The Great Work, 10th-Thomas Berry's Passing and 2nd-The Universe Story Calendar!!
Note: 4th Annual Flaring Forth Celebration Sat, Nov/NationScience 7, 2020 CE!
MAIN PRESENTORS' BIOGRAPHIES
All Participants- Each person participating in this historic, UniversEartHuman event throughout our Human Family on Earth is also presenting today by their presence! Through celebrating together, sharing their The Universe Story (TUS) and Great Work tools at the Gift Exchange table, by exhibiting TUS through music, poetry, art, storytelling and others we each bring forth our uniqueness, interiority and kinship!
Brian Thomas Swimme, PHD- Brian is the co-author of The Universe Story with his colleague and friend Thomas Berry, whose birth on Nov. 9, 1914 CE and Earthly life until 2009 CE we honor at this Flaring Forth Celebration. Over a 10 year span from 1982-1992 CE, they met to compile and celebrate this epic Journey of all physical and psychic energy from the Flaring Forth 13.8 billion years ago to today's Ecozoic Era in 2018 CE the Year of The Universe Story Calendar. Many scholars in TUS movement from an array of disciplines critiqued and fashioned this Great Work with Thomas and Brian as well during that creative decade. Brian is the author of books and DVD's involving The Universe Story including the acclaimed "Journey of The Universe" film. Presently, Brian is a faculty member at the California Institute for Integral Studies in San Francisco, CA.
Robert McDermott, Ph.D.- was president of CIIS from 1990 to 1999. Except for eleven years as a higher education administrator he has been teaching philosophy and comparative religion since 1964. He has published extensively on Sri Aurobindo, including: The Essential Aurobindo, 1974 and republished 1987 and Rudolf Steiner, including: The Essential Steiner, 1984 and The New Essential Steiner, 2009, and Steiner and Kindred Spirits (2015). He wrote the Introduction to William James, Essays in Psychical Research, 1986, a volume in the Harvard University Definitive Edition of the Works of William James. He was secretary of the American Academy of Religion and of the Society for Asian and Comparative Philosophy. He was a Senior Fulbright Lecturer at the Open University and director of a National Endowment for the Humanities Project for the Study of Hinduism and Buddhism. For 14 years he was chair of the board of Sophia Project (two homes in Oakland for mothers and children at risk of homelessness). He has been president and board chair of many other institutions.
Allysyn Kiplinger-Allysyn is the editor of www.ecozoictimes.com website. She is a graduate of California Institute of Integral Studies in San Francisco, CA. and has studied with Brian Thomas Swimme. She recently attended the "Living Legacy of Thomas Berry" gathering in North Carolina hosted by Herman Greene and the Center for Ecozoic Studies.
Elizabeth McAnally, PhD is the newsletter editor and website manager for the Yale Forum on Religion and Ecology. She also manages the websites for Thomas Berry and the Great Work, Journey of the Universe, American Teilhard Association, and Emerging Earth Community. She is the author of Loving Water across Religions: Contributions to an Integral Water Ethic (Orbis Press, 2019). Elizabeth has taught classes on philosophy, religion, and environmental ethics at Pacifica Graduate Institute, the University of North Texas, Diablo Valley College, and the University of San Francisco. She practices yoga and Chinese internal arts (taiji, qigong, bagua, xingyi, and yiquan) and currently offers Integral Taiji & Qigong classes at these Bay Area locations: University of California Botanical Garden, Albany Senior Center, the Peralta Community Garden, and the Bancroft Community Garden. Elizabeth is an avid musician who loves singing and playing the flute.
Thomas Rita Spiritbringer MAx2-Tom is honored to be the Master of Ceremonies again this year. His Great Work of today is our new, world calendar; The Universe Story Calendar(TUSC). His book (Foreword is by Brian Thomas Swimme) and 2018 CE Calendar of the same name were officially promulgated 11/9/2017 CE at the 25th Anniversary Celebration at HNU. This book is now gifted free at www.TheUniverseStoryCalendar.org. He is a 2008 CE graduate of The Sophia Center.  Sonora, CA is his bioregion. He celebrates with deep gratitude you and U! (Universe) of 13.8 BY, 2019 CE and The Ecozoic Era! For Workshops on the 2020 CE TUSCalendar email Tom at: ourearthguy@gmail.com