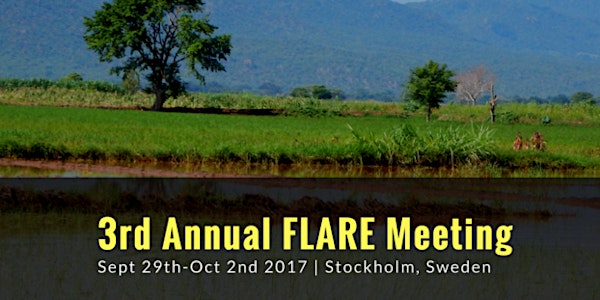 3rd Annual FLARE Network Meeting
Location
Stockholm University
Universitetsvägen 10, 114 18
Stockholm
Sweden
Description
Registration for presenters is now CLOSED. The Coordination Committee is now in the process of constructing the panel sessions. A draft program will be posted on www.forestlivelihoods.org/flare-meeting-2017/ September 14 and presenters will have an opportunity to send edits by September 19.
Registration for observers will remain open until September 16 (midnight ET)
The 3rd Annual FLARE meeting is being organized in partnership with Stockholm University, Stockholm Environment Institute (SEI), the Swedish International Agricultural Network Initiative (SIANI), Forest, Climate and Livelihoods Research Network (FOCALI), and the Rights and Resources Initiative (RRI). It will continue to advance discussion and collaboration around the relationships surrounding forests and livelihoods, with special attention to three core themes, although it will also build on themes from previous meetings.
See the complete list of meeting themes, venue information, and other details here: http://www.forestlivelihoods.org/flare-meeting-2017/
REGISTRATION DIRECTIONS
- Tickets are required and capacity is limited for the welcome reception (free), boat cruise (fee), and workshops (fee). A strict attendee list will be maintained for each of these events. IMPORTANT! DON'T FORGET to select these ticket types along with your main registration ticket if you would like to participate! If you decide to purchase them later, they may be unavailable. If there are still spots and you can purchase them, you will be asked to enter your personal and payment details again.
- No group registrations. Each participant must register separately.
- Select one meeting registration ticket only (student or early bird/regular)
- Each participant must register for the meeting in order to attend the welcome reception, optional boat cruise, and/or workshop(s).
- For the workshops, select only one workshop from Group 1 (morning session) and one workshop from Group 2 (afternoon session)
TENTATIVE MEETING PROGRAM
Friday, September 29
19:00: Welcome Reception at Stockholm City Hall (Home of the Nobel Prize Award Ceremony!)
Saturday, September 30
8:30 - 16:00: Paper sessions
17:00 - 21:00: Evening Dinner Cruise
Sunday, October 1
9:00 - 15:00: Paper sessions
15:00: Keynote Presentation, Dr. Peter Holmgren, CIFOR General Director
Monday, October 2
9:00 - 12:00 and 13:00- 16:00: Optional Workshops (See meeting webpage for complete descriptions)