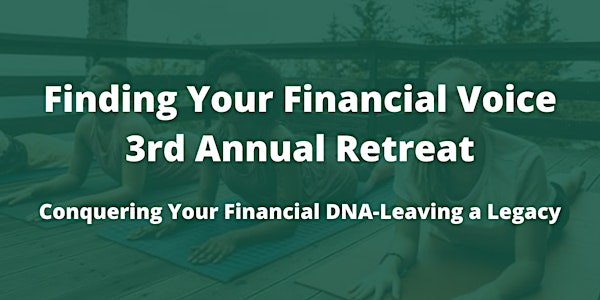 3rd Annual Finding Your Financial Voice Retreat
Join me for the 3rd Annual Finding Your Financial Voice Retreat: Conquering Your Financial DNA + Creating A Financial Legacy!
When and where
Location
Retreat Venue 3220 Bodega Bay Road West Sacramento, CA 95691
About this event
Finding Your Financial Voice 3rd Annual Retreat: Conquering Your Financial DNA-Leaving a Legacy
Prepare to receive the royal treatment and take a step toward your financial health while networking with other women.
Managing your financial life should come from inspiration. With our partner, The Noble Meadows Foundation, you can begin to create a plan that includes traditional and holistic financial goals. This One-Day retreat will help you take out the FEAR of money and create a robust set of economic legacies. While women are less confident about handling finances, studies show that they are often more successful than men when managing their portfolios.
The Finding Your Financial Voice Retreat, is a powerful tool used to debunk the common money myths and fears of women concerning money. In the 3rd year, our theme will include Conquering Your Financial DNA, which will help you recognize money conflicts.
By the end of this One-day Retreat, you will be able to recognize your Historical/Generational Connections, understand your DNA Chromosomes, and their effects on your financial decisions. You will undergo a growth change in how you view your finances and newfound confidence in how to minimize and eliminate financial trauma.
Come network with other women, win prizes while understanding your financial health needs.
Agenda
Day One: Friday, August 20, 2020
8:00-9:00 Registration- Continental Breakfast
9:00-10:30 Session I10:00 am-10:15 am Welcome/Introductions/Ice Breaker10:15 am-10:30 am Discussion & Activities
10:30- 10:45 Break
10:45-noon Session II10:45- am - 12:00 pm Historical/Generational Connections
Noon-1:15 Lunch-Networking
1:15- 2:30 Session III-Problem Solving-Physiological & Psychological Changes (DNA/Chromosomes)-Growth: Supercharging Your Financial Habits
2:30-2:45 Break
2:45 - 4:00 Session IV-Financial Action Board
4:00-5:00 Yin Yoga
5:00-7:30 Pool Time/Cocktail Hour-Closure
If you want to know the WHY behind your financial conflicts, this retreat is for you. A non-refundable deposit of $50 is required. The remaining amount must be paid by June 1st, 2022 (early-bird special) or July 1st, 2022 (regular retreat pass)
"Through it, all take good care of yourself; you may live a long time."
Financial Mindset + Financial Knowledge + Financial Power = Your Financial Voice
Legal Disclaimer: Every effort has been made to accurately represent the program and its potential. Your success depends on your background, dedication, desire, and motivation. There is an inherent risk of capital loss, and there is no guarantee that you will become wealthy, but your mindset shall change.
Please Note: Your $50 -Hold my spot is non-refundable. No refunds will be issued 45 days before the event. Refunds given before 45 days will be prorated minus any service charges applied by Anita R Johnson & Associates, Inc.
THANK YOU Mercy Springs, Inc., an official sponsor for the Third Annual Finding Your Financial Retreat.
To help women discover their money conflicts and continue ongoing financial development, you can donate to The Noble Meadows Financial Foundation. Email us an info@moneywisdomforwomen.com