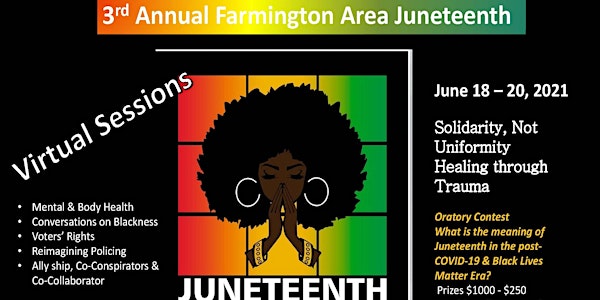 3rd Annual Farmington Area Juneteenth Celebration, 6/18 -20-"Healing"
3rd Annual Farmington Area Juneteenth Celeb Solidarity, Not Uniformity -Healing Through Trauma "Forward Ever, Backward Never" –Kwame Nkrumah
About this event
Solidarity, Not Uniformity --Healing Through Trauma
Friday, June 18 - Sunday, June 20, 2021
"Forward Ever, Backward Never" –Kwame Nkrumah
June 18 – 20, 2021
3rd Annual Farmington Area Juneteenth Celebration
Oratory Contest
Sunday June 20th--Fathers' Day 2:00 pm
11th & 12th Graders (rising12th & graduating seniors)
What is the meaning of Juneteenth in the post-COVID-19 & Black Lives Matter Era? Prizes $1000 - $250
Email:famefhmi@gmail.com
Schedule
Friday, June 18, 2021
2:00 - 4:00 PM Master Workshop on Blackness & Meaning of Juneteenth.
This workshop provides a foundation for the three day conference, especially the Friday night "Conversations on Blackness", the 12:15 - 1:45 General Presentation on "Where Do We Go From Here?, and the Panel on Activist Youth Leadership .
Anti-Racism or Anti-Blackness, are they the same?
If race is a social construct, what is Blackness? What is Whiteness? What is ethnicity, e.g., Hispanic identities? What are the racial constructs of racial identities like Asian-American, Indian/Native American, etc.
In Isabel Wilkerson's concept of caste, Black people are always in the bottom rung of the caste system, even when laws are passed that are meant to repair that. Why is that?
Kwame Nkrumah of Ghana said, "Forward ever, backward never!" Why in our US history when two steps are made forward in Black progress, there is an immediate backlash, e.g., Reconstruction, Tulsa Massacre, the 1920's Movements for Negro Improvement including the Black art & literature, 1950 - 70's Civil Rights and Black Power Movements, 2020 BLM and #MeToo Movements, etc.
How does celebrating or commemorating Juneteenth address the issues of voter suppression, health inequities, policing disparities, mis-education, personal and emotional health, electoral and representative politics, etc.
Are there really two Americas? One Black and one White? Understanding de-facto and de-jure segregation, e.g., White supremacist groups, Jim Crow, redlining, sundown cities, white terrorism, housing acts, Urban Renewal & Negro Removal, etc.
And, yet...we can all heal through Black trauma to achieve solidarity and not uniformity--interrogating ally-ship, co=conspirators, and collaborators in achieving justice and freedom for all.
4:00-4:30 pm Check in and Welcome
What is the meaning of Juneteenth?
Exploring the Conference Theme: Healing through Trauma Solidarity, Not Uniformity.
Sounding the Clarion Call: "Forward Ever, Backward Never" Kwame Nkrumah (Countering the Backward Movement Against Inclusivity & Equity!)
4:30- 5:45 pm Breakout Sessions #1—Intentional Wellness--Mind, Body & Soul
6:00 – 8:00 Conversations on Blackness: Developing A Collective Memory –Ally ship, Co-Conspirator, Co-collaborator
Engage in Conversations Among and Between Diverse Generations, Cultures, Identities, Values & Perspectives
(Specialized breakouts for 11th graders and above)
8:00 – 8:30 --"Say Their Names" Commemoration of Our Ancestors. Participants will be asked to submit names (and pictures if possible) of those to be remembered.
Saturday, June 19, 2021 --Juneteenth
9:00 – 10:00 Re-imagining Protection of Our Communities: Commemorating Juneteenth—"Black Independence Day" (Riots or Massacres?) Community Policing Innovations Panel
10:00-11:00 am Breakout Sessions #2.
Refugees/Asylum Seekers/Immigrant Rights: "Global Anti-Racism Throughout the Diaspora"
B. "Have You Ever Thought About Seeking A Public Elected or Appointed Office?": Coffee Hour
C. Criminal Legal Reform: Why it's Important to ALL of us!
11:00 - 11:15pm <<< Personal Break - Zoom Room>>>
11:15-12:15 Breakout Sessions #3
D. Black Women Leadership Holds Up the Sky!! "Where do we go from here?"
E. Addressing Critical LGBTQ Issues and Advocacy
F. Human Trafficking: Here-There-Everywhere Finding Safety
G. Voter Suppression: What We Can Do About It!
12:15-1:45 pm General Session: Countering the Backward Movement Against Inclusivity & Equity! Healing the Trauma of 400 Years of Anti-Blackness Through Solidarity (Ally Ship, Co-Collaborators * Co-Conspirators), Not Uniformity
1:45-2:45 pm Breakout Sessions #4
H. Breaking into Tech Industry - Per Scholas w/ Britney McGhee
I. Cancelled: Embracing Diversity in Oakland County+: See Juneteenth Panel Then & Now. at :Continue the conversation on Facebook about Juneteenth, https://fb.me/e/ZIztPfma :
J. Farmington Community Library 2-8 yr olds. Join Miss Kristel from the Farmington Community Library for movement, games, and picture books celebrating Juneteenth. This interactive story time is for ages 2-8 and caregivers
2:45-4:00 pm Conversations on Leadership for Young Activists:
4:00 - 4:30 pm Wrap Up and Action Steps for Moving Forward
Sunday, June 20, 2:00 - 5:00 Oratory Contest