Refund policy
Refunds up to 30 days before event
3rd Annual ETFGI Global ETFs Insights Summit Europe & MEA; September 14 - In person, September 15 & 16 - Virtual
About this event
DAY 1 - In person on September 14th at the London Stock Exchange in London from 12:30pm – 5:00pm BST followed by drinks reception from 5pm – 6:30pm BST (attendees will receive access to virtual event content). Limited spaces for buyside institutional investors and IFAs. All sessions will be recorded.
DAY 2 & 3 - Virtual on September 15th & 16th - panel discussions on our virtual event platform.
Register to join the discussions at our 3rd annual ETFGI Global ETFs Insights Summit - EMEA. The summit is designed to provide the opportunity for traders, portfolio managers, and advisors at buyside institutional investor and financial advisors to examine how ETFs are being traded, selected, and used and hear about the most current regulatory, index, product trends: active, bitcoin, crypto, ESG, Thematic and trading developments that are impacting investors.
This event will bring together leaders from across the ETF industry, including ETF sponsors, exchanges, broker-dealers, institutional investors, regulators, and other market participants.
If you can't attend on the day, register anyway and you'll receive recordings of all the sessions.
🎧 All sessions are recorded and you will also receive access to last year's session recording
📚 CPD educational credits
🆓 Free registration for buy side institutional investors and financial advisors
2022 TOPICS WILL INCLUDE:
Regulatory Issues Impacting ETF Trading and Market Structure
Fireside Chat: How a Consolidated Tape Could Contribute to the Development of ETFs in the EU
Understanding Benchmark and Sustainable Finance Regulations
Trends in Fixed Income Indices and ETFs
Trends in ESG
Trends in Crypto – Digital Indices and Products
Overview of the ETF Landscape in Israel
Macro Investment Outlook
European and US Regulatory Initiatives Impacting ETFs
How Investors are Using Thematic ETFs
Trends in the Implementation of ESG in Portfolios
How Institutions and Financial Advisors are Selecting and Using ETFs
Trends That Will Drive the ETF and Financial Industry in 2023 and Beyond
ETF Landscape in Europe, Middle East and Africa
Overview of the ETF Landscape in the United Arab Emirates
Overview of the ETF Landscape in Qatar
Overview of the ETF Landscape in Saudi Arabia
Overview of the ETF Landscape in South Africa
Overview of the ETF Landscape in Africa
Women in ETFs – Managing Career Transitions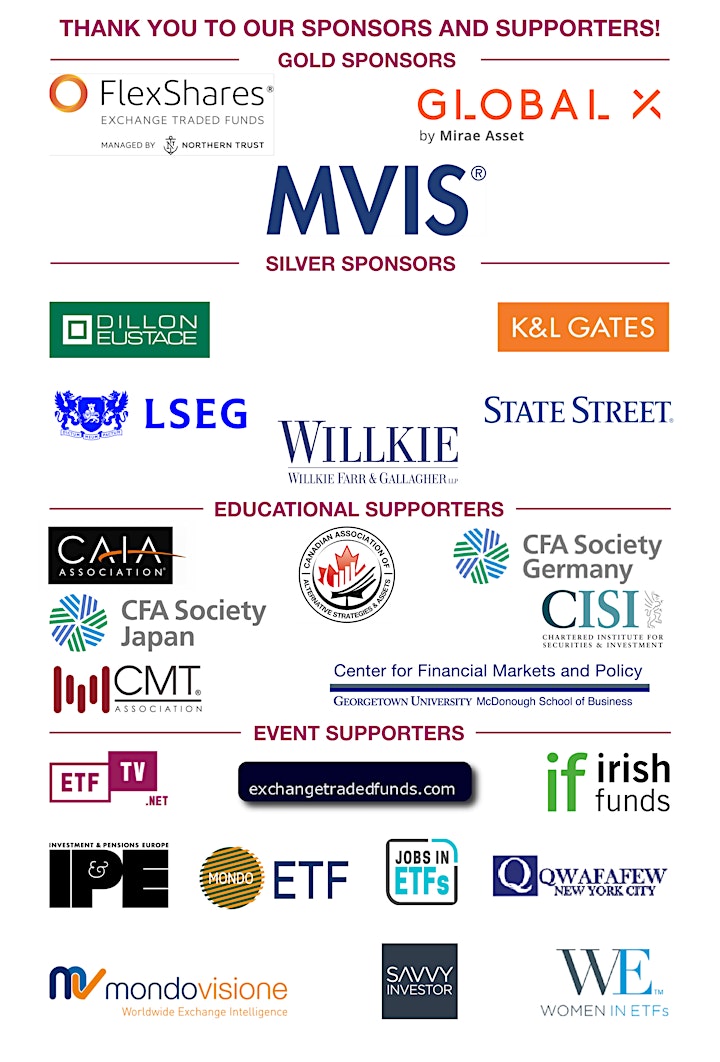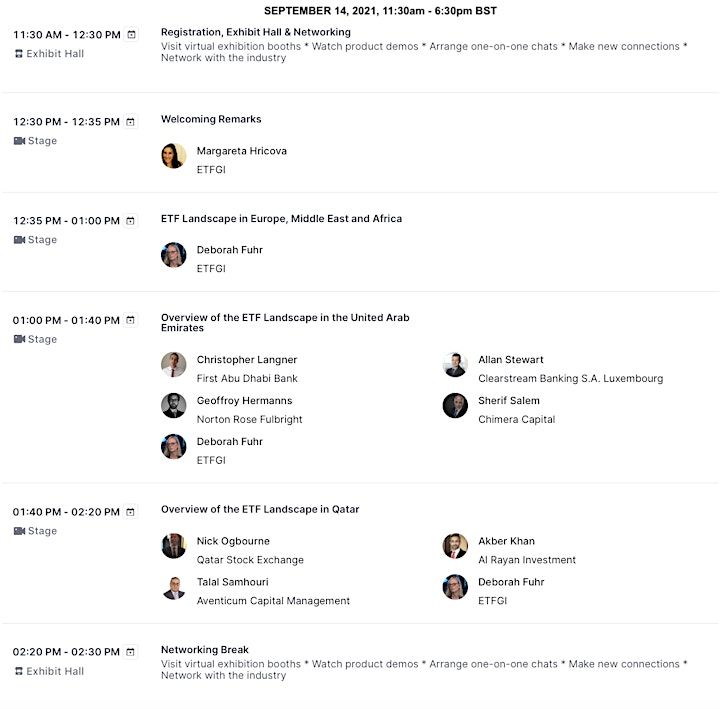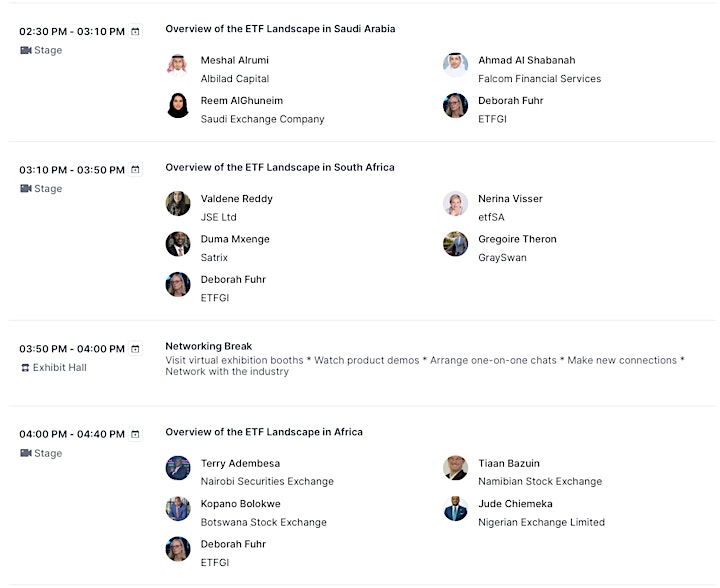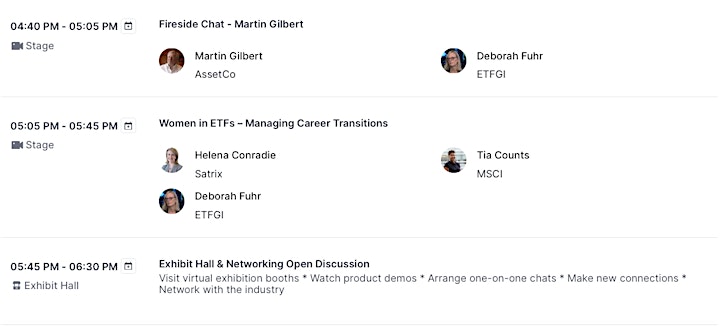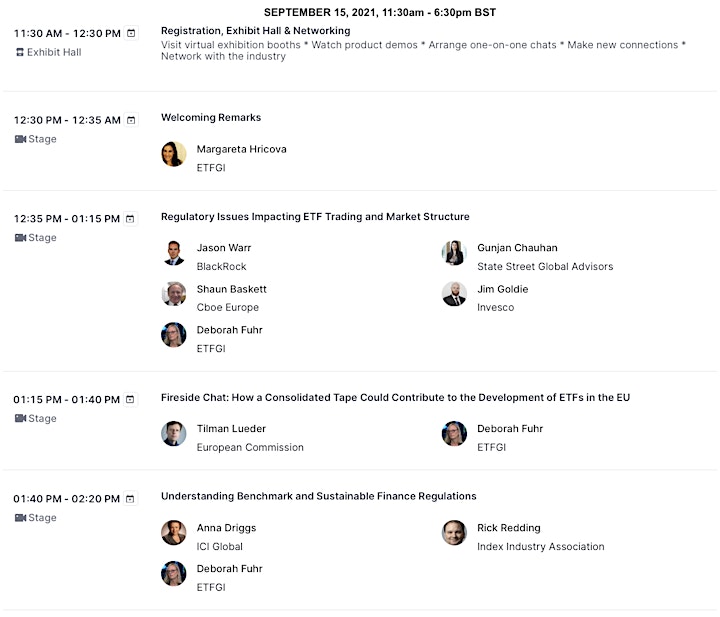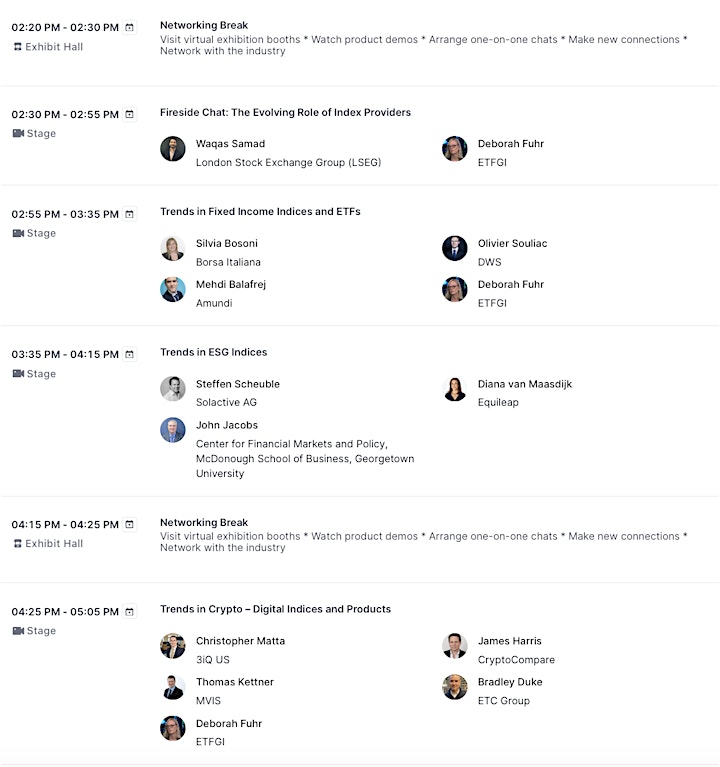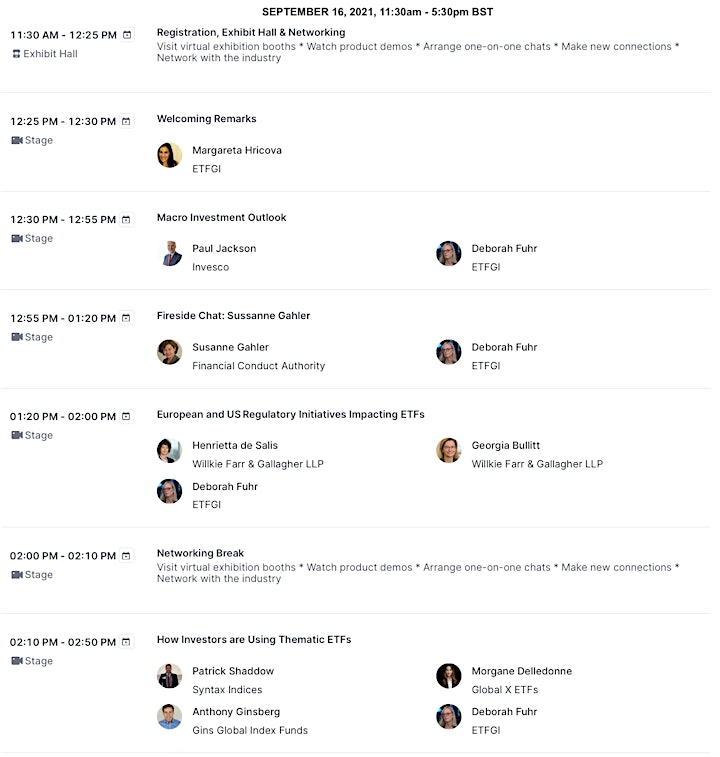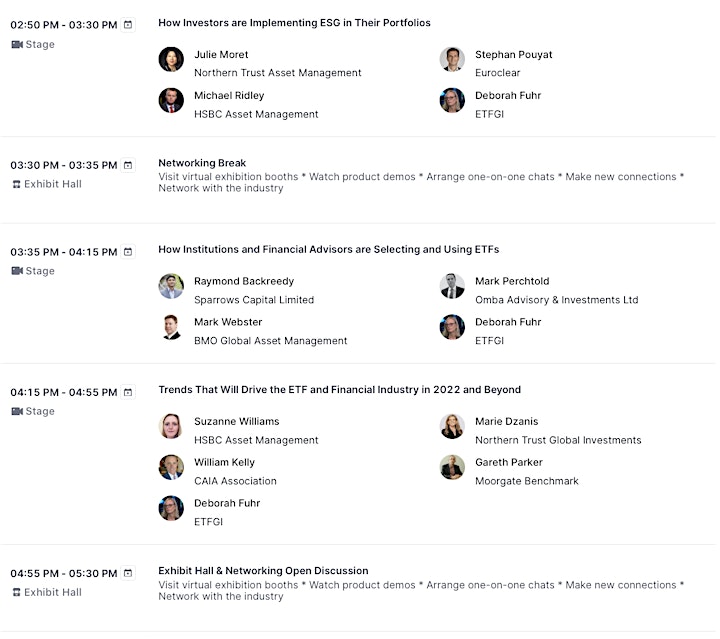 LAST YEAR'S SPONSORS AND SUPPORTERS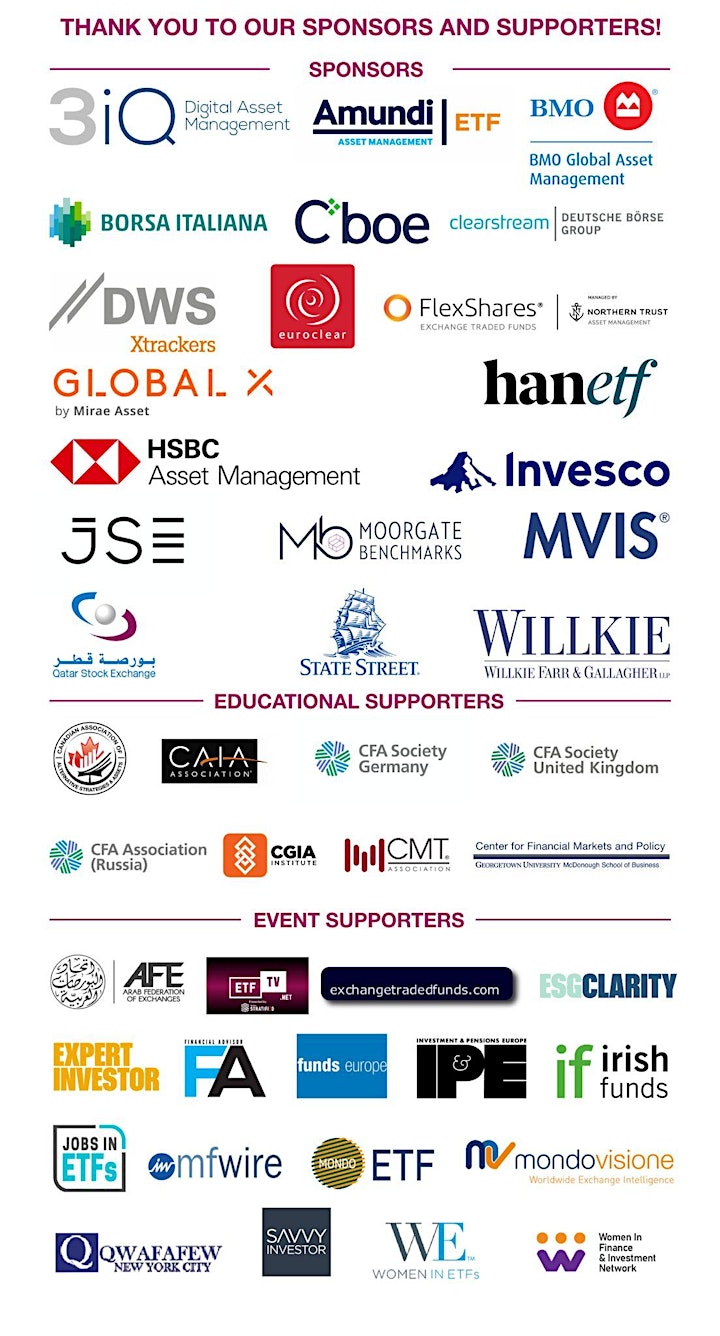 Frequently Asked Questions
What is the registration cancellation policy?
Cancellations received by August 14, 2022 are subject to a $150 USD administrative fee. Notice of cancellation must be received in writing. After August 14, 2022, no registration fees can be refunded. However, if you are unable to attend, substitutions can be made, subject to conference organizer approval, and the administrative fee will not be applied.
What is the complimentary passes policy?
Complimentary passes are allocated at the full discretion of the conference organizers. Complimentary bookings made online are subject to verification by the conference organizers before confirmation of the complimentary pass. If the conference organizers review an online complimentary pass registration and determine that the company and/or registrant does not fulfill the criteria for the complimentary pass, the complimentary pass can be withdrawn at the full discretion of the conference organizers.
Who qualifies as "buy side" for a complimentary pass?
Complimentary passes are available for buyside institutional investors and financial advisors including (e.g., traders, portfolio managers, CIOs, ETF strategists) at asset managers, investment advisers, pension funds, insurance companies, hedge funds, endowments, foundations, fund selectors at family offices, financial advisers and robo-advisers. All buyside complimentary passes are subject to the conference complimentary passes policy, delineated above.
Is the conference open to the media?
Yes, this conference is open to the media.
Does the conference offer sponsorship opportunities?
Yes.  For information regarding sponsorships, please contact Margareta Hricova at margareta.hricova@etfgi.com and Deborah Fuhr at deborah.fuhr@etfgi.com.