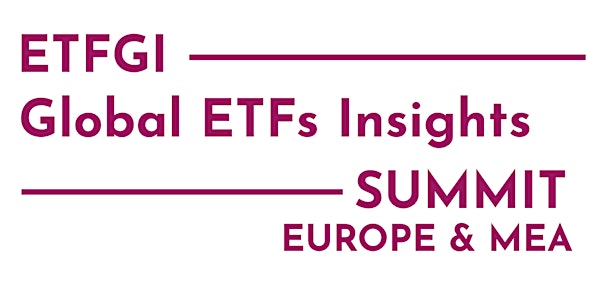 3rd Annual ETFGI Global ETFs Insights Summit - Europe & MEA
3rd Annual ETFGI Global ETFs Insights Summit Europe & MEA; September 14 - 16 - Virtual Event
Refund Policy
Refunds up to 30 days before event
About this event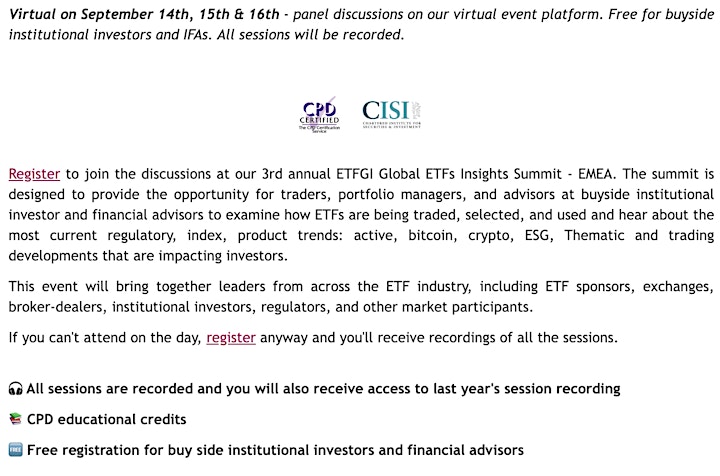 *All times listed below are BST
2022 AGENDA
SEPTEMBER 14, 2022 (DAY 1)
VIRTUAL
12:00 - 12:30 Exhibit Hall & Networking
12:30 – 12:40 Welcoming Remarks
 12:40 - 13:00 Macro Investment Outlook   
Moderator: Deborah Fuhr, Managing Partner, Founder, ETFGI    
Paul Jackson, Global Head of Asset Allocation Research, Invesco  
13:00 – 13:30 How are Investors Using Thematic ETFs   
Moderator: Deborah Fuhr, Managing Partner, Founder, ETFGI    
Morgane Delledonne, Head of Investment Strategy, Europe, Global X ETFs  
Joy Yang, Global Head of Index Product Management, MarketVector Indexes GmbH 
13:30 - 13:50 Moderated Discussion 
Moderator: Deborah Fuhr, Managing Partner, Founder, ETFGI    
Catharine Dwyer, Senior Policy Advisor, Central Bank of Ireland 
13:50 – 14:10 The Future of Equity ETFs: "Scalable, Sustainable – Super Cheap?"  
Speaker: Dr. Valerio Schmitz-Esser, Managing Director & Head of Index Solutions, Credit Suisse Asset Management 
14:10 – 14:30 Qatar - The Investment Opportunity 
Moderator: Deborah Fuhr, Managing Partner, Founder, ETFGI    
Mohsin Mujtaba, Director, Product and Market Development, Qatar Stock Exchange   
14:30 – 15:00 Trends in ESG Investing  
Moderator: Deborah Fuhr, Managing Partner, Founder, ETFGI    
Anthony Harper, Head of Sustainable Finance, ETFs and Asset Managers, Euroclear
Andrea Semino, Senior Product Specialist, Credit Suisse Asset Management    
Gareth Parker, Chief Indexing Officer & Head of Governance Services, Morningstar Indexes  
15:00 - 15:30 Exhibit Hall & Networking
15:30 – 16:00 Trends in Crypto – Digital Indices and Products  
Moderator: Deborah Fuhr, Managing Partner, Founder, ETFGI    
Martin Leinweber, Digital Asset Product Strategist, MarketVector Indexes GmbH 
Quynh Tran-Thanh, Product Manager, Chainalysis 
16:00 – 16:20 How the ETF Industry in Israel is Evolving  
Moderator: Deborah Fuhr, Managing Partner, Founder, ETFGI    
Adv. Offir Eyal, Director of International Affairs and Business Development Dep., Israel Securities Authority  
  16:20 - 16:50 How Institutions and Financial Advisors are Selecting and Using ETFs 
Moderator: Deborah Fuhr, Managing Partner, Founder, ETFGI    
Mark Northway, Investment Manager, Sparrows Capital 
Eamonn Prendergast, Director & Financial Adviser, Palantir Financial Planning  
Weixu Yan, Investment Director, Close Brothers Asset Management  
16:50 - 17:20 Industry Leaders Outlook  
Moderator: Deborah Fuhr, Managing Partner, Founder, ETFGI    
Marie Dzanis, CEO, Northern Trust Global Investments Management    
Hetal Patel, Senior Manager - Exchange Traded Products, Capital Markets, London Stock Exchange Group  
Tobias Sproehnle, Head of Indexes, Europe, Morningstar Indexes  
17:20 - 17:30 Closing Remarks
SEPTEMBER 15, 2022 (DAY 2)
VIRTUAL
10:30 - 11:00 Exhibit Hall & Networking
10:50 – 11:00 Welcome remarks
11:00 – 11:30 Fireside Chat: How a Consolidated Tape Could Contribute to the Development of ETFs in the EU
Moderator: Deborah Fuhr, Managing Partner, Founder, ETFGI  
Tilman Lueder, Head of Securities Markets unit – DG FISMA, European Commission
11:30 – 12:00 Overview of the ETF Landscape in the United Arab Emirates
Moderator: Deborah Fuhr, Managing Partner, Founder, ETFGI  
Sherif Salem, CIO - Public Markets, Chimera Capital
Joseph El Am, General Manager – MENA, StashAway
12:00 – 12:30 Overview of the ETF Landscape in Qatar
Moderator: Deborah Fuhr, Managing Partner, Founder, ETFGI  
Todd Gibson, Partner, K&L Gates
Akber Khan, Senior Director – Asset Management, Al Rayan Investment
Mohsin Mujtaba, Director, Product and Market Development, Qatar Stock Exchange 
Talal Samhouri, Portfolio Manager, Aventicum
12:30 – 13:00 Exhibit Hall & Networking
13:00 – 13:30 Hot Regulatory Topics Impacting ETFs in the US and Europe
Moderator: Deborah Fuhr, Managing Partner, Founder, ETFGI  
Georgia Bullitt, Partner, Willkie Farr & Gallagher LLP
Henrietta de Salis, Partner, Willkie Farr & Gallagher LLP
13:30 – 14:00 Regulatory Issues Impacting ETF Trading and Market Structure
Moderator: Deborah Fuhr, Managing Partner, Founder, ETFGI  
Gunjan Chauhan, Global Head of ETF Capital Markets & Strategic Partners SPDR ETF Business, State Street Global Advisors
Keshava Shastry, MD, Global Head of Capital Markets, Deutsche Bank
14:00 - 14:15 Overview of the ETF Landscape in Saudi Arabia  
Moderator: Deborah Fuhr, Managing Partner, Founder, ETFGI   
Mark Makepeace, CEO, Wilshire
14:15 – 14:45 Trends in the ETF Industry in Europe and MEA  
Speaker: Deborah Fuhr, Managing Partner, Founder, ETFGI  
14:45 – 15:00 Closing Remarks
SEPTEMBER 16, 2022 (DAY 3)
VIRTUAL
12:00 - 12:30 Exhibit Hall & Networking
12:30 – 13:00 Fireside Chat
Moderator: Deborah Fuhr, Managing Partner, Founder, ETFGI  
Martin Moloney, Secretary General, IOSCO
13:00 – 13:30 Overview of the ETF Landscape in South Africa
Moderator: Deborah Fuhr, Managing Partner, Founder, ETFGI  
Tobie van Heerden, CEO, 10X Investments
Michael Mgwaba, Head of Exchange Traded Products, Markets Absa CIB
Nerina Visser, ETF Strategist, etfSA Portfolio Management Company
13:30 - 14:00 Overview of the ETF Landscape in Africa
Moderator: Deborah Fuhr, Managing Partner, Founder, ETFGI  
Tiaan Bazuin, Chief Executive Officer, Namibian Stock Exchange
Kopano Bolokwe, Head of Product Development, Botswana Stock Exchange
Duma Mxenge, Business Development Manager, Satrix
Nerina Visser, ETF Strategist, etfSA Portfolio Management Company
14:00 – 14:30 Exhibit Hall & Networking
14:30 – 15:00 Hot Topics Impacting Index Providers 
Moderator: Deborah Fuhr, Managing Partner, Founder, ETFGI  
Rick Redding, CEO, Index Industry Association
John Davies, Non-Executive Director and Former Global Head of ETP's, S&P Global
15:00 – 15:30 Women in ETFs – Managing Career Transitions
Moderator: Deborah Fuhr, Managing Partner, Founder, ETFGI  
Mandy Chiu, CFA, Head of Product, Tabula Investment Management
15:30 – 16:00 Regulatory Consultations Impacting ETFs
Moderator: Deborah Fuhr, Managing Partner, Founder, ETFGI  
Stacy Fuller, Partner, K&L Gates
Brian Higgins, Partner, Dillon Eustace
16:00 – 16:10 Closing Remarks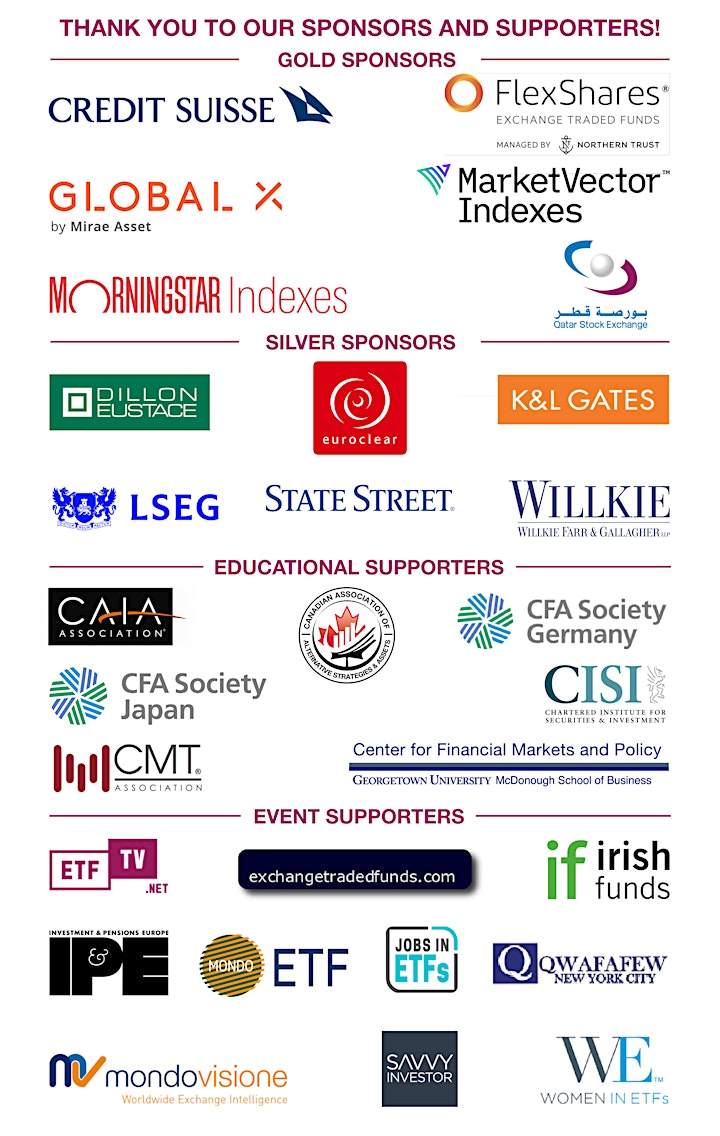 Frequently Asked Questions
What is the registration cancellation policy?
Cancellations received by August 14, 2022 are subject to a $150 USD administrative fee. Notice of cancellation must be received in writing. After August 14, 2022, no registration fees can be refunded. However, if you are unable to attend, substitutions can be made, subject to conference organizer approval, and the administrative fee will not be applied.
What is the complimentary passes policy?
Complimentary passes are allocated at the full discretion of the conference organizers. Complimentary bookings made online are subject to verification by the conference organizers before confirmation of the complimentary pass. If the conference organizers review an online complimentary pass registration and determine that the company and/or registrant does not fulfill the criteria for the complimentary pass, the complimentary pass can be withdrawn at the full discretion of the conference organizers.
Who qualifies as "buy side" for a complimentary pass?
Complimentary passes are available for buyside institutional investors and financial advisors including (e.g., traders, portfolio managers, CIOs, ETF strategists) at asset managers, investment advisers, pension funds, insurance companies, hedge funds, endowments, foundations, fund selectors at family offices, financial advisers and robo-advisers. All buyside complimentary passes are subject to the conference complimentary passes policy, delineated above.
Is the conference open to the media?
Yes, this conference is open to the media.
Does the conference offer sponsorship opportunities?
Yes.  For information regarding sponsorships, please contact Margareta Hricova at margareta.hricova@etfgi.com and Deborah Fuhr at deborah.fuhr@etfgi.com.