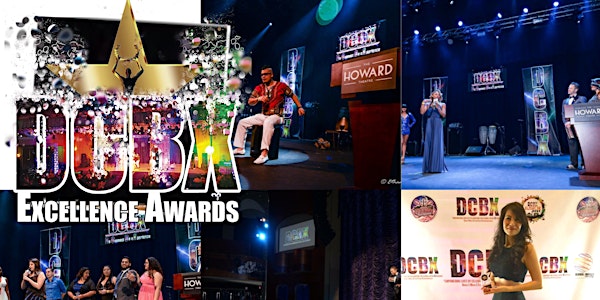 3rd Annual DCBX Excellence Awards! "Celebrating Culture in our Community"
Location
Renaissance Washington, DC Downtown Hotel
999 9th Street Northwest
Washington, DC 20001
Description
DCBX.ORG CORDIALLY INVITES YOU TO
---
THE 3RD ANNUAL DCBX EXCELLENCE AWARDS SHOW
---
Thursday, August 23rd - Doors open at 7:30pm Sharp
Renaissance Downtown Hotel - Grand Ballroom
999 Ninth St NW - Washington, DC 20001
---
MISSION STATEMENT
Honoring Leaders who Impact Lives By Celebrating the Global Experience.
OUR VISION
In it's third year, DCBX Excellence Awards aims to celebrate and recognize the private and often unseen efforts of leaders in the cultural and dance community. Help us highlight their unsung efforts.
Honoring excellence for one special night and featuring live performances and red-carpet moments, voted by people's choice, DCBX honors those in the Latin Dance, Hispanic and Greater Diverse DMV Communities who make a difference through their commitment to positively affecting lives & celebrating The Global Experience.
Recognized by their peers for outstanding achievements throughout the year, we honor excellence across 16 categories and nominated by the People, along with Life-Time Achievement Awards procured by the DCBX Selection Committee.
The Global Experience is the celebration of Cultures by all who impact lives through the passion & energy of Music, Dance, & Community involvement!
Last year thousands of votes were cast with over 18,500 impressions for last year's awards show!
Join DCBX in recognizing those in our community, August 23-27th, 2018.
Nominate here: https://docs.google.com/forms/d/e/1FAIpQLSeau84QiLqhvqUVgDshS6RKEDHWDhZn3cjBZGvlM3eSXwqC9w/viewform
And, join us for a wonderful night of entertainment recognizing those in our community.
---
2018 DCBX Excellence Awards will be announced live at the Official Awards Show on Thursday August 23 at 8 PM at the Renaissance Downtown Hotel in Downtown Washington DC.
AWARD CATEGORIES BY DCBX SELECTION COMMITTEE INCLUDE:
Life Time Achievement Award
Diez (10) Excellence Awards
Viente (20) Excellence Awards
AWARD CATEGORIES BY PEOPLE'S CHOICE INCLUDE:
BUSINESS CATEGORY
Small Business Leader of the Year Award
Emerging Small Business of the Year Award
Community Entrepreneur of the Year Award
ENTERTAINMENT AWARDS
Photographer of the Year Award
Radio Personality of the Year Award
Latin Band of the Year Award
TV Personality of the Year Award
Latin Dance Achievement CATEGORY
Latin Dance Night of the Year Award
Male Latin Instructor Award
Female Latin Instructor Award
Latin DJ of the Year Award
Latin Dance Team of the Year Award
COMMUNITY CATEGORY
Community Volunteer/Influencer of the Year Award
Cultural Festival of the Year Award
Community Organization/Non Profit of the Year Award
Civil Rights Leader of the Year Award
Immigration Rights Leader of the Year Award