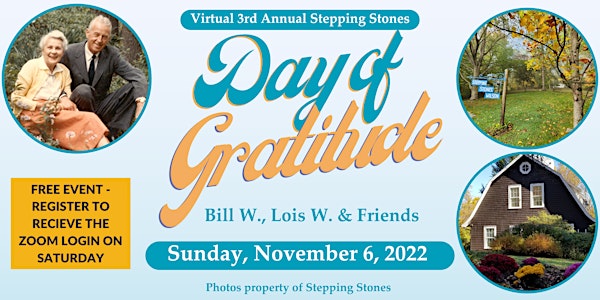 3rd Annual Day of Gratitude with Bill W., Lois W., and Friends - 11/6/22
Virtual event for Stepping Stones with History, Trivia, Prizes, "Spirit of Stepping Stones Awards," and Online Archive Portal Launch
About this event
Join the Wait List and be notified by email when spaces become available!
Have you already registered? You should have received your personal Zoom login via email (check spam/junk/promotions folders).
Are you missing your login email? Email Office@SteppingStones.Org
3rd Annual Stepping Stones Day of Gratitude with Bill W., Lois W. and Friends
A Virtual Event for Gratitude Month in Support of Stepping Stones - Historic Home of Bill & Lois Wilson, NY
Sunday, November 6, 2022, Free with Advance Registration, On Zoom
Free with Advance Registration
6-7:30 p.m. Eastern (New York Time) / 3-4:30 p.m. Pacific (Los Angeles Time)
Optional Donations Encouraged - Support Stepping Stones' Operations and the Event!
Event Highlights: History Talk with Jimmy O. (Long Beach, NY) sharing stories & memorabilia on the Wilsons; Launch Party for Online Archive Portal highlighting the Bill W. Collection; First-Ever "Spirit of Stepping Stones Awards" Honoring Past & Present Champions of the National Historic Landmark Home of Bill & Lois Wilson; Trivia & Prizes; and Auction of painting donated by Mily Trabing (bid starts at $300 and increases in $50 increments; advance bids accepted by email to Office@SteppingStones.Org)
Advance registration required. Register here to receive the Zoom login the day before the event by email (check your inbox and spam folder and if you don't receive it, email office@steppingstones.org).
REGISTRATION INSTRUCTIONS:
1. CLICK "RESERVE A SPOT" (THE RED BUTTON)
2. SELECT "1" REGISTRATION and then MAKE ANY DONATIONS OR PURCHASES - Register and donate from any country, but product sales are available for U.S. residents. (For product purchases outside the U.S. please email visit@steppingstones.org)
3. CLICK BUTTON AT BOTTOM FOR "CHECKOUT" / "REGISTER"
4. FILL IN ALL REQUIRED FIELDS TO MAKE THE "CHECKOUT/REGISTER" BUTTON BECOME RED AND CLICKABLE.
5.FIND A CONFIRMATION EMAIL IN YOUR EMAIL INBOX OR SPAM/JUNK/PROMOTIONS FOLDER. To make sure you receive our emails, add "steppingstones.org" and "eventbrite.com" to your safe sender's domain list and address book.
6. THE DAY BEFORE THE EVENT YOU WILL RECEIVE AN EMAIL WITH YOUR ZOOM LOGIN FOR PERSONAL USE THE NEXT DAY FOR THE EVENT. (Check your spam/junk/promotions folder for the email. If you do not find it, email info@steppingstones.org with you full contact information for assistance.)
Your login is for your personal use only. Please encourage friends to register here.
REGISTRATION HELP: Email your full name, email, mail address, and phone number to office@steppingstones.org
PRODUCT ADD-ONS: U.S. residents may purchase products when registering. Note: all sales are final; supply chain limitations, and shipping industry slowdowns may impact shipping / timing and inventory. Shipping is at the lowest available rate and will be sent following the event with no guarantee of arrival prior to holidays. When applicable, indicate size and color of product. If you plan to watch the event you must still select "1" for Registration in addition to the product selections you make. A product purchase or donation is different than event registration but can be completed at the same time.
INTERNATIONAL MERCHANDISE ORDERS are only available by emailing Visit@SteppingStones.Org or calling 914-232-4822. Please do not place international product orders when registering for the event.
NO RECORDING: By registering and/or logging in to the event, you agree NOT TO RECORD, PHOTOGRAPH, POST, PUBLISH OR DISTRIBUTE any part of the event. To use material, email Archive@SteppingStones.Org. The presentation will not be available for download or posted online afterwards.
TIME ZONE CONVERTER: If you are not sure what time 6 p.m. on 11/6 in New York (Eastern Time Zone in the US & Canada) is in your time zone, please use a free time zone converter online.
Organizer: Stepping Stones, the historic home and archives of Alcoholics Anonymous Cofounder Bill Wilson and Al-Anon Family Groups Cofounder Lois Wilson in Katonah, New York, is a wholly separate, non-profit, tax-exempt organization.
Supporting Stepping Stones: Donations are welcomed to support Stepping Stones Foundation's work to operate, maintain, and preserve the buildings, grounds, objects, and archives of Bill and Lois. The Stepping Stones Foundation (Federal I.D. #13-3031164) is a tax-exempt 501(c)3 nonprofit Private Operating Foundation that accepts contributions of any amount, planned gifts, in-kind gifts and gifts of stock. Gifts are tax-deductible to the extent provided by U.S. Law.
Donate when registering (but don't forget to also select "registration") or give by the following:
Mail checks to: Stepping Stones Foundation, P.O. Box 452, Bedford Hills, NY 10507
Phone : 914-232-4822
Website: https://www.steppingstones.org/
Email: info@steppingstones.org
EVENT DAY HELP & LOGIN ASSISTANCE
FOR HELP LOGGING IN TO THE ZOOM EVENT IF YOU HAVE TROUBLE THE DAY OF THE EVENT: Call 914-232-4822 and Email your full name, email, mail address, and phone number to office@steppingstones.org
Text and photos on this event website and during the event are copyright 2021 or 2022 Stepping Stones Foundation. Permission is required for further use. Images:
Above: Fall 2022 picture of the home at Stepping Stones and Bill and Lois Wilson from Stepping Stones Archive;
Below: Painting by Mily Trabing (The auction of this painting is during the Day of Gratitude event; bidding starts at $300). All rights reserved.; Fall 2022 pictures of Stepping Stones. All rights reserved. Permission for use required. Email info@steppingstones.org.
To bid on the above painting by Mily Trabing that will be auctioned off at the event on Sunday, you may bid during the event or make an advance bid by emailing office@steppingstones.org and providing your bid and contact information. The bidding starts at $300 and increases by $50 each time.
Above: Painting by Mily Trabing, 2021. Copyright Stepping Stones. Permission is required for use of this painting.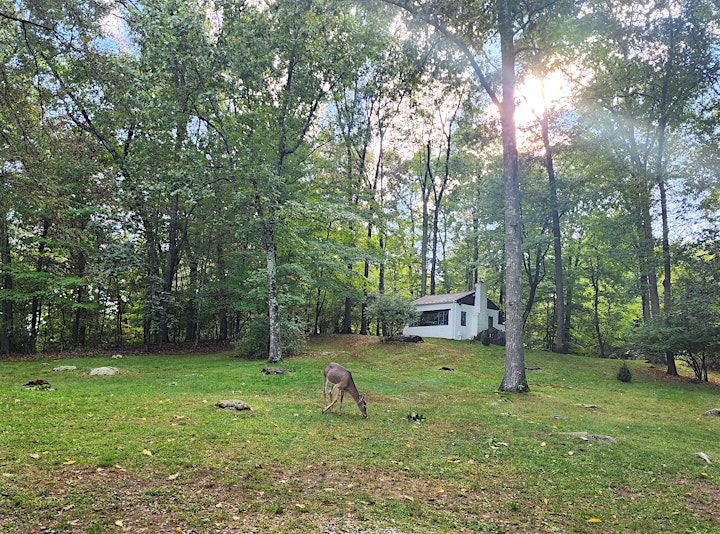 Bill W.'s writing studio - Wit's End or The Shack at Stepping Stones - Historic Home of Bill & Lois Wilson with a resident of the property grazing in the foreground.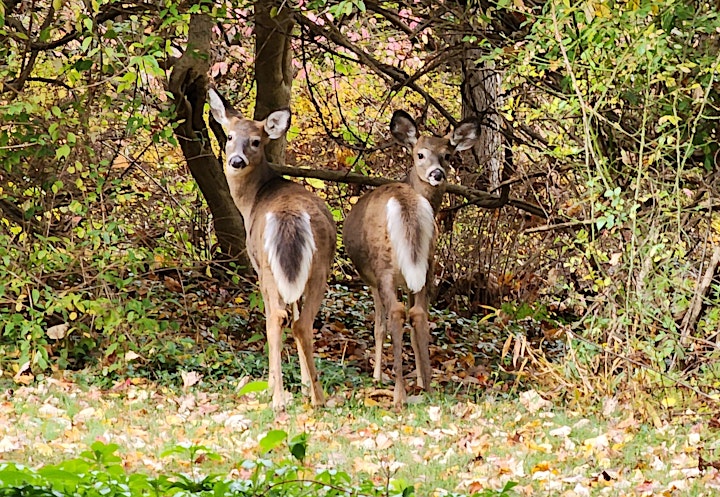 Deer roaming some of Stepping Stones 8+ acres of woods and gardens. Photo from fall 2022.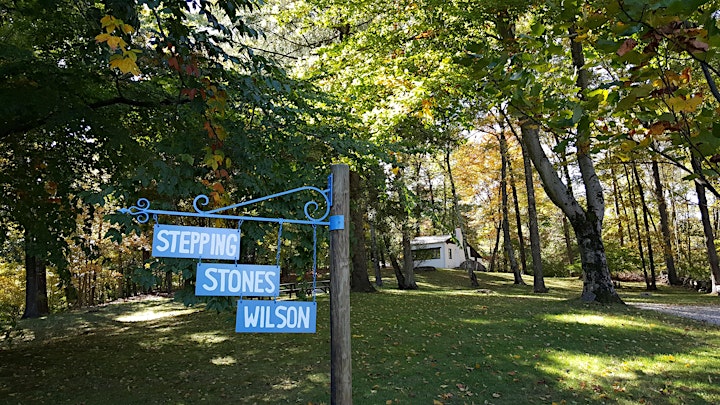 The above image of the sign and writing studio at Bill and Lois Wilson's home, Stepping Stones, is trademarked 2021 Stepping Stones.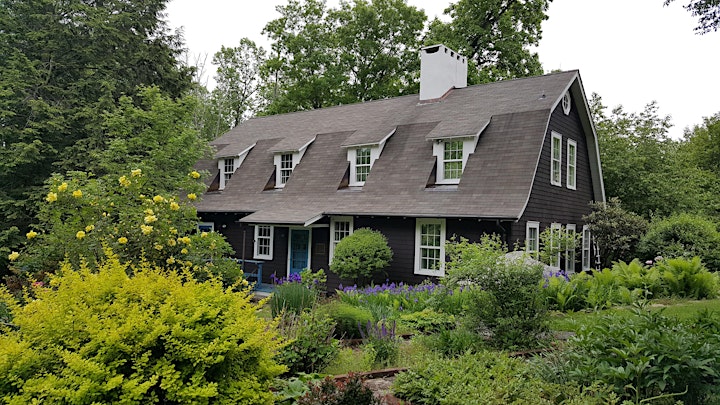 The above image of Bill and Lois Wilson's home at Stepping Stones is trademarked 2021 Stepping Stones.
All images property of Stepping Stones. Email archive@steppingstones.org for permission for use.