Description
 
3rd Annual Croptoberfest™ 2016
"Central Washington's Cannabis Festival"
November 19th, 2016
16 N. 3rd St.
Yakima, WA
Introduction
Croptoberfest™ 2016 will be hosted November 19th in the heart of downtown Yakima, Washington. Yakima is known for its sprawling hills and amazing growing seasons. This country is an agricultural hub and it has seen the rise and transition of many industries. Yakima is known for its hops production. Currently, Yakima Valley hop farmers produce over 77 percent of the nation's hop production. Most hop farms in Washington are third or fourth generation family operations that have now diversified into other crops as well. And most hop growers also grow fruit, but some grow mint, grapes and even row crops. It is our intent to exemplify to the established agrarian industries the benefits of cannabis production and processing.

Yakima was chosen for Croptoberfest™ 2016 because we aim to explore how the nascent cannabis industry is reminiscent the development of the craft beer and wine industries in Eastern Washington. Croptoberfest™ will feature cannabis education focusing on the future of the agricultural promise of cannabis in all of its forms. We will be hosting a tradeshow that will serve the the community by creating a professional forum with the cannabis industry. In Washington State the future is bright for cannabis production and processing, especially in the eastern breadbasket, which can facilitate the nascent industries appropriate agriculture expansion.
Tickets
General tickets to the Cannabis Expo and Educational Seminar are only $10.00. Even though there will be zero consumption of any intoxicant on site the event will be limited to adults of 21 years of age or older. We will be hosting a survey of sponsors at their trade show booths answering any question you might have for the nascent cannabis industry. The booths will be made up of cannabis producers, processors and retailers along with the multitude of ancillary companies that make up our state's newest economy. Our guests are also welcome to join us for the Educational Seminar, which features five unique panels and three speakers.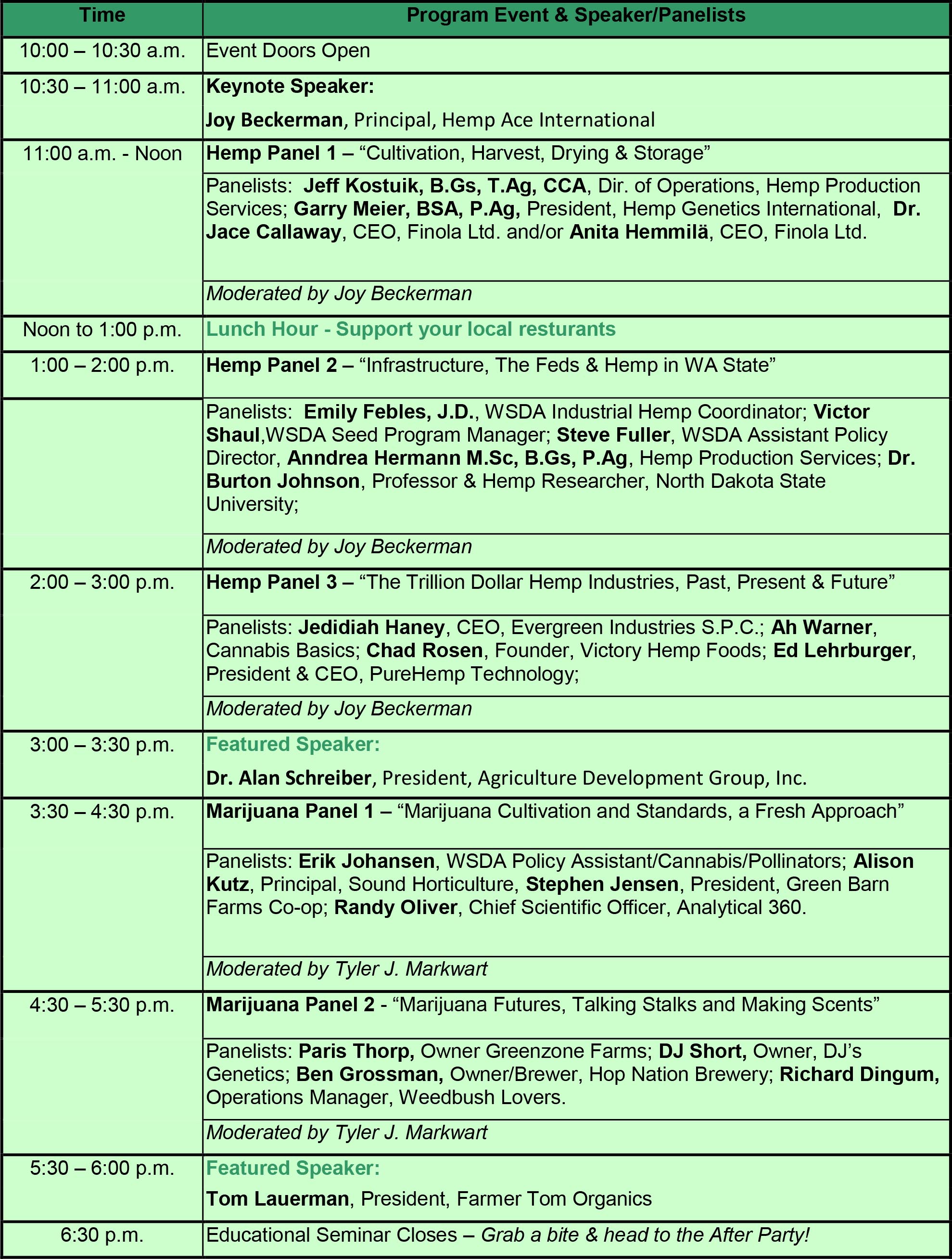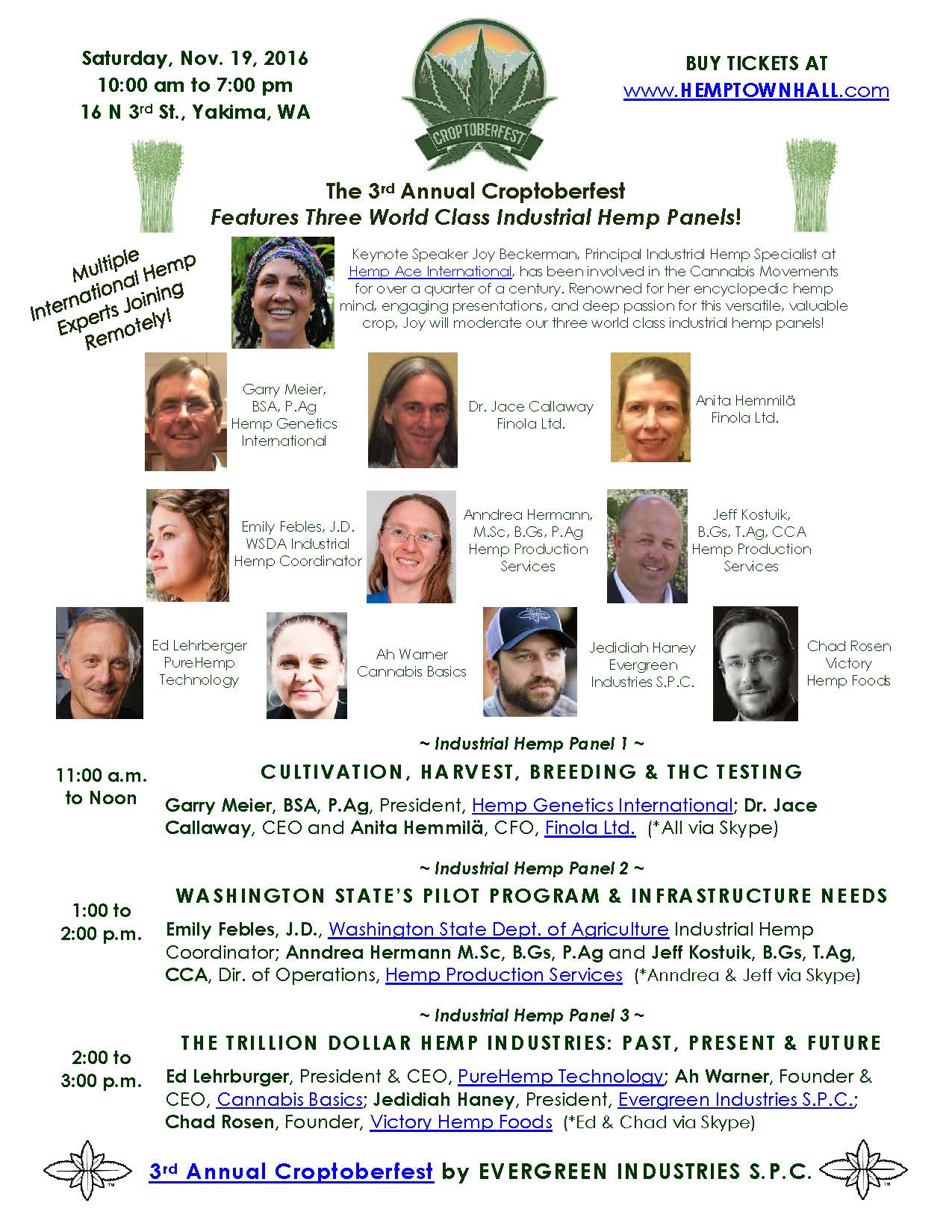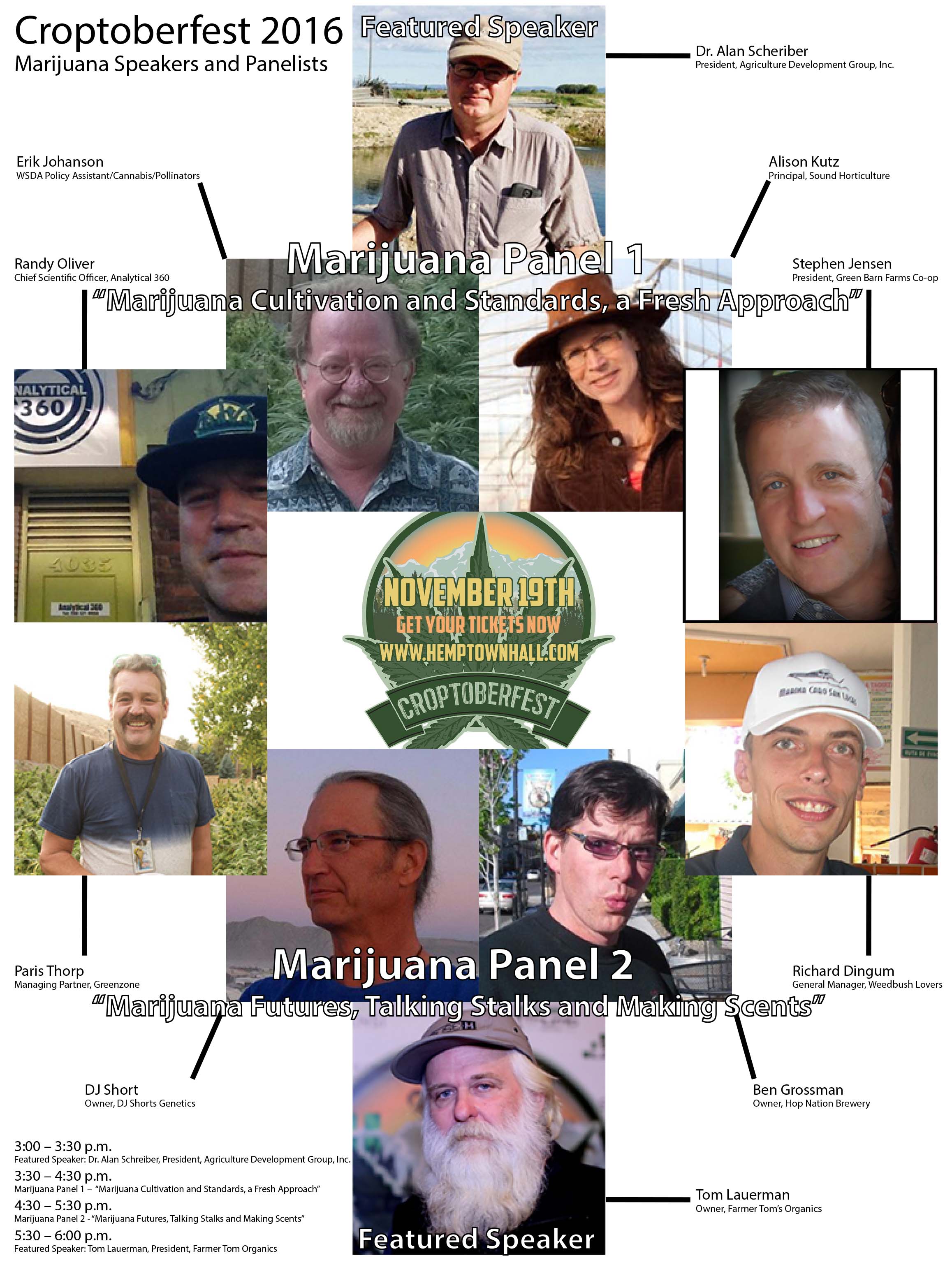 Don't forget that there is the official Croptoberfest™ 2016 After Party taking place immediately after the Trade Show and Educational Seminar.

Tickets Prices
• $10.00 General Admission - (16 N. 3rd St, Yakima, WA 98901) This ticket will provide general access to the Trade Show and the Educational Seminar. The speakers start at 10:00 am and continue throughout the day until close at 6:30 pm. Attendees will be able to experience over 6 hours of cannabis cultivation and processing. And the first 500 guests will receive a event schwag bag.
• $20.00 After Party (RSVP) - (31 N 1st Ave, Yakima, WA 98902) This ticket will provide access the after party. We have limited tickets so this is a mandatory RSVP event. The after party is a closed event so folks will have to have a ticket prior to the event start at 7:00 pm. The after party will feature Arch DJ spinning tunes along with reggae star Adrian Xaviar and his six-piece band for over 4 hours. Event closes at 12:00 am.
• $50.00 VIP, Full Access - (Both locations) - This ticket will provide a guest all access to the event. We will have a VIP area at the Trade Show and the After Party. These areas will be a great place for our VIP guests to rub elbows with our special guests and speakers. VIP guests will also receive an extra stuffed event schwag bag.


---
Location: 52 North 3rd Street, Yakima, WA 98901
Time: 10:00 am to 7:00 pm
https://www.facebook.com/events/161165797668069/
Croptoberfest™ 2016 will feature a expo for cannabis businesses to join us on the trade show floor for the day. This will be like any other professional trade show for any other professional industry. There will be a survey of the many different types of businesses that make up the industry. We will open the doors to the Trade Show by 10:00 am. All attendees upon registering will receive a guest schwag bag filled to the brim with fun and engaging items from our sponsors. After registering the guests will be able to tour the trade show floor. While guests are at Croptoberfest™ they will be able to learn first hand about the businesses that have sponsored the event. Shortly after the doors open the Educational Seminar will open for guests to gather.

We find ourselves in a tremendously exciting time in history. Never have we seen a prohibited plant that holds so much value to today's economy be released from the chains of the mis-education that over seventy years of propaganda have delivered our society. We launched Croptoberfest™ to assist in these efforts. We know that being exposed to the real education about the plant cannabis sativa l. will help us in understanding why we are now in the beginning of an agrarian revolution.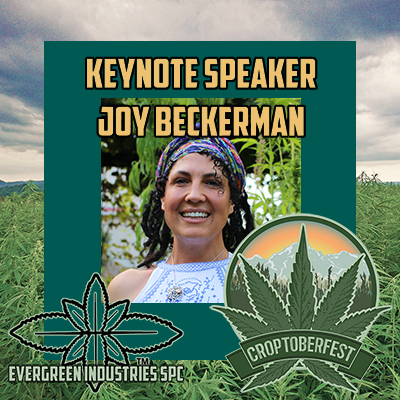 The Educational Seminar will start off with a discovery on the developing industrial hemp sector with a keynote speech from Joy Beckerman, Principal, Hemp Ace International. Joy has been working diligently on reversing the tides of prohibition for well over 20 years now. Joy opened the first industrial hemp store in the State of New York, in Woodstock, in 1994. And most recently Joy is known in Washington State for her tireless efforts to pass Senate Bill 6206, which is the enabling legislation that has created Washington's certified seed pilot program currently under construction by the WSDA. We are very fortunate to have Joy in Washington State advocating for hemp revival.

After our keynote speaker we will be diving right into the future fields of Washington State hemp production. The first three educational panels will cover cultivation, processing and the multitude of industries that industrial hemp fuels. We will be hearing from many of the representatives from the WSDA. They will be covering what the department of agriculture is doing for Washington's next cannabis industry. "The Industrial Hemp Research Pilot (IHRP) is a program established by the Washington State Legislature to begin pilot studies that would research the cultivation and commercial viability of an industrial hemp industry in our state. Washington's hemp bill, ESSB 6206 [external link] (now codified as Chapter 15.120 RCW) [external link], was passed in accordance with the 2014 Federal Farm Bill, which allowed states to grow hemp only for research purposes and determine if it is a viable industry."

This year Washington State has seen the second official legal harvest of sungrown cannabis. Meaning that for over seventy years the large scale production of cannabis has been done out of sight and out of mind from the average citizen. And now we are seeing the first large-scale commercial 'marijuana' farms take root across Washington. The next three panels are devoted to the phenotypes of cannabis that possess the psychoactive compound we know as tetrahydrocannabinol or THC. These phenotypes were renamed "marijuana" to create a policy war on the entire plant. This war has taken away our knowledge on how to grow these plants in a scalable agricultural context. Research is needed and it was needed a long time ago.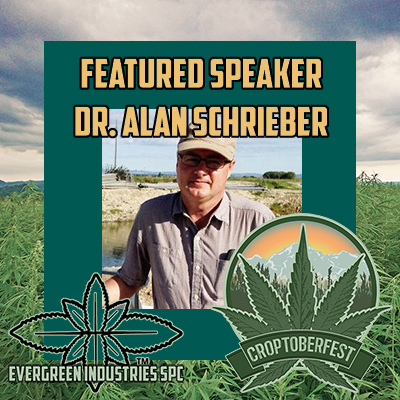 Our featured speaker on cannabis agriculture is Dr. Alan Schreiber. Dr. Schreiber is President of Agriculture Development Group, Inc. (ADG). "ADG was founded in 1998 to conduct independent research and provide consulting services to the agriculture industry. The research farm is located 15 miles north of Pasco on 115 acres of highly productive farmland in the Columbia Basin of Washington State. With sandy loam soils and a hot dry climate, this area provides ideal growing conditions for over 100 different crops." [3] Dr. Schreiber is now conducting agricultural research on cannabis at his farm located in Moxee, WA. We are very fortunate to be hearing from Dr. Schreiber about his perspective on cannabis research and development.

Croptoberfest™ 2016 is proud to have a two unique panels of cannabis industry specialists for your review on sun grown, full-term "marijuana" farming. The panels will focus on the diverse ways to farm cannabis in the unique growing environments that cover the Pacific Northwest. The first panel will focus on the current standards that are involved in large scale cannabis production. The second panel will focus on the near future of cannabis farming. What does it take to succeed in today's marijuana marketplace? What new standards are needed to set Washington Farmers apart from other state? These are just a few of the questions we will be addressing at Croptoberfest™ 2016.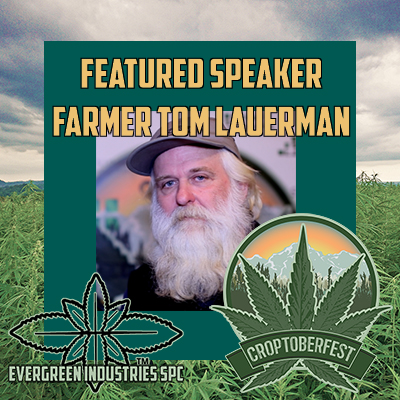 The day's educational seminar will end with our final Featured Speaker Tom Lauerman of Famer Tom's Organics. Tom is known to be a trendsetter in the cannabis industry. He and his wife Paula have been leading the movement since the early 90's. In the last few years Tom has been the first to have federal agencies such as NIOSH out to his farm to educate them about cannabis. Tom is now leading the charge once again, but this time its federal.
As you can see these are exciting time in the cannabis industry. There is a ton of information to be had about the resurgence of the cannabis industries. We need to take a moment to acknowledge the past, take a look at the present and peer into the future. The sky's the limit when it come to the promise of the cannabis industries. Join us for a day full of information.
---
Facebook event page: https://www.facebook.com/events/104787733321800/
Location: 31 N 1st Ave, Yakima, WA 98902
Time: 7:00 pm to 12:00 am
Ticket Price: $20.00 - After Party (RSVP limited tickets available)
No event is worth writing home about unless it has an amazing after party. Well Croptoberfest™ will never let our attendees down. We have secured an event space nearby the Trade Show for the official Croptoberfest™ After Party. We have limited tickets so we are asking all that want to attend to RSVP today by purchasing your tickets by visiting our website at: www.evergreen.industries/croptoberfest

Entertainment

Croptoberfest™ 2016 has booked some amazing musical talent for our guest's ears. It starts off with Arch DJ will be spinning some cannabis culture tunes while we decompress from the day's activities. Grab a fresh libation from the bar and mingle. We will be networking and conversing about the industry and our dreams of the future. We have endowed all of our speakers and sponsors passes to the evening so we all can rub elbows. A short while later one of the Northwest finest reggae bands will take the stage. Adrian Xaviar and his cohort of island sound musicians will be playing the healing vibrations of the islands, Vashon Islands that is. Adrian is going to be bringing out his entire band for Yakima, horns and all. You will not want to miss this!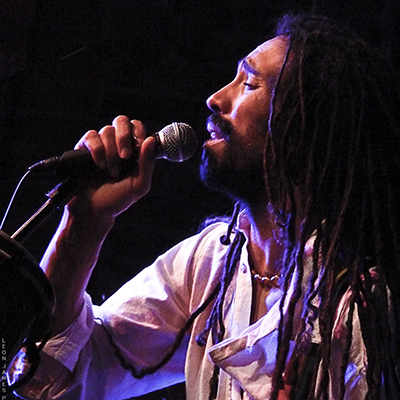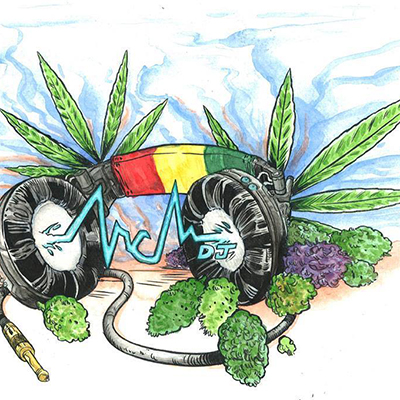 ---
Q: Can I consume cannabis at this event?
A: No, this is not a public consumption venue.
Q: Why are you having an event that doesn't allow consumption?
A: Croptoberfest is an event that is meant to educate the attendees first and foremost.
Q: What kind of cannabis education can I expect to learn?
A: We are bringing professionals from around the State to share their firsthand knowledge on both hemp and marijuana cultivation, processing and ultimately marketing their agricultural products.
Q: Why should we be concerned with farming cannabis?
A: Because there is something to be said about knowing your farmer. You can find out the how your favorite cannabis is grown.
Q: What are we going to learn about hemp?
A: Attendees will be exposed to three main panels about what hemp production will look like in Washington in the next few years.
Q: What are we going to learn about marijuana?
A: Attendees will be learning about the current standards that farmers are holding themselves to in order to set themselves apart in the marketplace.
Q: Why would I want to attend Croptoberfest if I don't want to sit through speakers.
A: Attendees are welcome to tour the Trade Show floor and visit our sponsors booths. There you will be able to interact with cannabis companies from across Washington State.
Q: What does the VIP ticket get me?
A: VIP passes will provide extra access to the speakers lounge backstage during the daytime, and also receive access to the VIP area during the official Croptoberfest After Party.
Q: When is the official Croptoberfest After Party?
A: The After Party is immediately following the daytime Trade Show. Guests will be directed across the street from the Trade Show to the event center where the after party will take place.
Q: Do I need another ticket for the official Croptoberfest After Party?
A: Yes, because there is limited space you will need to purchase a separate ticket for the official After Party.



---
Visit our website at: www.evergreen.indutries/get-involved for sponsorship purchase options. You can also email us at: croptoberfest@evergreen.industries for more information.
Croptoberfest official event website:
http://evergreen.industries/croptoberfest/
Facebook event pages:
https://www.facebook.com/events/161165797668069/
https://www.facebook.com/events/104787733321800/