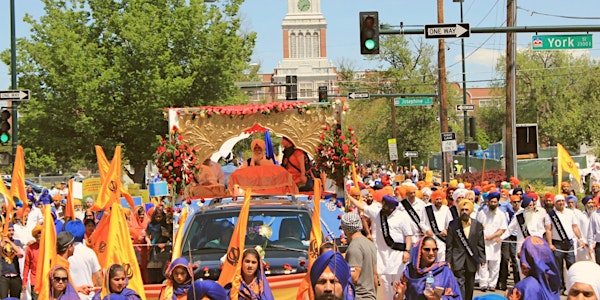 3rd Annual Colorado Sikh Parade
The Sikh Community of Colorado invites you to our Annual Sikh Parade on Sun., Aug. 28 9:30am-3:30pm at East High School w/ Free Food for All
When and where
Location
Denver East High School 1600 City Park Esplanade Denver, CO 80206
About this event
The Sikh Community of Colorado invites all our Colorado Neighbors to our 3rd Annual Sikh Parade on Sunday, August 28th from 9:30am to 3:30pm at East High School. Free vegetarian Indian food (Langar) and refreshments will be served continuously throughout the day for everyone.
In previous years, we successfully hosted thousands of attendees and served over 12,000 free vegetarian Indian meals. (see DenverPost and Denverite) (You can also view our highlight video below).
The entire program will be as follows:
9:00 a.m. to 12:30 p.m. Ceremony, music, and free food/refreshments (langar) (9:30am Breakfast, 11:30am Lunch)
1:00 p.m. to 1:30 p.m. Sikh prayer (Ardas).
1:30 p.m. to 3:30 p.m. Parade from East High School down Colfax and City Park neighborhoods.
As of today, Sikhs participate in a multitude of industries, own over a thousand businesses in Colorado, and employ tens of thousands of individuals. Through this event, you'll have an opportunity to meet and connect with your Sikh neighbors across Colorado while learning about our rich heritage and religion.