Description
Are you a parent or a student searching for the right college? Want to get your money's worth on a great education? Curious about whether a college degree will actually prepare you for a career?
Search no further! The Morehouse College Atlanta Metro Alumni Chapter in conjunction with the Atlanta Chapter of the Historically Black College and University (HBCU) Alliance is hosting "THE 3RD ANNUAL COLLEGE ACCESS TO SUCCESS SUMMIT." Sponsored in kind by the generous contributions of THE HOME DEPOT, STATE FARM, ERIC MCGLOTHEN, LLC and BB&T BANK, this day-long college and career seminar aims to connect you with quality information and key professionals ready to give you the real deal on your future plans!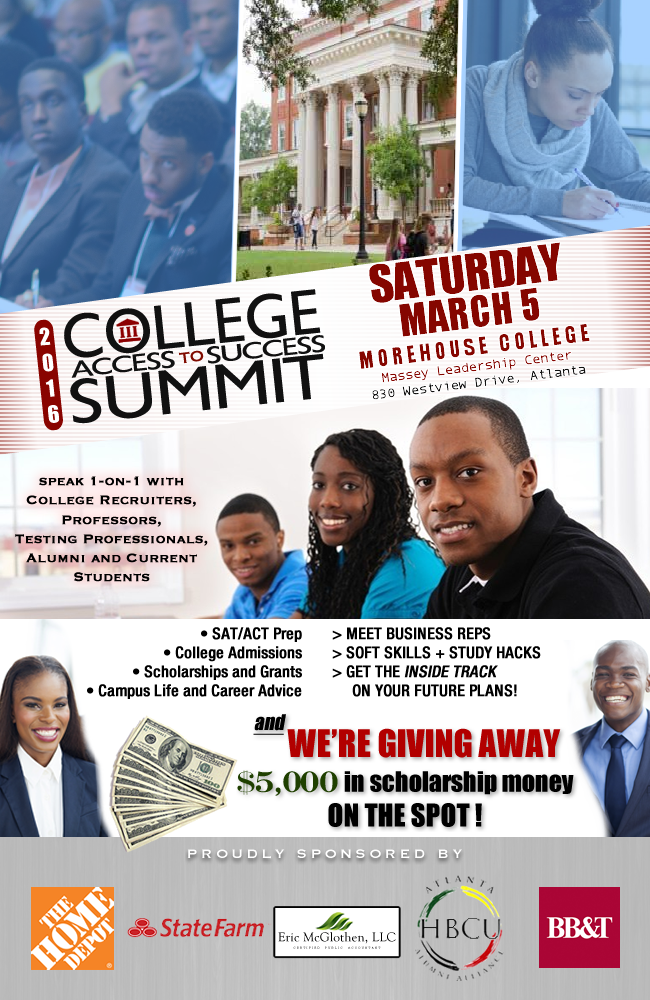 Join us on Saturday, March 5, 2016 from 9:00 am to 4:00 pm on the campus of Morehouse College (at the Walter and Shirley Massey Leadership Center). Take part in fun and engaging workshops, meet-and-greet recruiters from some of the southeast's most respected local colleges and universities, get specialized advice from industry leaders, or speak directly with workforce specialists and hiring managers about entry-level opportunities to develop your skills and succeed.
And that's not all.
We are literally GIVING AWAY $5,000 IN SCHOLARSHIPS that day! That's right -- THOUSAND, as in three zeros!!
-- Register Now and YOU could be a WINNER --