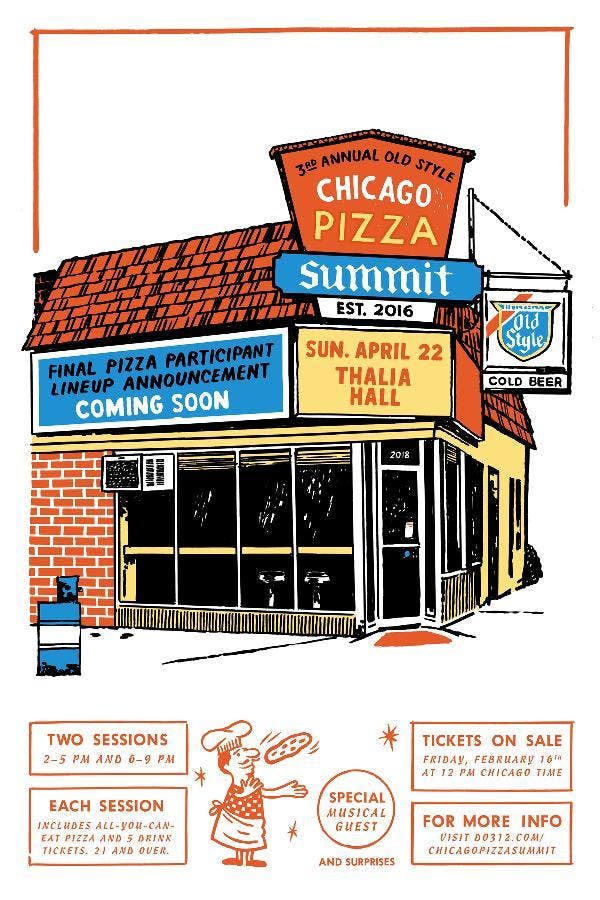 About this Event
$45 // 21+
*Session Two* - 6PM
Chicago better prepare to increase their appetite. By popular demand the hugely successful OLD STYLE PIZZA SUMMIT will return for its third and largest serving yet on April 22nd. Following the precedent sent by the first two year's festivities, which drew attendance from over 2,000 passionate pizza lovers combined, the OLD STYLE PIZZA SUMMIT promises to honor this city's love of pizza like they've never seen before. Created by Old Style beer, in conjunction with Empty Bottle Presents, the OLD STYLE PIZZA SUMMIT will take place on Sunday April 22nd for one day only.
This year the THE OLD STYLE PIZZA SUMMIT will be moving to Thalia Hall, a bigger location that will allow twice as many fans to get in on all of the cheesy action. Chicago's favorite pizza institutions and cooks (full line-up to be released later) from around the city will gather to present their take on this now beloved Windy City classic. Some participants will serve it up by the slice while others will present their unique twist and showcase different types of pizza-inspired cuisine similar to past popular offerings like the Pizza Shot and Pizza in a Bag.
The Summit will feature two sessions (2 to 5:00 p.m. and 6 to 9:00 p.m.) with entry by ticket purchase only. The two sessions will also feature some of Chicago's top DJs, two Chicago-inspired art galleries by Ryan Duggan and The Chicago Neighborhoods, a pop up exhibit from the US Pizza Museum, the ultimate Glitter Guts pizza photo booth, a marketplace featuring limited edition Old Style collaboration with local brands, along with an exclusive first "taste" of a brand new beer that Old Style will be unveiling in time for summer. No Pizza Summit at Thalia Hall would be complete without beloved MC ShowYouSuck and a special surprise hometown musical guest.
Tickets for the OLD STYLE CHICAGO PIZZA SUMMIT will be available to the public at emptybottle.com on Friday February 16th at 12:00 PM. Tickets are $45 each, which includes all you can eat pizza samples , 5 Old Style or Old Style Light beer tickets and a limited edition commemorative Old Style pizza-shaped plate. Be sure to set an alarm as tickets for last year's summit sold out in less than an hour!