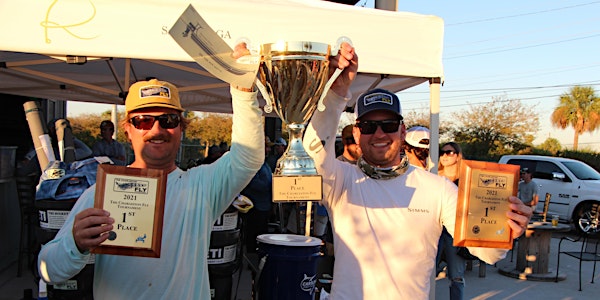 3rd Annual Charleston Fly Tournament
The 3rd Annual Charleston Fly Tournament October 28th and 29th--Tailers Ball and Captains Meeting October 27th Cooper River Brewing--
When and where
Location
Cooper River Brewing Company 2201 Mechanic Street #B Charleston, SC 29405
Refund Policy
Contact the organizer to request a refund.
Eventbrite's fee is nonrefundable.
About this event
Well Ladies and Gents it's that time of year again! The 3rd annual Charleston Fly Tournament is October 28th and 29th. Kicking things off as usual with the annual Tailers Ball and Captain's Meeting on October 27th at Cooper River Brewing from 5pm-9pm. Weigh in and Awards Ceremony will be October 29th at Tradesman Brewing from 5pm-9pm.
We are more than excited to announce all proceeds from this year's tournament will be donated to Captains for Clean Water! Each team that signs up for the tournamnet will receive two, 1-year memberships to Captains for Clean Water. Please remember that 1 ticket is for a 2 man team. There will be a limit of 75 teams so make sure to reserve your spot today!
There will be a 1st, 2nd, and 3rd place winner, along with a Guide Champion. We will have TONS of great prizes and captains bags full of great swag thanks to our awesome sponsors for this years tournament, all listed below.
-Hardy--Orvis--Tibor Reels--Cortland Line--Danko--Williams Knife--Cordina Eyewear--Bob Beale Outfitters--On the Fly Skiff Co--Castaway Customs--Fish Feathers Fly Line Wipes--Monti Coolers--Traeger Grills--Yeti Coolers--Rivers & Glen Trading Co.--Flood Tide Co.--Cooper River Brewing--
If you have any questions please feel free to stop by the shop or reach out to Owen Plair at Rivers & Glen Trading Co.--843-654-1808--owen@riversandglen.com--122 Coleman Blvd Mt. Pleasant, SC 29464
Fly Fishing ONLY
• Most combined inches from 6 largest fish in 2 days wins. 3 measured fish
per day only.
• You can only count the 3 largest fish PER DAY. You will have to show time
stamp on photo taken of the fish at the weigh in. No more than 3 fish on
the same date can be submitted.
• Lines in at 7am and lines out at 4pm. Tournament days are 10/28/2022
and 10/29/2022. No time stamps will be accepted before or after these
times.
• Both team members must be present at the weigh in by 5:00pm on
10/29/2022 at Tradesman Brewing Company or you are disqualified from
the tournament. 1647 King St Ext, Charleston, SC 29405
• Catch and Release ONLY
• Wading permitted
• Two people per team
• Teams of two must stay together; wading teams must stay within eyesight.
• SC waters only and all team members must be present at weigh in before
5:00pm on 10/29/2022 at Tradesman Brewing.
• No fishing offshore, off the beach, on wrecks or jetties; no fishing
impoundments, spillways, or ponds; no chumming or scent; no
unsportsmanlike shenanigans. If you want to cheat then do not fish the
tournament because we will find out and you will be disqualified. This is an
inshore tournament only.
• Fish must be photographed and measured on supplied measuring tape
with smartphone and able to show time and date photo was taken. Screen
shots will not be accepted.
• Fish to be measured to nearest quarter inch from nose to tail. You can pinch
the tail and the longest part of the tail will be used to measure. Any amount
of the fish not on the measuring tape will not be scored.
• Tie breaker goes to longest individual fish and then to team who caught
that fish first according to time stamp.
• You cannot take your boat out of the water and move locations. This
includes kayaks, paddle boards, and any of type watercraft. If you pull your
boat out and move locations you will be disqualified.
• Max Tippet is 20lb.
• No Sinking Line allowed.