3rd Annual Centers for Spiritual Living Practitioner Council Gathering

Thursday, October 18, 2018 at 5:00 PM

-

Saturday, October 20, 2018 at 4:00 PM (EDT)
Event Details
3rd ANNUAL CSL PRACTITIONER COUNCIL GATHERING
Center for Spiritual Living Asheville, North Carolina
October 18 - 20, 2018
ALL LICENSED CSL PRACTITIONERS AND

PRACTITIONER II STUDENTS ARE WELCOME
 JOY IN CONNECTION
(Weaving Our Hearts Together)
PRACTITIONER GATHERING REGISTRATION DETAILS
Early-Bird:            $145 through midnight August, 2018
Full Registration:  $175 September 1, 2018 through midnight October 11, 2018
REGISTRATION INCLUDES:
Full scheduled program which will provide 12 hours of CSL Practitioner accredited Continued Education Units. A variety of incredible music with David Washington (Director of Music CSL Asheville) and Marina Raye ("The Feminine Voice of the Native Flute"), May Pole festivities, Sacred Labyrinth meditation and experiential with Chuck Hunner, Firewalk experience with Rev. Dr. John Waterhouse,  Four Agreements workshop with Toltec Master and Keynote Speaker Michele Laub, Presentation "The Power In Your Practice" by Life Coach and International Speaker Kris Ferraro, RScP,  Presentation "Live Your Passion" by Council Member Barbara Gilfillan,  Thursday night catered Opening Reception, lunch and dinner on campus on Friday and lunch on Saturday.
CSL ASHEVILLE IS LESS THAN FOUR MILES FROM THE CROWNE PLAZA
THE PRACTITIONER COUNCIL IS OFFERING 10 NEEDS BASED SCHOLARSHIPS
Press the button "Contact Organizer" for more information.
Crowne Plaza Asheville Resort
PEAK SEASON IS OCTOBER AT THE RESORT!
 NATURE WILL BE IN FULL BLOOM!
OUR GROUP NEGOTIATED RATES ARE A SAVINGS OF $50 PER NIGHT
NO "RESORT FEE"! 
 Booking Guest Rooms
·      

 
Call our toll-free number

 
1-844-330-0296 (24/7)
 

and mention the group name
Center for Spiritual Living

 
in order to receive the special group rate.
·      

 
For In-House reservations attendees can call our local number

 
828-285-2603

 
and mention the group name.
o  

 
Check Availability (enter dates of stay)
o  

 
Enter Group Code:

 
SLV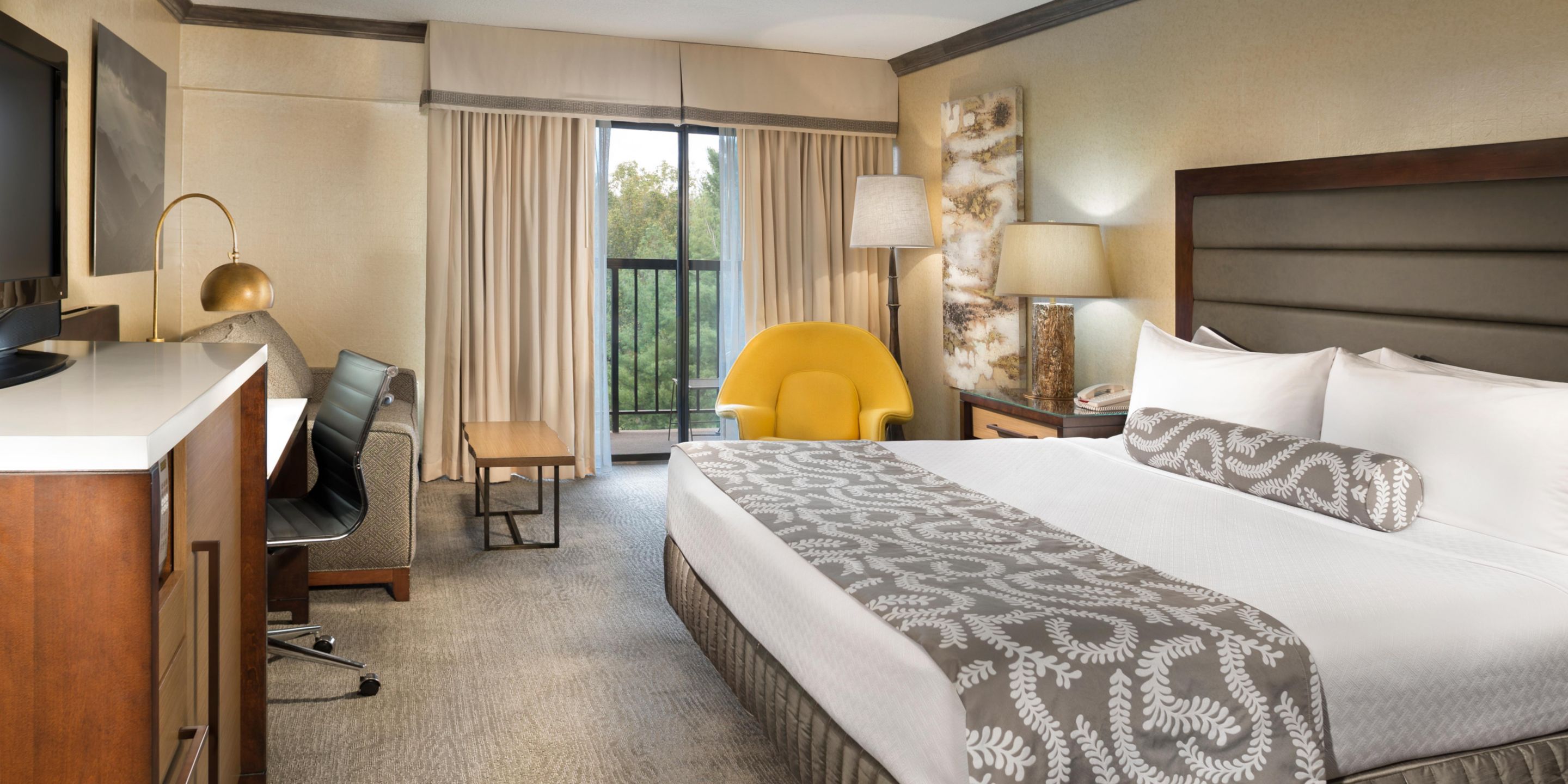 This room has a king bed as well as a sleeper sofa with crowne plaza sleep amenities. You can enjoy views of rolling hills or downtown asheville from your private balcony. The room also features free wi fi access cable tv with HBO and a mini fridge. ($204 per night)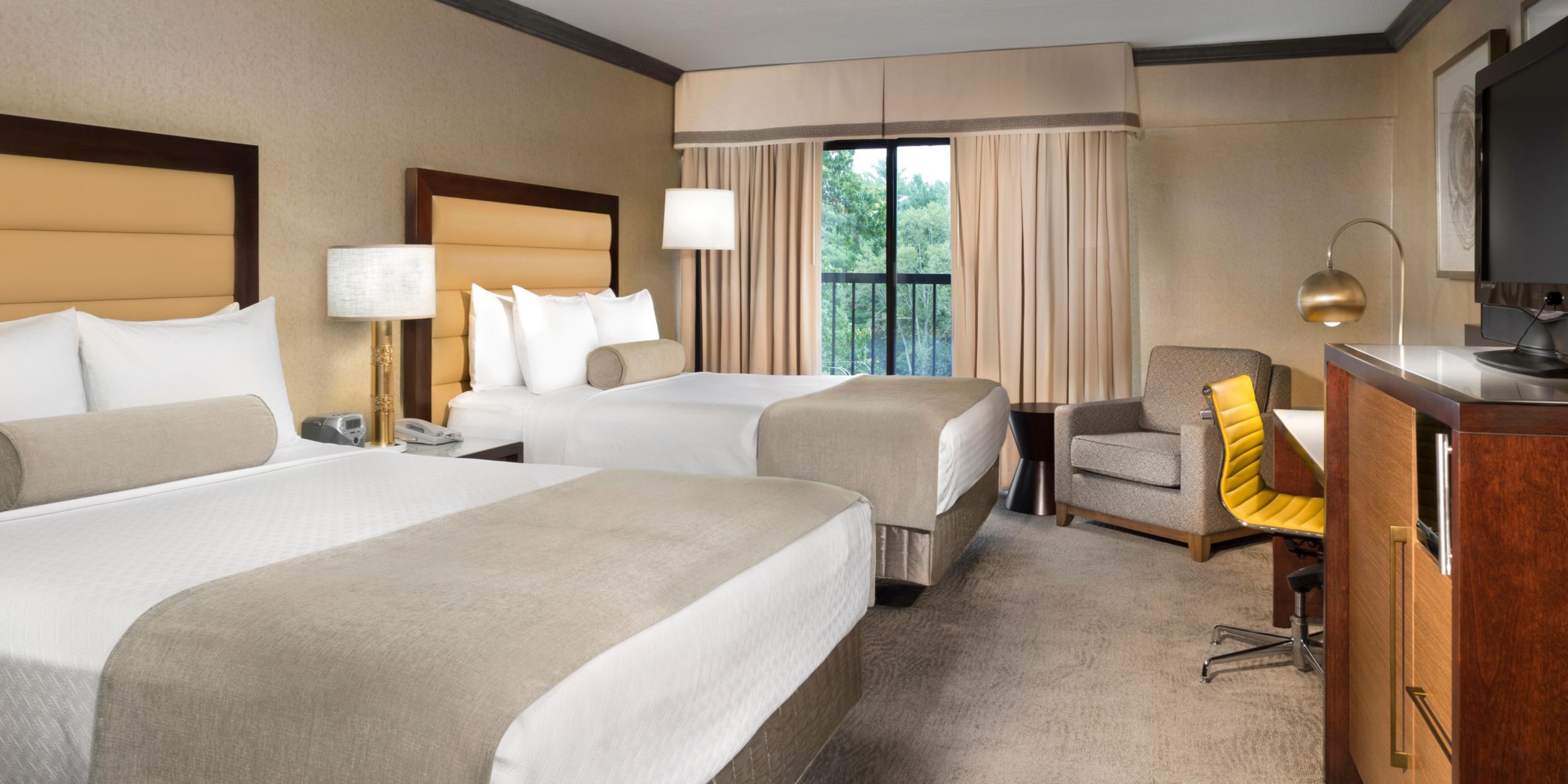 This room features two queen beds with Crowne Plaza sleep amenities. Enjoy views of rolling hills or downtown Asheville from your private balcony or patio. The room also features free wifi access. Cable tv with HBO and a mini fridge and a table with two chairs. ($184 per night)
ADELAIDE SPA
Treatments and services include facials, massages, body treatments, and more. Escape the every day and give your body the nourishment it deserves. Please call the Spa directly at 828-575-2196 for availability and pricing.

DURING YOUR STAY AT THE CROWNE PLAZA CHECK OUT:
THE ZIP LINE, OUTDOOR AND INDOOR POOLS

GOLF, RACQUETBALL, TENNIS. WALKING ~ RUNNING PATHS

ONSITE RESTAURANT (Daily Breakfast Buffet)
  THE GROUNDS ARE MAGNIFICENT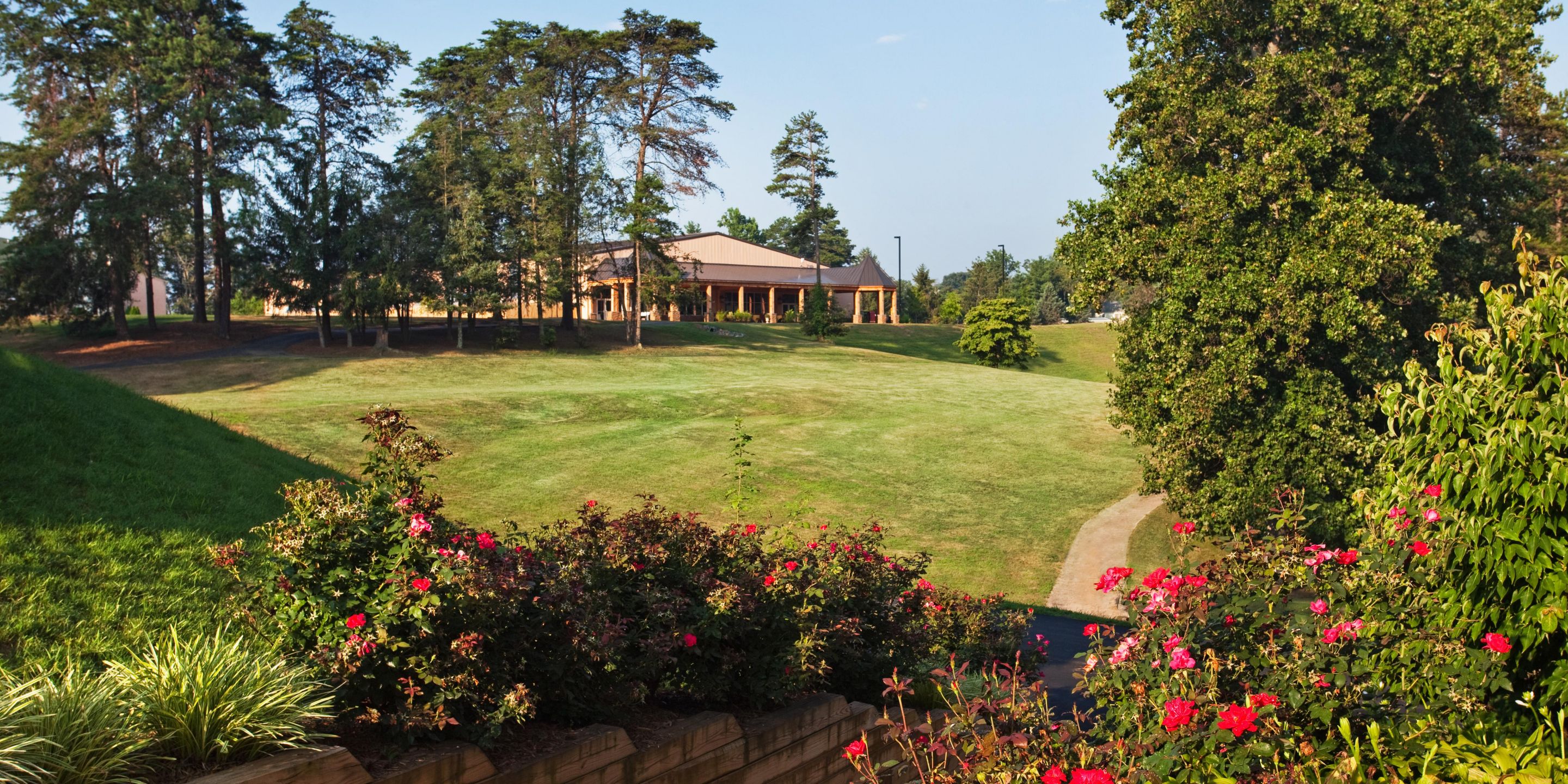 THE LOBBY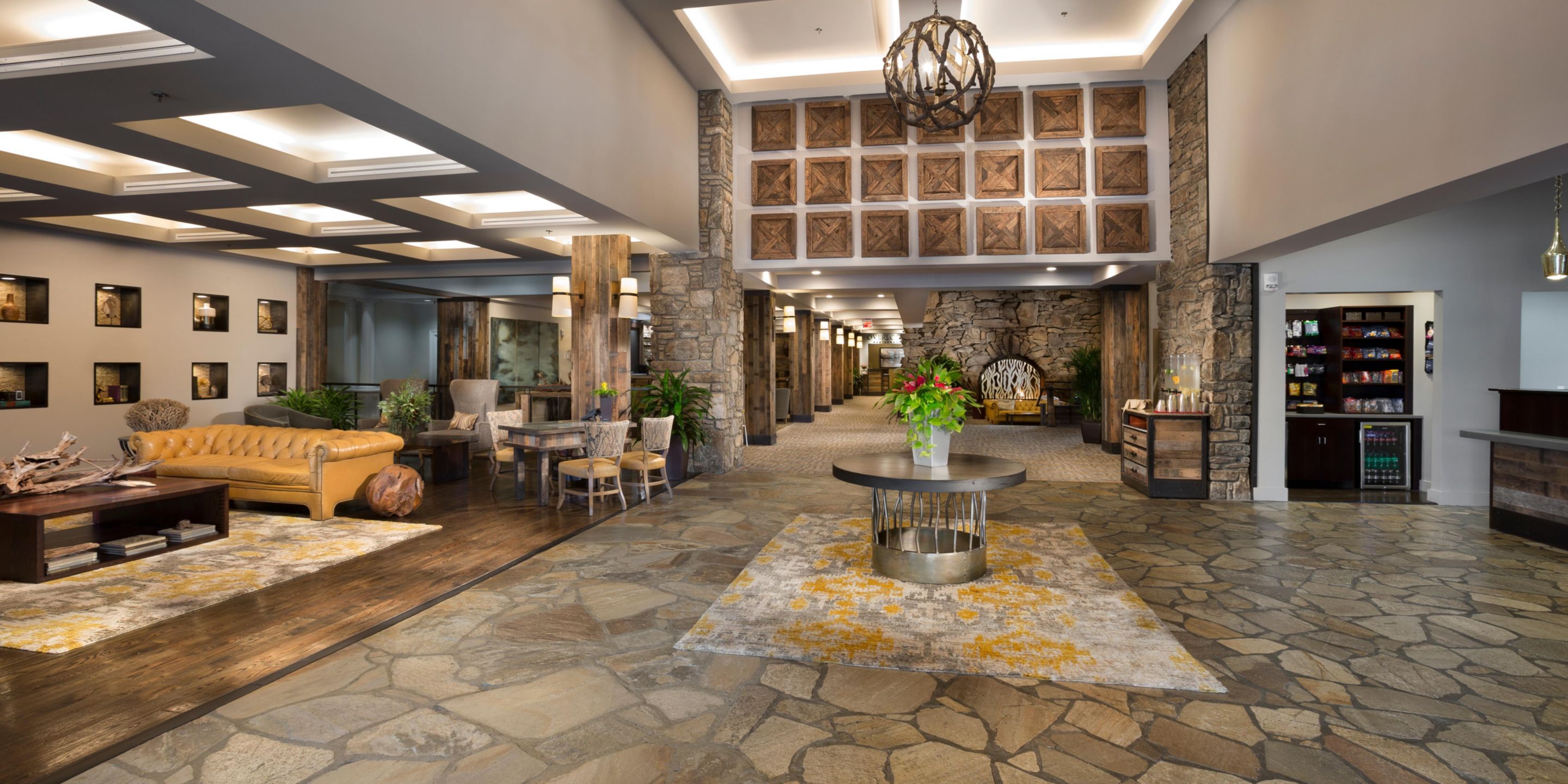 INDOOR SALINE POOL

Maintaining your routine while traveling is important, especially when you're short on time and on the go. We get it. The right workout—right when you want it—helps you stay focused, energized and on top of your game. So, recharge and feel ready for anything with our fully equipped fitness center and wellness options.
Hours: 5:30 AM to 8:00 PM
Complimentary access to Asheville Racquet Club: 8,500 sq feet fitness and wellness center, group fitness classes, indoor lap swimming pool, and 2 outdoor pools, 16 outdoor tennis courts, walking and jogging trails. 24-Hour fitness center in the hotel.
Stair Stepper

Treadmill

Elliptical Machines

Free Weights

Stationary Bicycle
Michele Laub, RScP Our Keynote Speaker
Toltec Master of the Four Agreements

Over 25 years ago, I founded Human Potential Unlimited, Inc. an organization dedicated to supporting individuals in their quest for personal freedom and happiness. As a licensed mental health counselor in private practice and high school counselor, I discovered many fundamental tools for supporting clients to live the life of their dreams.
After about 5 years, I shifted focus from traditional psychotherapy to a more eclectic approach as a certified life coach. My coach sent me a copy of The Four Agreements, by don Miguel Ruiz. In this ancient wisdom, I found what I had been looking for--a simple method for uncovering the source of self-limiting beliefs that rob us of joy, and a blueprint to follow a well.
This led me to a group of seekers known as Toltec Dreamers, in the Toltec Mystery School. Under the guidance of an original apprentice of don Miguel Ruiz, my personal transformation took place. Using The Four Agreements and The Fifth Agreement as a template for living, my life and the lives of my clients kept improving.
In 2010 I found the Science of Mind; it became clear to me that Ruiz and Holmes were saying the same thing. The wisdom of these visionaries is at the core of my teaching, coaching, and practitioner work. Together, they truly present a roadmap for living our best lives.
My life's purpose is to share these tools, practices and wisdom as I guide people to uncover their limiting beliefs, make new agreements, and live as the divine expression of who they were meant to be. I am honored and grateful to present this wisdom with Religious Science Practitioners at this gathering of Joy in Connection.
JAM WITH DAVID WASHINGTON AND ONEVOICE

OneVoice are seasoned musicians who accompany inspired vocalists to bring a New Thought message in a wide range of contemporary musical styles and genres, including:
Pop

R&B

Traditional and contemporary gospel sounds

Light jazz and jazz standards

Reggae and Caribbean sounds

Middle Eastern and Asian influences

World Beats
David Washington, the Director of Music at CSL Asheville since 2014, is a composer/singer/ keyboardist dedicated to providing music that describes the experience of people aspiring to spiritual wholeness.  He emphasizes the potency of showing up in true identity in everyday practical living.
David has played in churches, centers and bands since his early teens and sang in choirs and groups since adolescence.  He organized and led a gospel choir in the early 70's, and provided music for Unity in Huntington (NY) in the 80's while touring with a New Thought trio, The Light Touch.  David continued to develop his craft while becoming ordained as a minister with Emissaries of Divine Light and led the music program at several of their Centers.
David continues to write and perform regularly.  His primary style is contemporary with a spiritually creative message.  Elements of rock, pop, gospel, R&B and reggae show up in his songs.  In late 2014, he released the Glory Road CD.  Early in 2015, he released the Let's Get Real CD.  His newest creation of New Thought sing-alongs, in partnership with OneVoice titled Happiness is My Choice, was released in the summer of 2015.
SOAK IN THE PEACEFUL TRANQUILITY OF MARINA RAYE

Marina Raye was born in the Congo where she spent her first ten years.  

The uniqueness of Marina's original flute compositions has earned her the description, "The Feminine Voice of the Native Flute."

  

She draws inspiration from her deep love for the Earth as she shares her vision of the awakening of peace in every heart. She has 20 CD's and is working on number 21.  
Her music is used by many in the 

healing

 professions to invoke a state of peace and closeness to nature. Marina's flutes are made by her husband, Charlie Sheppard. 
"The labyrinth is a tool for transformation. By following the labyrinthine path we encounter metaphors for our path through life. There is something mysterious, soothing and healing about walking these concentric circles. Time for walks in the labyrinth at CSL Asheville is included in our Gathering Schedule.
We'll also share the super fun Appleton Dance on our labyrinth at CSLA. This is an opportunity to walk the same path as your partner while holding hands. The mystery appears when you realize that you are both walking in opposite directions while walking together. (I know. It doesn't make sense. The magic appears when you do it).
Chuck Hunner, RScP (Facilitator)"

CSL outdoor Labyrinth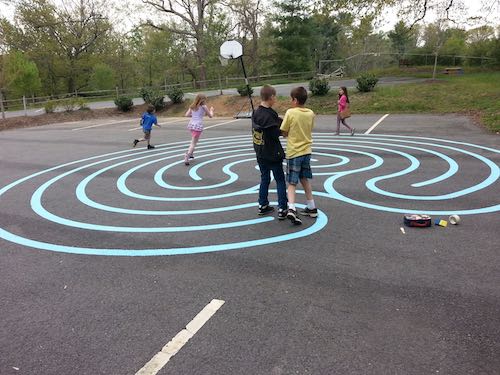 CSL ephemeral Indoor Labyrinth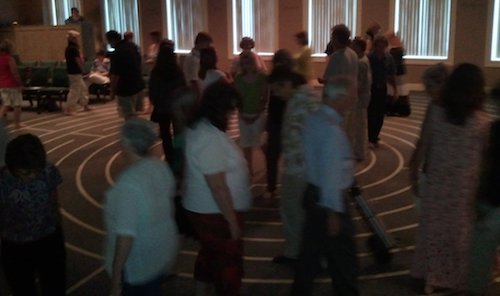 Out door labyrinth walk on Grand Cayman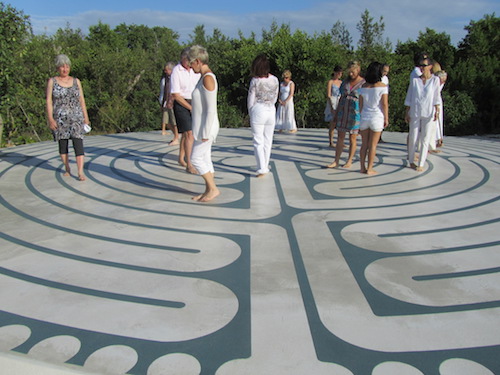 PRESENTER "The Power In Your Practice"

Kris Ferraro is a CSL licensed Prayer Practitioner, an International Energy Coach, speaker & workshop facilitator. Kris frequently speaks to diverse audiences, spreading a message of practical empowerment through faith, balanced energy, and the Science of Mind teaching. She is the creator of Spiritual Freedom Techniques, a series of practices that combine spiritual processes like shadow and forgiveness work with energy modalities for transformation. Kris's first book, The Start Here Guide to Energy Healing, will be published in 2019 by St. Martin's Press. In addition, she serves on the Center for Spiritual Living's Practitioner Council.
With Certified Firewalk Instructor
Rev. Dr. John Waterhouse
This workshop will enable each participant to use the Firewalk as a tool for self-empowerment. Whether or not you intend to walk on the fire, this workshop is a valuable tool to enhance your spiritual journey.
PRESENTER "LIVE YOUR PASSION"
Barbara has practiced the principles of Science of Mind since 2007 and was licensed by CSL as a Practitioner in 2011. She was elected to the CSL Practitioner Council in 2016 where she now serves as a Member. Currently she is the Liaison to the Ministerial and Practitioner Licensing Committee and the Spiritual MatchMaker of the CSL Practitioner PrayerMatch Program.
Before being elected to the Council, she served as the CSL Region 11 (Northeast) Practitioner Representative where she held monthly teleconferences to open up communication with the field Practitioners. She also served as a mentor to Practitioner Students.
In January of 2017, Barbara moved to North Fort Myers Florida and became a member of the Cape Coral Center for Spiritual Living. She is currently recreating her life and providing sacred service in this Center.
Barbara was a member of Concordia CSL in Rhode Island where she served on the Leadership Council, as a Ministry Leader, as the Chair of the Nomination Council and the Coordinator of the Practitioner Core. Barbara also taught certified classes at Concordia.
Also in Rhode Island, by utilizing the SOM Principles, she facilitated many study groups, meditation groups and trained meditation instructor. She is a full time Practitioner who helps students empower themselves and to create a rewarding life experience.
Barbara embraces, models and promotes the CSL motto, "change your thinking, change your life."
JOY IN CONNECTION
(Weaving Our Hearts Together)
THURSDAY, OCTOBER 18, 2018
3 to 6PM                     Registration at CSL Asheville (VESTIBULE)
5PM                             Reception and Vendors Open (SOCIAL HALL)
Music ~ Maypole ~ Participants place items on Altar
7PM                             Invocation ~ Welcome ~ Housekeeping (SANCTUARY)
8PM                             Close                
FRIDAY, OCTOBER 19, 2018
8AM                             Registration at CSL Asheville (VESTIBULE)
Vendors Open (SOCIAL HALL)       
8:30 to 8:50AM           Morning Meditation (SANCTUARY)
8:30 to 9AM                Music ~ Maypole
9AM                             Invocation ~ Welcome (SANCTUARY)
9:15 to 11:15AM         The Four Agreements Part 1 (SANCTUARY)
(Enlivening The Four Agreements)
                       (Michele Laub, RScP)
11:15AM to 1:00PM    Lunch (Social Hall/Education Center)
1:00 to 1:30PM           "The Feminine Voice of the Native Flute" (SANCTUARY)
                                   (Marina Raye)
1:30 to 3:30PM           The Four Agreements Part 2 (SANCTUARY)
                                  (Embodying The Four Agreements)
                                  (Michele Laub, RScP)
3:30 to 3:50PM           Introduction of New Practitioners and
                                   Practitioner II Students (SANCTUARY)
3:50 to 4:30PM           Home Office Update
4:30 to 5:40PM           Dinner (Social Hall/Education Center)
6:00 to 9:00PM           Firewalk Preparation/Experiential (Education Center/Outside)
(Rev. Dr. John Waterhouse)
9:00PM                        Closing time flexible due to Firewalk

SATURDAY, OCTOBER 20, 2018
8:30 to 8:50AM           Morning Meditation (SANCTUARY)
8:50 to 9AM                Welcome Music ~ Maypole
9AM                             Invocation ~ Welcome (SANCTUARY)
9:15 to 11:00AM         Chuck Hunner, RScP (SANCTUARY and CSL Asheville Labyrinth)
"Labyrinth Experiential"
11AM-12:15PM           Kris Ferraro, RScP (SANCTUARY)
                                   "The Power In Your Practice"
12:15 to 1:45PM         Lunch (Social Hall/Education Center)
1:45 to 3:30PM           Barbara Gilfillan, RScP "Live Your Passion" (SANCTUARY)
(Rev. Patrick J. Harbula ~ "Clarifying and defining your life purpose ~ What do you love to do that makes the world a better place; increase your quality of living in all areas of life by applying your purpose through your daily activities.")
3:30 – 4PM                Music (SANCTUARY)
4PM                            UNTIL WE MEET AGAIN!
We are blessed beyond measure!
PROUDLY SPONSORED BY OUR 2018 CSL PRACTITIONER COUNCIL
CHARLIE SHEPPARD, Chair/Treasurer
KIM BURGNER, Vice-Chair
JOY LYNN HERTZ, Secretary
BARBARA GILFILLAN, Member
KRIS FERRARO, Member
NINOSKA DUENAS, Member
Have questions about 3rd Annual Centers for Spiritual Living Practitioner Council Gathering?
Contact the organizer
When & Where

Center for Spiritual Living Asheville
2 Science of Mind Way
Asheville, NC 28806


Thursday, October 18, 2018 at 5:00 PM

-

Saturday, October 20, 2018 at 4:00 PM (EDT)
Add to my calendar
Organizer
MEET YOUR 2018 CSL PRACTITIONER COUNCIL AND

PRACTITIONER COUNCIL GATHERING COMMITTEE MEMBERS   

Charlie Sheppard RScP, Chair

Kim Burgner RScP, Vice-Chair

Joy Lynn Hertz RScP, Secretary

Chair, Practitioner Council Gathering
Barbara Gilfilland RScP, Member
Presenter
Ninoska Duenas, RScP, Member
Kris Ferraro, RScP, Member
Presenter
Laura Earp, RScP, Committee Member
 Michelle Laub, RScP, Keynote Speaker

   Chuck Hunner, RScP, Presenter

CENTERS FOR SPIRITUAL LIVING PRACTITIONER COUNCIL
OUR GUIDING PRINCIPLE
We are committed to embody the consciousness of wholeness and oneness through daily spiritual practices so as to be the place where the Centers for Spiritual Living Global Vision is revealed and demonstrated.
The cornerstone of our work is prayer.
We align ourselves with Centers for Spiritual Living's vision, culture, shared values, guiding practices and process while acknowledging Spirit as our ultimate guiding principle.
The Practitioner Council's ongoing work is to establish the Practitioner voice and visibility and to hold a leadership presence within the Spiritual Community and in the world.
THE SCOPE OF WORK
To work collaboratively with the Regional Practitioner Representatives and the Support Coordinators throughout our 13 regions.
To develop workshops, retreats and other community events that enhance Practitioners' development.
OUR PURPOSE
To serve all CSL practitioners and be the vehicle through which practitioners can serve their organization and each other.
To actively seek ways and opportunities to lift, acknowledge, connect and empower Practitioners and to nurture and deepen their personal and professional effectiveness as representatives of Centers for Spiritual Living.
To facilitate and support harmonious and meaningful partnerships between Practitioners and Ministers.
To serve as a resource on CSL Councils (such as the Education Council, Events Committee, Department of Licensing and Credentials Communication Council and the World Ministry of Prayer) and teams as designated by the Leadership Council in matters pertaining to Practitioners, including policies and procedures, education and professional standards.