Description
3rd ANNUAL ~ CELEBRATING YOU WOMEN'S CONFERENCE & EXPO
Join us for a morning of motivation and an afternoon of elavation & inspiration!
As Women on the Move...who are moms, single moms, caretakers, wives,
business owners, ministry & community leaders the list goes on about what we all do.....
Now....It's time to Celebrate You!
Join us in the morning for a power house expo that will help you get moving towards your next big thing. Wheither it's starting a business, looking for a new job/changing careers, starting an exercise program towards health & wellness, volunteering in your community, or going back to school. If you have enjoyed our Power Hours then this is the next best thing. Come prepared to leave with new possibilities for you.
If you thought the morning was on fire then let's follow this by an amazing afternoon from 3pm - 6pm
CELEBRATING MYE's ANNIVERSARY AND ALL FABULOUS WOMEN ON THE MOVE.
HONORING 5 DYNAMIC WOMEN WHO HAVE MADE AMAZING BOLD MOVES.
HONORING 1 SPECIAL WOMAN OF DISTICTION WHO HAVE MADE A TREMENDOUS IMPACT.
CYWC IS EMPOWERMENT AT IT'S BEST!!!
SO START YOUR WEEK OFF RIGHT
SPEND A SPECTATULAR SUNDAY WITH OTHER PHENOMENAL WOMEN JUST LIKE YOU &
SHOP THE CYWC MARKETPLACE FEATURING TOP VENDORS FROM THE TRI-STATE AREA
THIS IS ONE CELEBRATION YOU DON'T WANT TO MISS!!!!
LET'S BE EMPOWERED, LET'S BE INSPIRED, LET'S BE MAGNIFIED
A portion of the ticket sales will go to benefit We Feed the Homeless
Please bring a toiletry items to benefit Lutheran Settlement House – Jane Addams & Sheila Brown Women's Shelter
Registration Required:

Morning Expo: Free to Public (10am - 1pm)
Afternoon Conference Luncheon (3pm - 6pm) Cost Includes: lunch, Mag Bag, door prize raffle, networking, time to shop the CYWC Marketplace and to hear from our five dynamic honorees. Includes admission to the Morning EXPO
EARLY BIRD SALES begin 3/1/17 - 3/31/17
(GENERAL & VIP TICKET SALES END SUN. MAY 14, 2017)
****SPONSORSHIP OPPORTUNITY AVAILABLE****
Hotel Rooms Available Blocked under - Celebrating You Women's Conference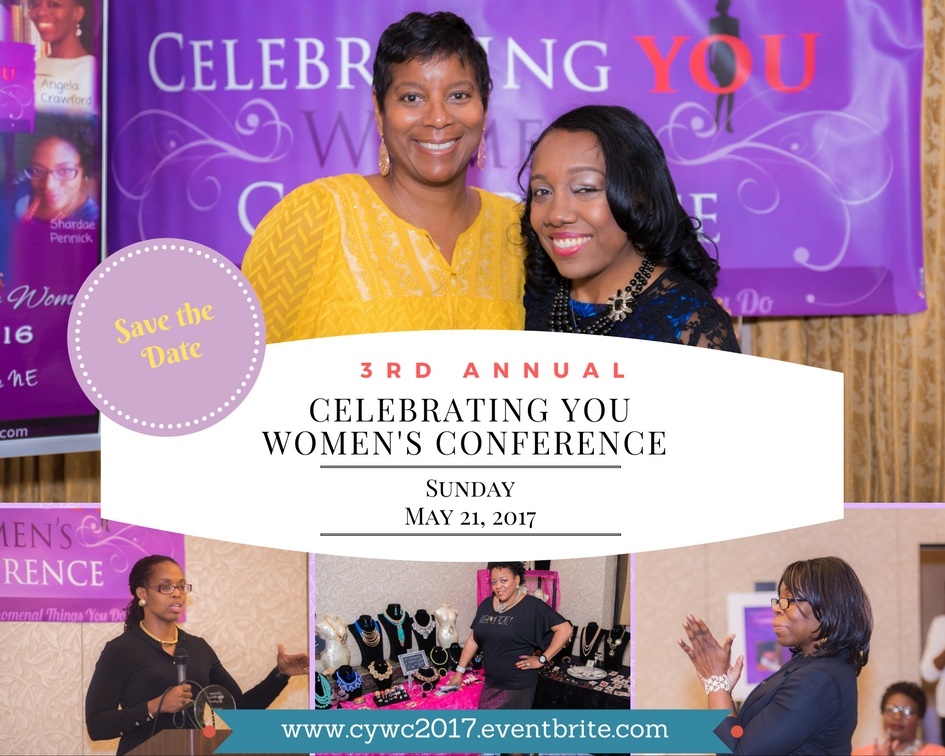 Nyah the Artist

Recording Artist/Actor

Special Guest

Narda Fields Baily

Author/Radio Personality/Live & Direct Radio

Conference Host

Allison Butler

Prison Break Coaching

CYWC Expo Spotlight Speaker

Jovan Chaney

Recording Artist

Special Guest

Anita Jeter-Peterkin

Empower 2 Produce

CYWC Expo Spotlight Speaker

Teia Jones

Your Family Life Coach

Special Guest

Nate the Landlord

as seen on BET

Comedian

Broadcasting Live

91.3 FM




Tracy Lopez

Kinogo Touch & Go Trampoline FItness Training

Personal Trainer/Owner

Dr. Kimberly Jean, MD

ReVitaJuve Health and Wellness

CYWC Expo Spotlight Speaker

Tanya T Morris

Power of the T Enterprises

CYWC Expo Spotlight Speaker

Shaunte Proctor

Shaunte L Proctor

CYWC Expo Spotlight Speaker

Carol Riddick

CriddickNotes

Recording Artist, Writter, Producer

Tamarra Causley Robinson

Causley Robinson & Associates, LLC

CYWC Expo Spotlight Speaker

Taste of the Runway

Mini Fashion Show




Kimberly Sawyer

Advocate/Graduate! Philadelphia

PhD Candidate

Sheena Shakur

Natural Heart Sistah Magazine

Editor/Creator

Michelle Simmons

Why Not Prosper

Advocate/Women's in Tranisition from Prision

Andrea Smith

Andrea M Smith

CYWC Expo Spotlight Speaker

Carolyn Wilson

Magnify Your Essence

Conference Creator

Travis Yancey

Recording Artist

Special Guest