Description
Please join us to celebrate Casey's life and his love of ridiculous things. Last year's event was epic and record setting, as our group of Magnum P.I.s raised $6,500 for the MSPCA Angell Medical Center, $2,000 more than the previous year.
For this year's event we will be featuring another of Casey's obsessions: the movie Point Break.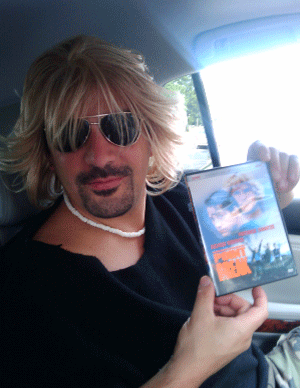 Casey as Patrick Swayze's 'Bodhi'
As you might expect, Point Break inspired attire is mandatory.
Tickets are $60, which covers costs of the evening (bowling, food, and some free commemorative swag). Raffle tickets and foundation T-shirts will for sale, snacks, cash bar...awards! Yay dogs! Boo cats!
https://www.eventbrite.com/e/3rd-annual-casey-cleo-memorial-roll-tickets-59669848122

All proceeds will again go to the Angel Animal Medical Center. (Once again a note will be provided along with the donation check asking that the proceeds, under no circumstance, benefit a single cat. DOGS ONLY. Casey's rules.)
If you cannot attend but would like to donate, you can do that too by selecting 'buy a ticket' and then selecting the donation option.
The Pete Weber Trophy is awarded to the attendant who best demonstrates style, excellence & grace. Once again, we will be awarding the Pete Weber to the star of the evening who best showcases these fine qualities. The winner of this esteemed honor will take the trophy and bragging rights for the year.
2017 Pete Webber Trophy Recipient: Matthew R. Silva
2018 Pete Webber Trophy Recipient: Richard A. Kirby
2019 Pete Webber Trophy Recipient: ???
Bring your Point Break A game people. Casey would have wanted it that way.