Description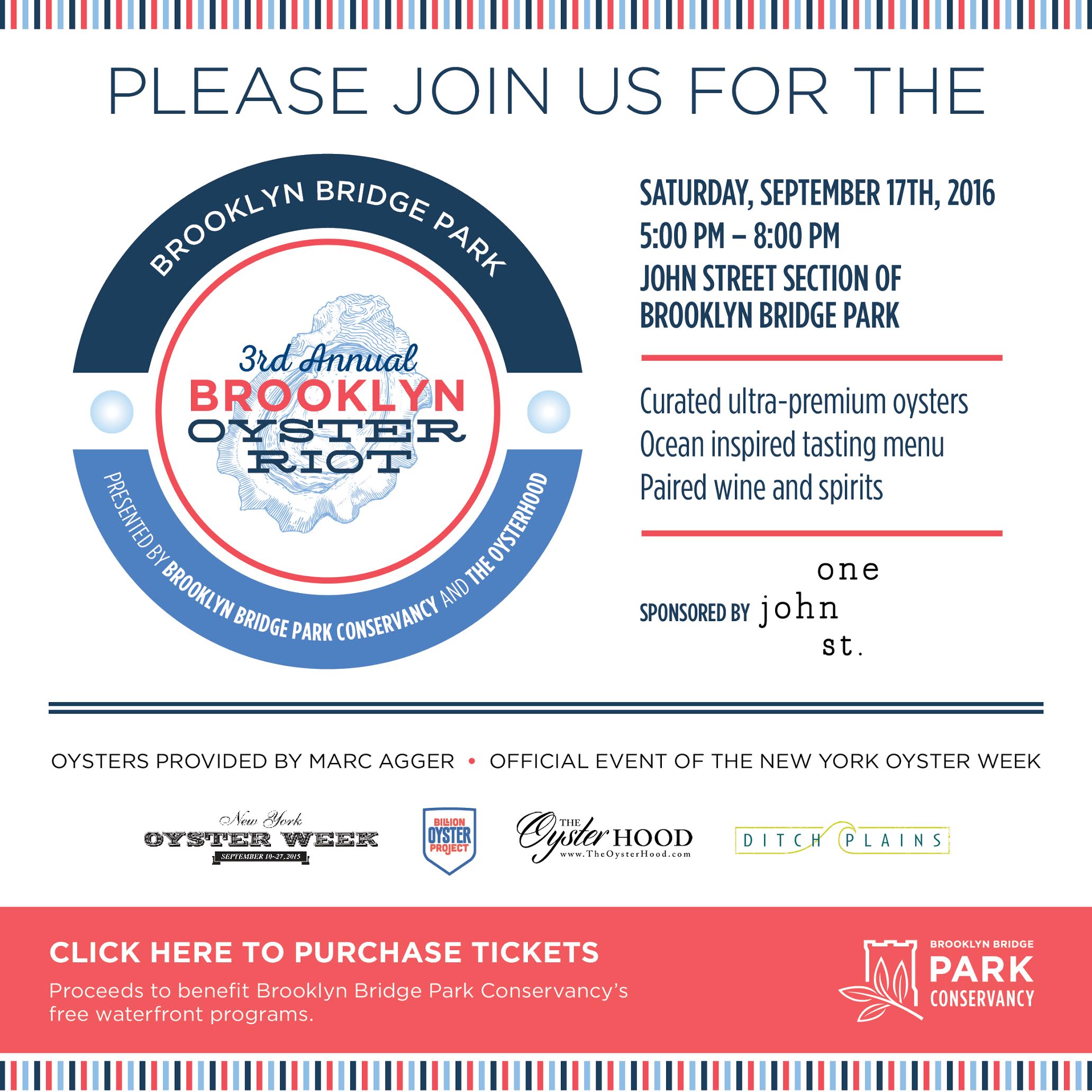 Join us for an Ultra-Premium Oyster Experience! The evening will include 12 Ultra-Premium East & West Coast Oyster Varieties, shucked live & served raw, on the half shell. The extraordinary collection of oysters will be curated by Master Mermmelier™ Kevin Joseph of The OysterHood. Guests will forage from station to station sampling the dozen varieties dressed with fine mignonettes. Chef Marc Murphy of Ditch Plains will add to the experience with seafood dishes including clams provençal and grilled coconut curry mussels. Paired beer (lovingly provided by Brooklyn Brewery) and wine will round out the evening.
Live music will be provided by the acclaimed Americana band Jan Bell and the Maybelles, and the John Street lawn will be filled with fun games. The Billion Oyster Project and the Conservancy's education team will be on hand to provide information on the Hudson River estuary, the lifecycle of east coast oysters, and oyster shell recycling.
CONSERVANCY MEMBERS RECEIVE $15 OFF! Please email membership@brooklynbridgepark.org to receive your discount code.
EVENT FEATURES
An Ultra-Premium Oyster Experience On the East River Waterfront@ John Street Park in Brooklyn Bridge Park @ DUMBO
OYSTERS MANY WAYS + LIBATIONS + LIVE MUSIC
+ PLUS +
SEAFOOD SPECIALTIES CATERED BY CHEF MARK MURPHY'S DITCH PLAINS
+ PLUS +
BEER & WINE
12 Ultra-Premium East & West Coast Oyster Varieties
Shucked Live & Served Raw, On The Half Shell
10,000 Oysters On Ice
6 East Coast / 6 West Coast
+ PLUS +
Catering from Chef Mark Murphys DITCH PLAINS

Empire (NY)
Fleur de Sea (NB)
Island Creek (MA)
Copps Island (CT)
Cape May Salts (NJ)
6 West*
Shigoku (WA)
Kusshi (BC)
Capital (WA)
Fanny Bay (BC)
Otaku (CA)
*Subject to availability.
*Subject to availibility. Ultra-premium means The Best Available. IF we can't get one, a few or some of these varieties, we'll get comparable product. We promise.
BONUS! There will be a special raffle at the event - bring your business card to enter to win 4 tickets to Something Rotten! or tickets to Oystergating at Monday Night Football. SOMETHING ROTTEN! is a hilarious Broadway smash from the director of Aladdin and the co-director of The Book of Mormon! This mash-up of 16th Century Shakespeare and 21st Century Broadway tells the story of Nick and Nigel Bottom, two brothers who set out to write the world's very first MUSICAL! Use code SRTMAUG to buy tickets.