Description
Join us for our 3rd annual event!

Come enjoy an afternoon of bowling, raffles, pizza, and prizes all benefitting the Crohn's & Colitis Foundation. This event is family friendly and there will be various prizes awarded!

Join above as a 4 person team or as an individual bowler to be matched up with a team the day of the event.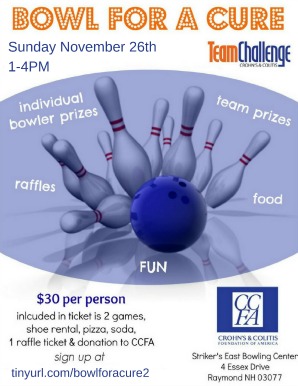 The funds raised through this event will directly benefit patients who suffer from these debilitating diseases. In the process, we will also be raising awareness about Crohn's and colitis and our actions to find a cure for the 1.4 million American adults and children suffer from Crohn's disease or ulcerative colitis.

The Crohn's and Colitis Foundation is a highly ranked non-profit organization. Over 80 cents of each dollar raised goes directly to research, education, and patient support. We have provided more than $200 million for Crohn's disease and ulcerative colitis research and have funded more than 1,100 research grants.
To contact the event organizer - email jessieakelian@gmail.com