3rd Annual Black Women's Wellness Day

Saturday, May 21, 2011 from 10:30 AM to 5:00 PM (EDT)
Event Details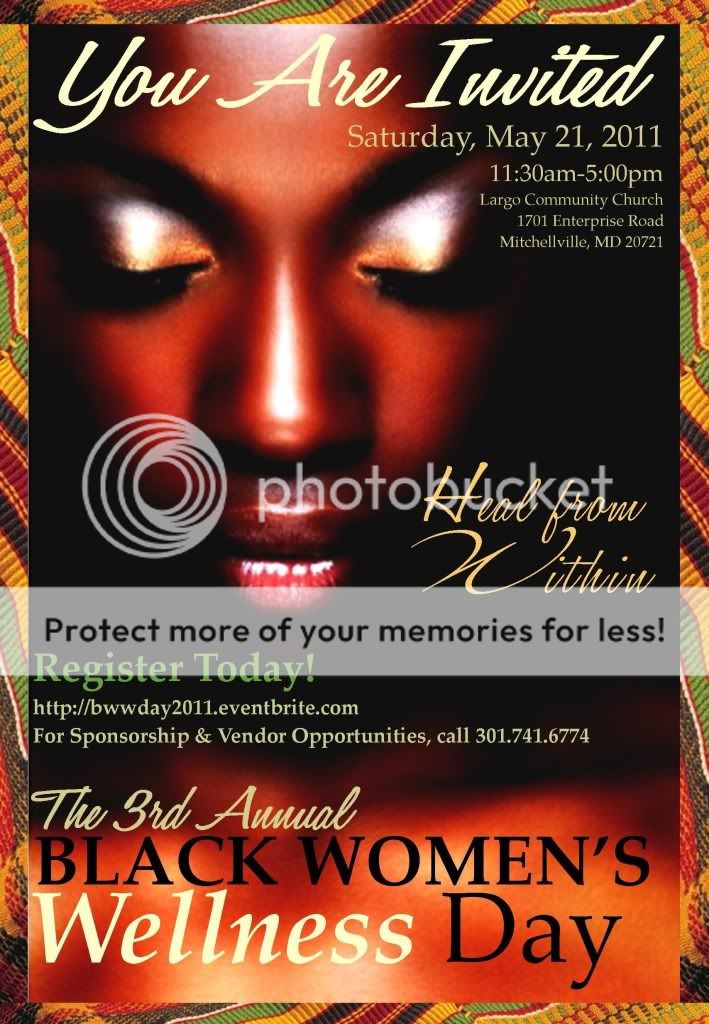 SisterSpeak Online Magazine to Host 3rd Annual Black Women's Wellness Day
Bowie, MD (February 27, 2011) - SisterSpeak Online Magazine, an award winning lifestyle e-zine for women of color slated to relaunch this summer, announces Black Women's Wellness Day to be observed on Saturday, May 21, 2011, 11:30am-5:00pm at Largo Community Church, Mitchellville, MD. 
This year's 3rd observance marks a major milestone for Founder Lisa Peyton-Caire who was inspired by her mother's death in 2006 to create a vehicle to promote and inspire a culture of wellness among women of color.
"My mother's early struggle with heart disease and her untimely death opened my eyes to the numbers of Black women I'd known intimately throughout my life who had succumbed prematurely to disease and illness. This realization forced me to pull from the strength, struggle, and beauty of these women to create a pathway to life for those of us they left behind. Black Women's Wellness Day is ultimately a celebration of life and how to live it more fully
This year's theme, Heal from Within, is intended to empower women to take control of their inner lives as the starting point for lifelong health and vitality. Guest speakers and workshops will offer inspiration and practical tips for overcoming physical, mental, and spiritual challenges, and will feature opportunities for active dialogue, creativity, and movement.
"We want to get women talking, thinking and acting in a spirit of healing--mind, body, and spirit. We want women to understand and embrace the truth that healing at all levels begins with us, with our thoughts, and with our willingness to act on our own behalves; to put away our hurts, fears, and unhealthy habits to create the healthy, thriving, balanced lives we want and deserve."
Black Women's Wellness Day 2011 is an extension of SisterSpeak Online's mission to inform, inspire, and empower Black women to create and sustain lives of boundless beauty, passion, power and purpose.
Visit www.bwwday2011.eventbrite.com for ticket information. 
Vendor & Sponsorship opportunities available. Call (301) 741-6774 for  more information.
BLACK WOMEN'S WELLNESS DAY
Saturday, May 21st, 2011
10:30am-11:30am: Vendor Fair (& Throughout Day)
11:45am: Wellness Program Begins
TOPICS & FEATURES:
Opening Panel of Experts: Heal From Within
Moderated by Lisa Peyton-Caire
From Choosing to Doing: Committing to a Wellness-Centered Life
with Special Guest Speaker Candice Camille,
Cancer Survivor and Co-Owner, Madly Living Bed  & Breakfast 
Move Your Body to Wellness: A Yoga & Fitness Primer
with Dana Smith, Spiritual Essence Yoga
& Kristine Louis, My Body My Way
How to Eat to Live: Nurturing & Healing Your Body with Food
 Expert Panelists will explain the healing effects of Raw Food, Veganism, and Whole Food Nutrition
The Healing Effects of Acupuncture
with Patrice Childers, Childers Acupunture
& MORE!  REGISTER NOW!   
******************************************
Click here to Join SisterSpeak Online Magazine on Facebook!
Visit our blogs!
SisterSpeak Online Magazine ~ http://www.sisterspeakonline.com ~ A Black Beauty Ventures Production
When & Where

Largo Community Church--Education Building
1701 Enterprise Road
Mitchellville, MD 20721


Saturday, May 21, 2011 from 10:30 AM to 5:00 PM (EDT)
Add to my calendar
Organizer
SisterSpeak Online Magazine/Black Beauty Ventures
Launched in 2006, SisterSpeak Online Magazine is an award-winning lifestyle e-zine for women of color. Our mission is to inform, empower, and inspire Black women to create and sustain lives of boundless beauty, passion, power, and purpose while highlighting the issues, concerns, accomplishments and contributions of Black women around the globe.  
SisterSpeak Online is a project of Black Beauty Ventures and the brainchild of Founder & Editor-in-Chief Lisa Peyton-Caire.
Visit SisterSpeak Online today at www.sisterspeakonline.com .  
Stay tuned for our re-launch in Fall 2010!
3rd Annual Black Women's Wellness Day