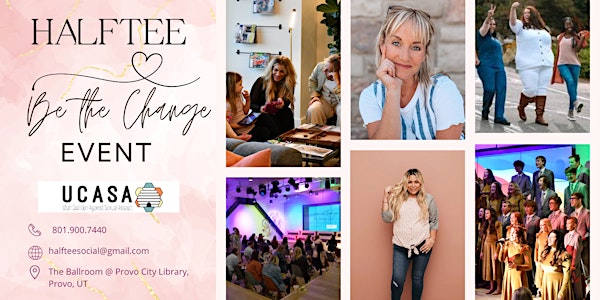 3rd Annual "Be The Change" Event
Ending Sexual Violence in Utah starts with YOU! Be the Change; eradicate Sexual Abuse! 1 in 3 women in Utah will be assaulted at least once!
When and where
Location
Provo City Library at Academy Square 550 North University Avenue Provo, UT 84601
About this event
Did you know that UTAH has the highest Sexual Assault Reports in the NATION? 1 in 3 women in UTAH will be assaulted at least once in her lifetime. 1 in 5 Utah men will become victims as well. Our numbers are scary. UCASA aims to educate our community leaders, change makers, government, law enforcement, first responders, business owners, religious leaders, parents, teens, and children. Through education, we can prevent sexual violence.
Meet with Survivors, UCASA's team, Women affecting change in government, and more. Learn how to protect yourself, your children, and your loved ones. Enjoy food, music, and a silent auction! 100% of donations and auction wins go directly to UCASA.
Our annual event will be held on April 21, 2023, from 6p-9p in the Ballroom of the Provo City Library in Provo, Utah. We are inviting and imploring you to get involved. The more ears we reach, the more hearts will ache for the opportunity to take action, and the more victims we can advocate for. Then, together we can END Sexual Violence in Utah. We look forward to meeting you, change-maker!
Want to donate swag, auction items or provide a monetary donation to support this event? Email Alli at halfteesocial@gmail.com for details on supporting this event.