Actions and Detail Panel
3rd Annual BATTLE of the SEXES
Sat, November 19, 2016, 8:30 AM – 5:00 PM EST
Description
BATTLE OF THE SEXES
This 3rd annual epic event
is returning
November 19th!
Do you have what it takes to show off your sex's superiority?
In a battle of strength, agility, balance and coordination, teams of four men and four women will compete head to head for the title of Supreme Being.
Don't miss this one-of-a- kind event!
Saturday- November 19th, 2016
8:30-5:30pm
RX and Scaled Divisions
Prizes for all 1st, 2nd & 3rd place RX & Scaled teams.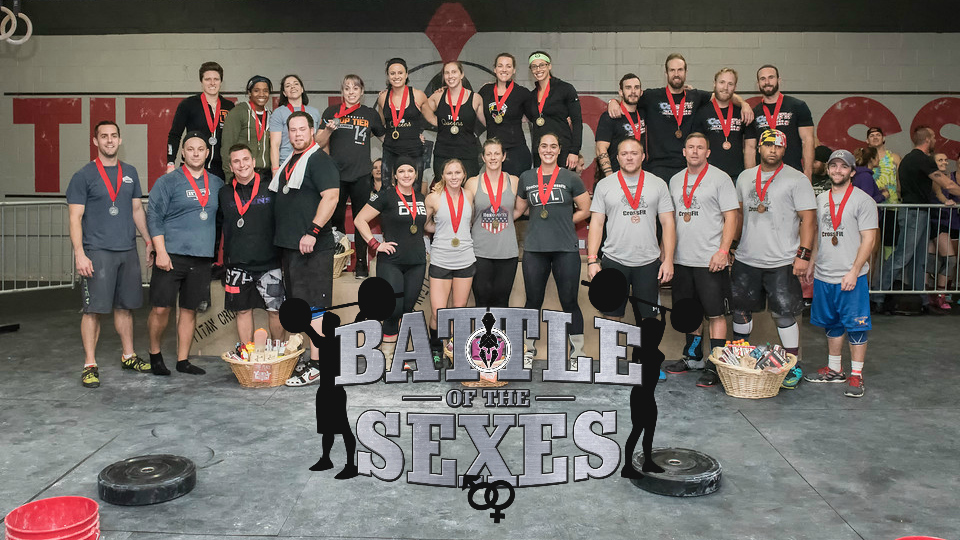 Athlete T-shirts & giftbags included
$285 per team-Registration Opens: August 1st at 9am!
For more info visit: www.titancompetitions.net
Click Here to: Watch the Video!
Please note: There is no limit to the number of teams that register per affiliate.
No refunds are permitted, only substitutions, up until the day before the event.
Can't decide whether to compete in the Rx'd or Scaled division?
To compete RX you should be able to complete the CrossFit Benchmark workouts as RX. If not, then you should compete as Scaled. Check out last years WOD's by visitng the site link above.
Tenative Timeline:
Athlete Check-in: 8:00am
WOD's Starts: 8:30am
Finals: 5pm