Description
The latest figures show New York homeless shelters are at a record high 60,400 and over 24,000 of them are youth.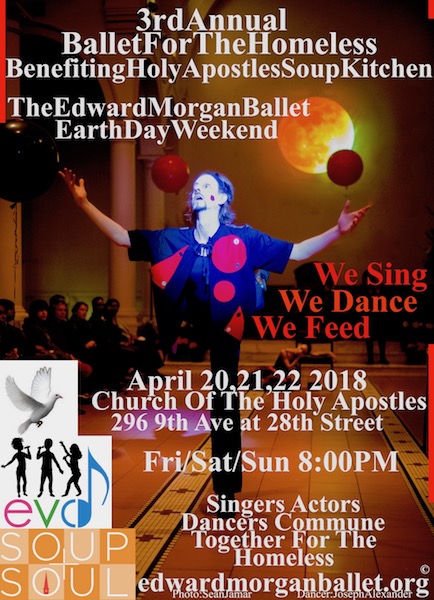 3rd Annual Ballet For The Homeless !

We Sing, We Dance, We Feed ! TheEdwardMorganBallet will be honoring Earth Day by planting seeds of awareness with performances on April 20, 21, and 22 for the Church of the Holy Apostles. The performances will benefit the Holy Apostles Soup Kitchen, the Church's primary on-site mission which has served hungry and homeless New Yorkers since 1982.

The performances are free to the public first come first served, but if you would like a guaranteed reserved seat you must make a donation of $50. The youngest child that can attend this performance must be in 1st grade. Absolutely no babies allowed.

"Ballet dancers, actors, singers and many other types of artists commune together to support the homelessness in New York City," says TheEdwardMorganBallet Executive Director Joseph Alexander.

Click On Photo Below For 2017 Video



Directed & Choreographed by Edward Morgan, former principal of the original Joffrey Ballet NYC, director of Joffrey II, choreographer of the television show ClubMTV, and now choreographer of his own ballet company TheEdwardMorganBallet.

This Mass For The Ballet is inspired by one of Mr. Alexander's dance students, part of TheEdwardMorgan Outreach Program. She came up to him in class and said, "I will be late for rehearsal tomorrow because I'm moving into a homeless shelter." Mr. Alexander recalls that he was actually in shock when the little girl said this to him. He conferred with Edward Morgan who responded by saying the little girl is very talented and mentally stable; his advice was that if she weren't treated the same as everyone else, she wouldn't be happy. "So I was afraid," said Mr. Alexander, "but I turned around and said, 'DON'T BE LATE!' And the little girl looked at me and said, 'Oh don't worry Mr. Alexander, I already told my mama that we need to move early so we won't be late!'" Not only did she do a great performance, but she was not late for rehearsal and her excitement and enthusiasm for the program blew Mr. Alexander away.

The mission of Every Voice Choirs is to promote the musical and personal growth of youth by helping them discover their voices and share them with pride. We seek to build on students' unique musical interests and experiences, creating ensembles shaped by their diverse members, in which every voice is welcome and every voice truly matters.CLICK ON LINK BELOW FOR CHOIR INFO


Click On Poster Above For 2014 Video

TheEdwardMorganBallet has the legal right to refuse admission, or eject anyone they feel they need to remove from the theatre.