Description


iRock Elite Travel Presents: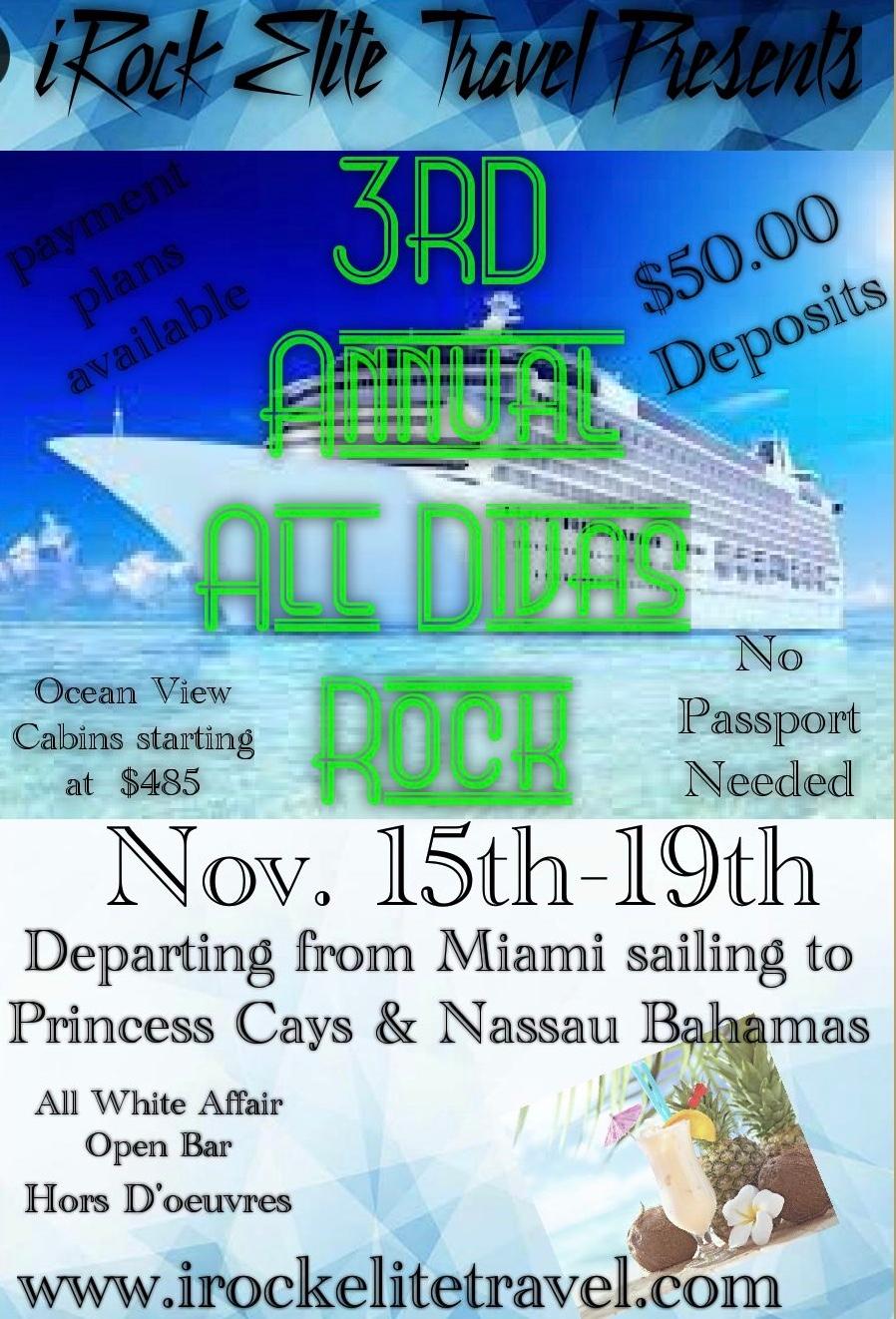 Setting sail on the Carnival Sensation, We will completely take over the Bahamas!!!! Get your Diva friends/family and come aboard and party with Divas from all around the world for the 3rd Annual All Divas Rock Cruise! All are welcome to join us for the All Divas Rock Bahamas TAKE OVER!!!! Nov.15th-19th. Two ports of call 1. Princess Cays, Bahamas 2. Nassau, Bahamas. Get ready for the All White Affair featuring a dj, and non-stop fun! $50.00 per person deposits ENDS APRIL 6TH!!!!! BOOK NOW! DON'T WAIT UNTIL THE LAST MINUTE! SPACE IS LIMITED AND THE CABINS WILL SELL OUT!!!
The Carnival Sensation features multiple restaurants including the amazing award winning receipes from Tripple D King himself at Guy's Burger Joint. Satisfy your hunger and quench your thirst with All You Can Eat and Unlimited non-alcoholic beverages.
Take part in the amazing onboard activities that Carnival Sensation has to offer such as, Comedy shows, Bingo, Casino, Karaoke, Live music, and nightlife, and when you're done relax and unwind at the adult only Oasis Serenity, plus Spa Carnival. Get your Diva friends & family ready because this will definitely be a cruise for the books that you DON'T WANT TO MISS!
PACKAGE INCLUDES:
* 4 Days on the Carnival Sensation
* $50 onboard credit per stateroom
* All Divas Rock All White Affair- featuring a dj, & non-stop fun
* All meals and non-alcoholic beverages
* 24 Hour room service
* All onboard entertainment
* All port charges and taxes
*iRock Elite Travel appreciation gift and/or incentives on-board
*Nightlife/club parties included
WHAT'S NOT INCLUDED:
* Transportation to/from Miami
* Travel insurance (available by request)
* Gratuities
RATES:
* * PER PERSON**
* Oceanview (double occupancy) starting WAS $485 PRICE DROP!!!!!! NOW STARTING AT 390.00
***** Double occupancy ONLY!*****
PAYMENT SCHEDULE
* $50 Deposit due at time of booking
* Remaining balance is split equally and is due between the 1st and 5th of each month
* You will receive invoices
* Final balance due by 9/7/2018
CRUISE ITINERARY
Thursday 11/15- Miami, FL- Departing 4:00pm
Friday 11/16- Fun day at sea
Saturday 11/17- Princess Cays, The Bahamas
Sunday 11/18- Nassau, The Bahamas
Monday 11/19- Miami, FL- Arriving 8:00am
**EVENT ITNERARY TBA**
RESERVE YOUR CABIN TODAY! Be sure to follow/like us on facebook/instagram
Facebook: iRock Elite Travel Instagram: irock_elite_travel
info@irockelitetravel.com www.irockelitetravel.com 614-845-2211
Once you're booked message iRock Elite Travel on facebook to be added to the private Divas group to stay updated and hear about fun events happening during the cruise, party details, group photo info ETC!
TERMS AND CONDITIONS:
* All payments made towards this package is NONREFUNDABLE and NONTRANSFERABLE. Name changes are allowed up to 60 days prior to departure.
* A service processing fee will be assessed by eventbrite and applied to all deposits. This fee must be paid in addition to your deposit and does not come off your balance.
*Monthly payments are due between the 1st and the 5th of each month by 11:59pm EST. Late payments without proper notice and approval WILL incur a $25 late fee. Once a late fee is assessed, your invoice will be adjusted and the late fee MUST be paid with your next monthly payment.
* Payments MUST be submitted monthly to keep your reservation active. One non-payment or Two late payments without proper notification WILL result in cancellation of your reservation and ALL funds paid Will be forfeited.
* All cabinmates must book within the same package. If a cancellation should occur that changes the cabin occupancy, the remaining occupant(s) will be responsible/required to pay the new occupancy rate. (ex. If you book a double occupancy room and one cabinmate cancels, the remaining cabinmate will be required to pay the double occupancy rate).
* Reservations that are not paid in FULL by September 7th will be assessed a $75 late fee. If the payment is not made within 48 hours, the reservation will be canceled and ALL funds paid will be forfeited.
* If vacation protection was purchased you may receive a % refund. This will depend on reason for refund and when the refund is requested. (Hospitalization with proof you were/will be admitted into a hospital, Death of immediate family member with proof- spouse, children, mother/father grandparents). Date refund is requested will be matched to sail date if it is 90 days to sail date no refund will be given. NO EXCEPTIONS. ALL refunds approved can take up to 30 business days. NO EXCEPTIONS.