The All About Women Expos return with a fresh new look in 2021!
About this event
Join us on May 23rd for an event completely catered to women! Featuring 40+ exhibitors representing dozens of industries that you care about most (Health, Fitness, Work, Art, Fun, etc).
Everyone becomes a VIP for FREE! While tickets last...
By pre-registering, you get guaranteed access to all of our activities including drink samples, photo stops, giveaways & more! (The First 250 Pre-Registered VIP's to attend will also receive a free Swag Bag from AdventHealth)
#followthepenguins on Facebook to get all the latest event updates, and learn more about the show. @flpenguinproductions
The full VIP Access is limited to only the first 500 guests to register. Only one registration ticket per person. Share the link with your friends so they can register too!
Crafts, Food & Drink Samples, Beauty Treatments, Product Demos, Learn about the latest tech and procedures from top Bay area aestheticians, Spa Treatments, and the best deals all year long will only be available at the 3rd Annual All About Women Expos!
Should your business be involved? Spaces are limited! Contact us at 727-674-1464 to sponsor the All About Women Expos. Basic Exhibitor spaces are almost sold out but Sponsorships are still open. Don't miss your chance to showcase your latest products and services to thousands of Bay Area ladies eager to learn more about you!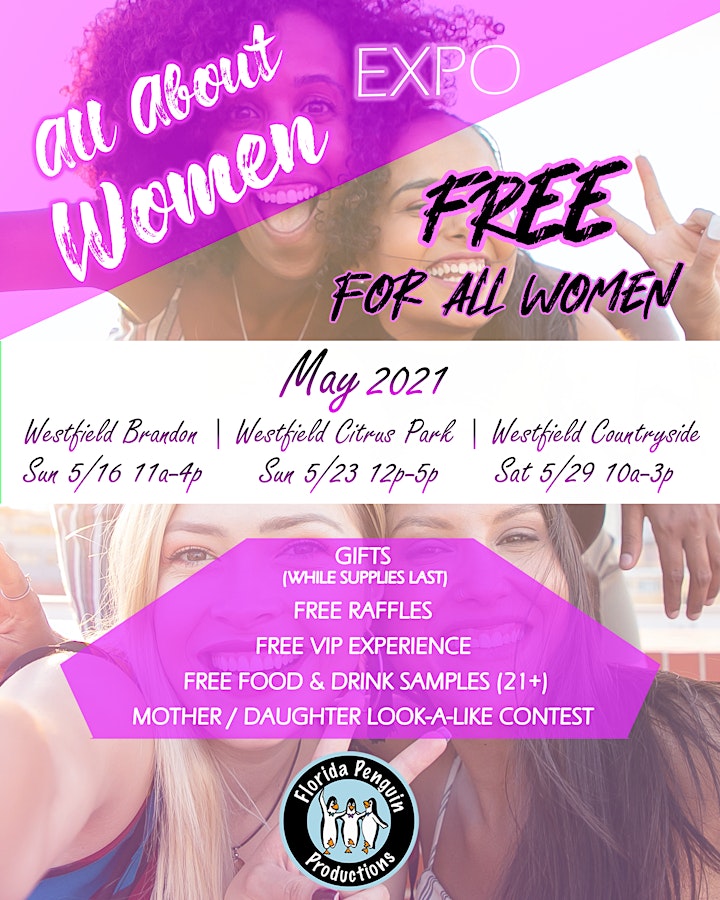 Organizer of 3rd Annual All About Women Expo - Citrus Park Mall