Description
ONLINE REGISTRATION IS NOW CLOSED. ONSITE REGISTRATION WILL BE AVAIABLE THIS SUNDAY. CHECK PAYMENT ONLY!
All proceeds will benefit the Rotary Club of Nashua's Annual Fishing Derby – a fun day for children with various types of disabilities. The Rotary provides a fully stocked pond, cookout and respite for devoted and deserving parents.
Sunday, June 11
200 Innovative Way, Nashua NH
Check in: 8:30am
Race Starts: 9:30am
Post-Race Prizes, Raffles, Snacks & Refreshments!

Runners and walkers of all ages and abilities are welcome to join us for our annual Trail Race at Gateway Hills!
The race will start near the amphitheater on Innovative Way for a 2 Mile race on the paved trails of Gateway Hills.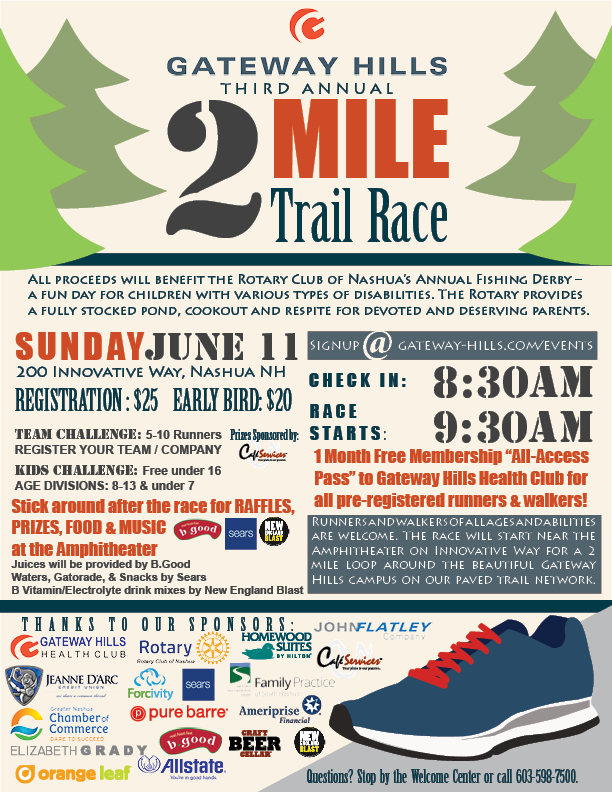 ---
TEAM Challenge & KIDS Challenge available:
Team Challenge: Register your team/company for the chance to win prizes! 5-10 people per team.

Kids Challenege: Free Registration for Children under 16. Kids of all age groups welcome for the chance to win prizes in their age division.
Kids Challenge Divisions: 8-13 years old & under 7
---
PRIZES!!!!!!
1st, 2nd & 3rd place winners may choose from the following prizes:
1. Four Oaks Country Club Golf Package! $260.00 Value – donated by Jeanne D'Arc Credit Union
2. Pure Barre 2 week unlimited classes & starter kit! $170.00 Value – donated by Pure Barre
3. OGIO Fitness Duffle Bag filled with Flatley swag ! $160 Value – donated by: John Flatley Co
4. Elizabeth Grady Gift Certificate & Salon Items! $130.00 Value –donated by Elizabeth Grady

Kid's Challenge: 1st place medals for each division.
All kids receive a $20 Orange Leaf Gift Card & participation medal
Team Challenge: $25 Café Services Gift Card for each member of the winning team –
good for breakfast / lunch purchases at NTP/NOP or catering your next event
---
POST RACE: REFRESH & REJUVENATE
WITH JUICES, FOOD & COOLING STATION

4Petal cold press & aqua fresca's Juices will be provided after the race by B.Good
Homewood Suites will be providing a Cooling Station with Cooling Headbands and Ice Packs
Stick around after the race for raffles, prizes & music!
RAFFLE PRIZES Enter to win the following:
$75 Shop your way points from Nashua's Sears
$50 Gas Card from Allstate
$45 Portable Grill and Cooler Bag from Southern New Hampshire Health
$25 Gift Card to Craft Beer CellarPressed Cafe Gift Card from Ameriprise Financial
---
"Runner Loyalty Rewards"
Those who raced last year & register for this year's race before June 4th will receive a Nalgene water bottle and a gift card to Orange Leaf!