Description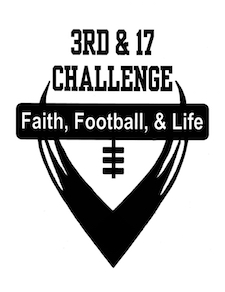 This camp is designed to teach aspects of the game of FOOTBALL with a focus on skill development and fundamentals for both offensive and defensive positions. These positions include: quarterback, running back, wide receiver, tight end, linebacker, defensive back, and OL/DL. This camp is designed to provide position specific drills and 1-on-1 competition. Participants will be trained by former Alabama football players from the '90s and 2000's, as well as various high school football coaches. In addition to learning about football, kids will also learn important lessons on FAITH & LIFE.
Hosted by former Alabama walk-on QB Jonathan Richey:
You won't want to miss this special one-day camp!
Are you ready for the 3rd & 17 challenge?
Registration includes: Camp, T-Shirt, and Meal
Bring Cleats or Tennis Shoes.
Adults may purchase a $5.00 ($6.27 when ordering online) lunch ticket.
**T-shirt sizes guarenteed if registered before 5/21/17.**