Description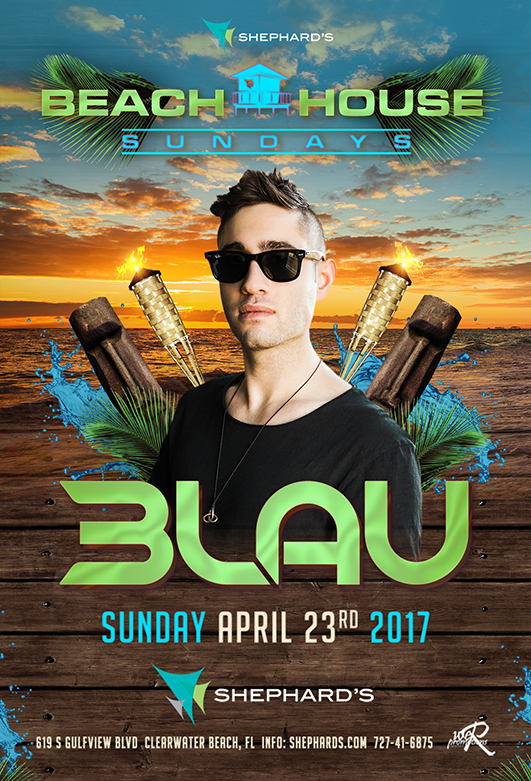 3LAU is coming to Shephard's on Clearwater Beach Sunday April 23rd, 2017. 3LAU will be performing an oceanfront show that is sure to be a huge party!!!! You will want to grab a table for this show quickly as every show with 3LAU is sure to be a sell out!! for more information visit us at www.shephards.com or call 727-442-5107.
---
Set Times are as follows

Also Kid U Not, Coro
D2 - 5:30-7:30
Bright Lights - 7:30-8:30
3LAU - 8:30-10pm
The all new Beach house Sunday's presents 3LAU !
This is the season kick of party for Beach House Sundays at Shephard's 2017!!!!! We are excited to have Mako come and kick off the season for international Dj's that will be playing Beach House Sundays this year.
Experience the all new upgraded beach. We have added a new larger beach ! Arrive early and soak in the sun or take a refreshing swim in the Gulf of Mexico.
VIP is highly recommended & is limited
---
Facebook :https://www.facebook.com/DJ3LAU/ Soundcloud : https://soundcloud.com/3lau
Spotify :https://open.spotify.com/search/results/3LAU
Webiste & Merch : http://3lau.com/
Instagram : https://www.instagram.com/3lau/?hl=en
Twitter : https://twitter.com/3LAU
---
tickets are non refundable and the event is rain or shine
There is a dress code for Beach house Sundays so Please read:
Please understand that during Shephard's Bech house Sundays parties the dress code is in place to promote a fun theme party and all attire is at the discretion of Shephard's staff in order to promote a fun beach themed environment.
No baggy clothes- pants must stay up unassisted
No undergarments showing including no men's under-shirts or cut off shirts
No denim shorts or pants on men
No Large Gold chains or medallion necklaces
No thongs or sports jerseys
727-442-5107