3hr Styling & Spin technique in Partnerwork - Rodrigo & Wendy

Saturday, June 23, 2018 from 12:00 PM to 3:00 PM (EDT)
Event Details
Salsa ATL & Dancing4Fun Presents... 
3-hr Styling & Spin technique in Partnerwork - Rodrigo & Wendy
@ Dancing4Fun Dance Studio

 -- All Salsa Boot camp paid attendees get in for free
    at our Saturday evening party @ Nemoe's Tavern 

Featured Instructors: Rodrigo & Wendy of Charlotte, N.C.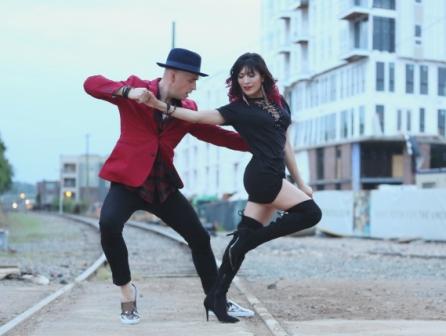 1st Hour: (12noon - 1 PM - 

Men & Ladies Spin Technique)
-- learn & reinforce proper form & technique in
executing single and multiple spins.
2nd Hour: (1 PM - 2 PM - 

Incorporating Spin Technique in Partnerwork)
-- reinforcing spin technique in partnerwork with
emphasis on lead and following technique and proper
3rd Hour: (2 PM - 3 PM - 

Ladies Styling & Men Styling in Partnerwork)
-- Ladies & Men styling in partner work, proper lead
and follow, learning styling for the ladies in common
Salsa combinations without getting in the way of the guy's
lead. Guys will learn how to lead in a way to allow the
ladies opportunities to style.

Check out our Facebook invite:
https://www.facebook.com/SalsaAtl/events


This 3-hr Boot camp is for Advanced Beginner and intermediate level Salsa
dancers.  Must have taken a formal Salsa class for at least a couple
of months and comfortable going out dancing and can lead and follow
turns and crossbody leads. Inside and outside turns.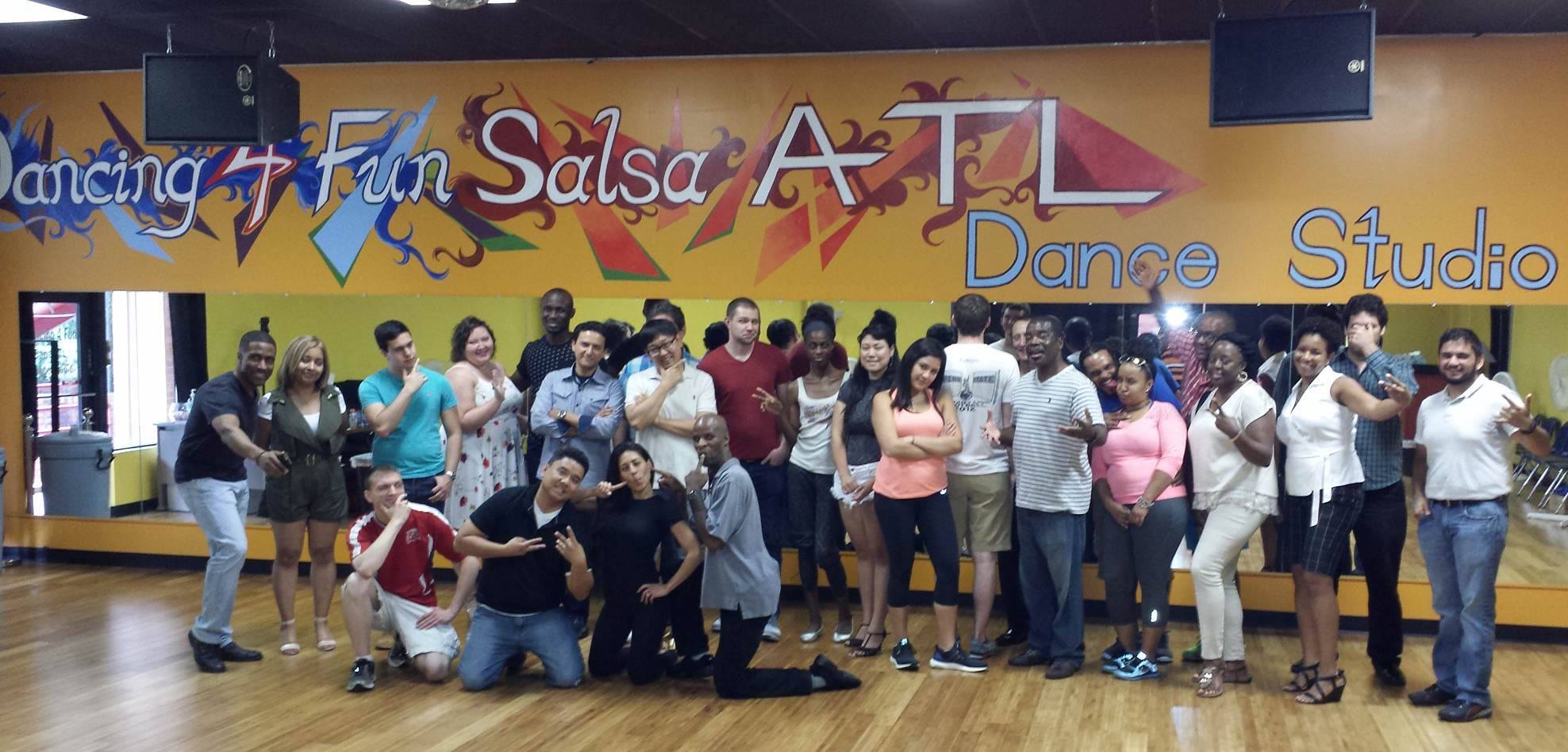 In addition to all of the things we mentioned above, attending a
dance class is an awesome way to make new friends, and a great
activity to do with your significant other. Come check us out!
Salsa dancing is growing in Atlanta.  Be sure to join us for our evening
Salsa party, so you can practice all the dance moves you have learned in class. 
Read below for all the details about the 3-hr Salsa Boot Camp near Atlanta!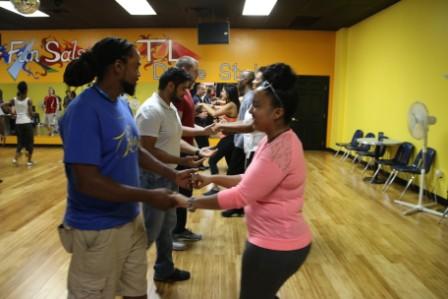 All 3-hour Salsa Boot camp attendees get in for free at our evening
party! (A $10 value!)
Be sure to invite all your friends to join in on the fun!
Give us a call or text if you have any questions.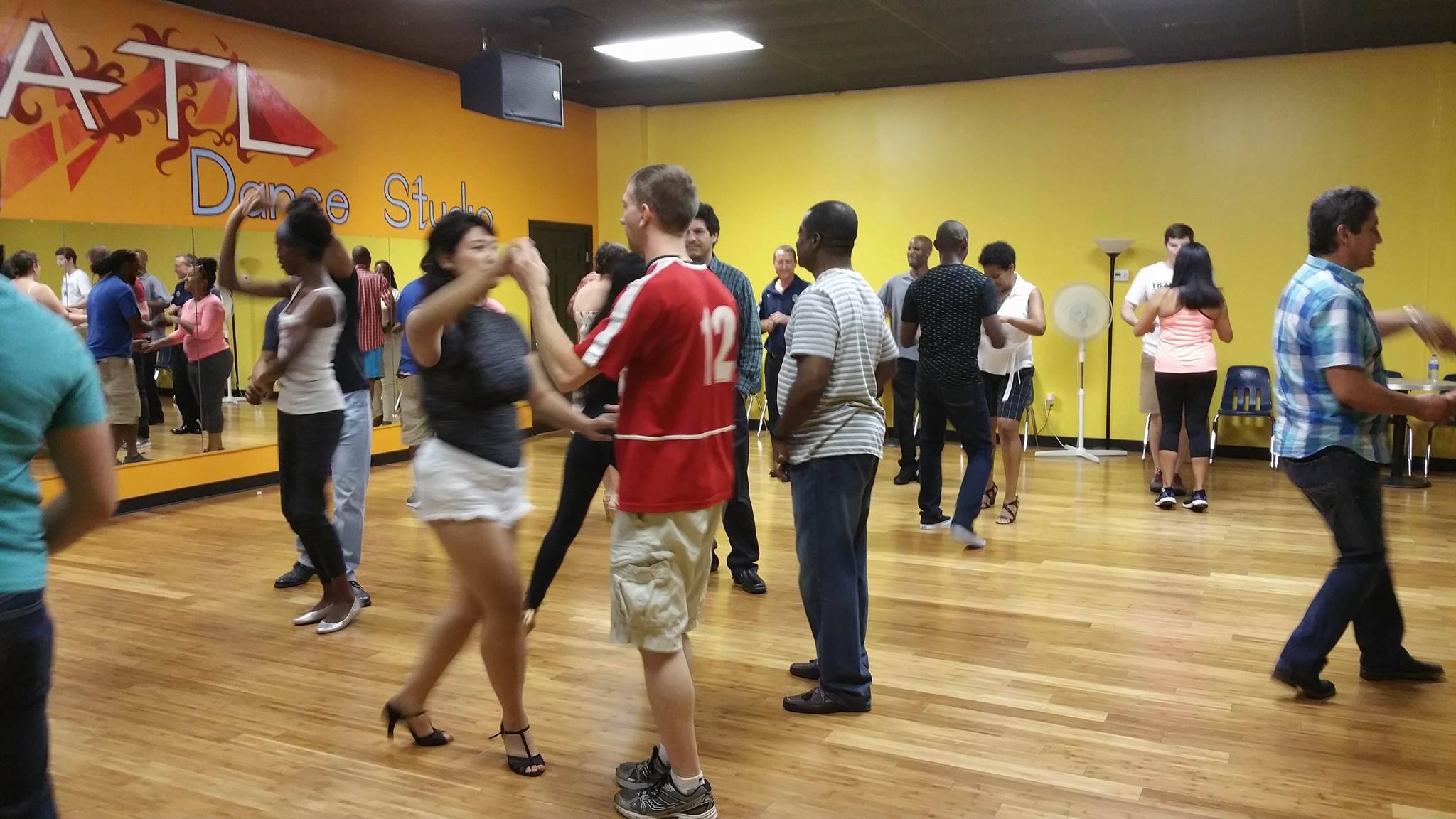 Where:
Dancing4Fun Dance Studio
6025 Peachtree Parkway
Peachtree Corners GA 30092
770.855.4396 text/call
678.304.7(D4F) 343


Saturday Night Latin Dance Party:
Location
Nemoe's Tavern (Next door to Dancing4fun Studio)

Costs:
 $40/person in advanced; $50/person @ door
    includes evening party

Just want to go to the Party @ Nemoes Tavern
$10 cover charge
(Add $1 for debit/credit transactions.)
 -- This party is FREE for paid 3-hour Salsa Boot Camp Attendees


Sean-Christopher 
678.304.7(D4F) 7343

http://www.SalsaATL.com 
http://www.Facebook.com/SalsaATL/
http://www.Dancing4Fun.com/ 
http://www.Facebook.com/Dancing4Fun/
http://www.meetup.com/SalsaAtlanta/
http://www.meetup.com/Dancing4Fun/ 
http://www.Twitter.com/SalsaATL
http://www.instagram.com/SalsaATL
http://www.youtube.com/SalsaATL
http://www.NewYearsEvePartyAtlanta.com
http://www.Facebook.com/NewYearsEvePartyAtlanta
http://www.SalsaBootCampAtlanta.com
http://www.BachataBootCampAtlanta.com
http://www.AtlantaHalloweenParty.com
http://www.ValentinesDayDanceParty.com 
http://www.ValentinesDayPartyATL.com
http://atlantabachatabootcamp.eventbrite.com
https://salsabootcampatlanta.eventbrite.com
http://atlantahalloweenparty.eventbrite.com
https://newyearsevepartyatlanta.eventbrite.com
https://prenewyearsevespeakeasypartyatlanta.eventbrite.com/
http://www.NewyearsEvePartyAtlanta.com


https://www.facebook.com/events/550681535280293/ Pre-Thanksgiving party 2019
https://www.facebook.com/events/144147372881138/ - NYE 2019
https://www.facebook.com/events/154406208513356/ - Halloween Latin 2018
https://www.facebook.com/events/144850429501878/ Halloween Latin 2 2018
https://www.facebook.com/events/1968962056676251/ = World Cup Latin 2018
https://www.facebook.com/events/1976990072567349/ Halloween Swing 2018

https://www.facebook.com/events/321414111685054/ - Dec 29th Tropical Elegance
https://www.facebook.com/events/144147372881138/ NYE 2019 Latin
https://www.facebook.com/events/502986350097509/  NYE top 40s
https://www.facebook.com/events/280173399175401/ - PRE -NYE TOP 40S
https://www.facebook.com/events/1768237939916918/ - PRE NYE LATIN
 


Jan 20, 2018
Latin club gwinnett
salsa dancing Gwinnett
latin dancing gwinnett
Gwinnett Latin night
latin dancing buford Ga
latin night lawrenceville Ga
salsa dance lilburn Ga
salsa club norcross ga
Suwanee ga latin club
bachata dance Gwinnett
Buford Ga latin night
salsa dancing in Gwinnett
dancing in Gwinnett
dinner and salsa dance Gwinnett
Night life gwinnett
Latin night Gwinnett
dance latin Gwinnett
www.SalsaATL.com
 
Latin club gwinnett
salsa dancing Gwinnett
latin dancing gwinnett
Gwinnett Latin night
latin dancing buford Ga
latin night lawrenceville Ga
salsa dance lilburn Ga
salsa club norcross ga
Suwanee ga latin club
bachata dance Gwinnett
Buford Ga latin night
salsa dancing in Gwinnett
dancing in Gwinnett
dinner and salsa dance Gwinnett
Night life gwinnett
Latin night Gwinnett
dance latin Gwinnett
www.Facebook.com/SalsaATL

Live Salsa Band Atlanta
Latin Night Live Band Atlanta
Atlanta Latin night live band
salsa dance live band atlanta
Atlanta Live Salsa Band
Salsa party live salsa alpharetta ga
dance Salsa Live band gwinnett
salsa Atlanta live band
dancing live band atlanta ga
live music salsa band atlanta
live music latin night gwinnett
atlanta live salsa music
bachata party live music atlanta
http://www.salsaatl.com/schedule.html


Live Salsa Band Atlanta
Latin Night Live Band Atlanta
Atlanta Latin night live band
salsa dance live band atlanta
Atlanta Live Salsa Band
Salsa party live salsa alpharetta ga
dance Salsa Live band gwinnett
salsa Atlanta live band
dancing live band atlanta ga
live music salsa band atlanta
live music latin night gwinnett
atlanta live salsa music
nightlife Atlanta
night life in Atlanta
Atlanta Nightlife
night life atlanta
atlanta night life
night life in gwinnett
bachata party live music atlanta
http://www.Facebook.com/SalsaATL


salsa class atlanta
salsa classes atlanta
atlanta salsa classes
atlanta salsa class
salsa class in atlanta
salsa classes in atlanta
salsa dance class atlanta
salsa dance classes in atlanta
atlanta salsa dance
salsa lessons atlanta
salsa lessons in atlanta
atlanta salsa lessons
atlanta salsa dance lessons
salsa class atl
salsa classes atl
learn salsa class atlanta
http://www.Facebook.com/SalsaATL

 
salsa class atlanta
salsa classes atlanta
atlanta salsa classes
atlanta salsa class
salsa class in atlanta
salsa classes in atlanta
salsa dance class atlanta
salsa dance classes in atlanta
atlanta salsa dance
salsa lessons atlanta
salsa lessons in atlanta
atlanta salsa lessons
atlanta salsa dance lessons
salsa class atl
salsa classes atl
learn salsa class atlanta
http://www.SalsaATL.com/
salsa class atlanta
salsa classes atlanta
atlanta salsa classes
atlanta salsa class
salsa class in atlanta
salsa classes in atlanta
salsa dance class atlanta
salsa dance classes in atlanta
atlanta salsa dance
salsa lessons atlanta
salsa lessons in atlanta
atlanta salsa lessons
atlanta salsa dance lessons
salsa class atl
salsa classes atl
learn salsa class atlanta
http://www.salsaatl.com/schedule.html
2 day Salsa Boot Camp Atlanta Ga
Salsa Boot Camp Atlanta
ladies styling salsa class
learn to dance salsa in Atlanta
atlanta Salsa
Salsa Boot Camp Atlanta Ga
Atlanta Ga latin dance boot camp
Atlanta Ga salsa boot camp
salsa workshop atlanta ga
salsa dance workshop atlanta ga
salsa classes in atlanta
salsa lessons atlanta
salsa classes atlanta
atlanta salsa classes
atlanta salsa lessons
dance salsa atlanta ga
dance salsa in atlanta ga
salsa gwinnett
salsa classes in gwinnett
salsa lessons gwinnett
salsa class gwinnett
salsa class sandy springs ga
salsa lessons roswell ga
salsa lessons decatur ga
alpharetta ga salsa class
salsa class alpharetta ga
http://www.SalsaATL.com
 


Salsa Classes Atlanta
Salsa lessons Atlanta
Salsa Dance Class Atlanta
Salsa dance lesson Atlanta
salsa dancing atlanta
Atlanta ga Salsa Dancing
latin dance class atlanta ga
latin dance lessons atlanta ga
salsa dancing lessons Atlanta ga
salsa latin dance atlanta
salsa latin dance lesson atlanta
salsa latin dance class atlanta
salsa dance class sandy springs ga
salsa class decatur ga
latin dancing atlanta ga
salsa Atlanta
Atlanta Salsa
learn salsa in Atlanta ga
learn salsa dance Atlanta ga
salsa classes alpharetta ga
roswell sandy spring salsa class
latin dancing lawrenceville ga
bachata dance class atlanta ga
bachata dance lessons atlanta ga
bachata lessons Atlanta ga
bachata classes atlanta ga
atlanta bachata
Bachata atlanta
Salsa classes in atlanta
dancing salsa in atlanta
roswell ga salsa lessons
http://www.salsaatl.com/

learn salsa in Atlanta ga
learn salsa dance Atlanta ga
salsa classes alpharetta ga
latin dancing lawrenceville ga
bachata dance class atlanta ga
bachata dance lessons atlanta ga
bachata lessons Atlanta ga
bachata classes atlanta ga
atlanta bachata
Bachata atlanta
Salsa Classes Atlanta
Salsa lessons Atlanta
Salsa Dance Class Atlanta
Salsa dance lesson Atlanta
salsa dancing atlanta
Atlanta ga Salsa Dancing
latin dance class atlanta ga
latin dance lessons atlanta ga
salsa dancing lessons Atlanta ga
salsa latin dance atlanta
salsa latin dance lesson atlanta
salsa latin dance class atlanta
salsa classes gwinnett
salsa lesson Gwinnett
salsa dance lessons gwinnett
salsa lesson duluth ga
salsa classes duluth ga
salsa lessons lawrenceville ga
salsa classes lawrenceville ga
salsa lessons suwanee ga
salsa classes suwanee ga
salsa classes buford ga
salsa atlanta
Atlanta Salsa
salsa classes norcross ga
salsa lessons norcross ga
salsa classes lilburn ga
salsa lessons lilburn ga
latin dance class lilburn ga
salsa latin class gwinnett
latin dance snellville ga
latin dancing lawrenceville ga
dancing salsa in atlanta
roswell ga salsa lessons
Best Latin club Atlanta
best latin club in atlanta
best Salsa club Atlanta
best salsa club in atlanta
best latin club gwinnett
best salsa club gwinnett
best latin club in gwinnett
best salsa club in gwinnett
http://www.Dancing4Fun.com





learn salsa in Atlanta ga
learn salsa dance Atlanta ga
salsa classes alpharetta ga
latin dancing lawrenceville ga
bachata dance class atlanta ga
bachata dance lessons atlanta ga
bachata lessons Atlanta ga
bachata classes atlanta ga
atlanta bachata
Bachata atlanta
Salsa Classes Atlanta
Salsa lessons Atlanta
Salsa Dance Class Atlanta
Salsa dance lesson Atlanta
salsa dancing atlanta
Atlanta ga Salsa Dancing
latin dance class atlanta ga
latin dance lessons atlanta ga
salsa dancing lessons Atlanta ga
salsa latin dance atlanta
salsa latin dance lesson atlanta
salsa latin dance class atlanta
salsa classes gwinnett
salsa lesson Gwinnett
salsa dance lessons gwinnett
salsa lesson duluth ga
salsa classes duluth ga
salsa lessons lawrenceville ga
salsa classes lawrenceville ga
salsa lessons suwanee ga
salsa classes suwanee ga
salsa classes buford ga
salsa atlanta
Atlanta Salsa
salsa classes norcross ga
salsa lessons norcross ga
salsa classes lilburn ga
salsa lessons lilburn ga
latin dance class lilburn ga
salsa latin class gwinnett
latin dance snellville ga
latin dancing lawrenceville ga
Best Latin club Atlanta
best latin club in atlanta
best Salsa club Atlanta
best salsa club in atlanta
best latin club gwinnett
best salsa club gwinnett
best latin club in gwinnett
best salsa club in gwinnett
http://www.meetup.com/salsaatlanta/
Latin night Atlanta ga
latin dancing atlanta ga
Salsa Night Atlanta ga
salsa latin dance atlanta ga
latin club atlanta ga
salsa bachata club atlanta ga
dinner and latin dancing atlanta ga
bachata club atlanta
salsa club atlanta ga
Atlanta Salsa
Salsa Atlanta
salsa dance club atlanta
latin dance club atlanta ga
latin dance club decatur ga
salsa club sandy springs ga
latin club gwinnett
Latin Night Atlanta Ga
Latin Night Atlanta
latin dancing snellville ga
Salsa classes gwinnett
salsa dance class lilburn ga
Salsa Gwinnett
Gwinnett Salsa
salsa lessons & parties atlanta ga
Best Latin club Atlanta
best latin club in atlanta
best Salsa club Atlanta
best salsa club in atlanta
best latin club gwinnett
best salsa club gwinnett
best latin club in gwinnett
best salsa club in gwinnett
http://www.salsaatl.com/
 
 



latin dancing Gwinnett
Salsa lesson Atlanta
salsa lessons Gwinnett
Latin dancing lawrenceville ga
latin dancing near suwanee ga
Snellville Ga Latin Night
latin dance classes Atlanta
bachata lesson gwinnett
latin dance bachata duluth ga
atlanta Bachata
salsa lessons lilburn ga
salsa class near snellville ga
Salsa Gwinnett
latin dance atlanta
atlanta Salsa
salsa lesson lilburn ga
lawrenceville ga salsa lesson
latin dance class norcross ga
salsa Atlanta
Latin Night Atlanta
Salsa Night Atlanta
Latin dancing decatur Ga
Salsa lesson in atlanta ga
salsa classes in atlanta ga
dancing salsa in roswell
salsa lessons & parties atlanta ga
https://www.facebook.com/SalsaAtl

 
Save This Event
When & Where

Dancing4Fun Dance Studio
6025 Peachtree Parkway
#4
Peachtree Corners, GA 30092


Saturday, June 23, 2018 from 12:00 PM to 3:00 PM (EDT)
Add to my calendar