Description
Have you ever struggled with confidently crafting a differentiated strategy. One that the whole company understands and is aligned to deliver? Does your strategy put your company in a unique and valuable position now and in the future? Does your strategy help you make great decisions today and looking out 3 years –12 quarters?
These burning questions and more are answered in Shannon Susko's & David Chavez's 3HAG Workshop taking place on October 1, 2019 in Phoenix, AZ. You will learn how to 'Gut Out', develop, and implement your 3HAG (3 Year Highly Achievable Goal) and build a detailed 12 quarter-over-quarter plan (your Swim-lanes) to provide a confident execution plan designed to keep you on track to meet or exceed your stretch goal. This workshop is designed for business owners and CEOs looking to refine and focus their strategies. By learning and practicing the 3HAG 12-step process, you will dig into the key areas of your strategy to create the confidence you need to grow your business.
Working with your team, you will focus on the following elements of building your 3HAG:
Overview of the 3 foundations (core purpose/values, BHAG

®

, profit per x)

Gut out your 3HAG

Key Process Flow Map

Create your company's - "The Map"

Create your company's - The Cash Conversion Cycle Map (Internal)

Know your Core Customer

Define your company's 3-5 differentiation actions (level 1+2)

One Phrase Strategy

Map out the Swim-lanes

36 Month Over Month P+L

Solidify your Brand Promise with Guarantee

The workshop focuses on the essential elements of building your 3HAG (3 Year Highly Achievable Goal)
Establishing a 3HAG and forever reworking and adapting it will build the confidence you need in your strategy to get to your BHAG. We will help you align your company to your core values and your core purpose, so that you have the right team and process for long-term growth. We want you to be able to enjoy your journey as a leader, and it is our purpose to help you make your impact on the world.
Early Bird special is available until September 11, 2019, and our early bird refund policy applies.
Coffee, lunch, and snacks will be provided.
REFUND POLICY
*No refunds available for Early Bird tickets.
Refunds are available for all other tickets. Refund requests must be made at least 24 hours before the event. If you are unable to attend the event, tickets can be used at any workshop organized by Assured Strategy within 12 months of the purchase.
---

SHANNON SUSKO
Shannon has more than 20 years of experience building and leading high-growth technology companies in the financial services industry. She is an expert in strategy and execution. She is well-known for her ability to lead and execute while implementing a repeatable Strategy Execution System. Shannon coaches CEOs and leadership teams around the world to use the 3HAG system.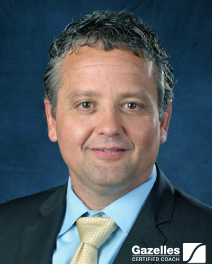 DAVID CHAVEZ
Focuses on creating alignment in the company by helping CEOs and executives manage company strategy, cash flow, and execution using the tools from 3HAG and the Gazelles Scaling Up system. Helps others learn how to change their business by working on their business instead of in it.