Description
Les equipes de Women in 3D Printing et Cyant sont fieres d'organiser, pour la premiere fois en Europe, #3DTalk Paris.
Les evenements #3DTalk sont des table-rondes de femmes dans l'impression 3D, invitees a partager leurs experiences dans cette industrie. Ces evenements sont ouverts a tous: femmes & hommes, adultes & enfants, novices de l'impression 3D et experts agueris.

Apres 4 editions de #3DTalk aux Etats-Unis, ce premier #3DTalk Paris met en avant 3 creatrices d'entreprises qui redefinissent leurs industries grace a l'impression 3D.
Pour marquer ce premier evenement francais, notre partenaire Paris Pionnieres nous acceuillera dans leurs locaux parisiens. Paris Pionnières est l'incubateur leader pour les femmes entrepreneures dans l'innovation en France et en Europe. "Parce qu'on ne naît pas entrepreneurE, on le devient", en 10 ans d'existence, l'association a participé à la création de 200 startups co-fondées par des femmes et de 1000 emplois.

AGENDA DE LA SOIREE
6:00-6:30 Reception de bienvenue
6:30-6:45 Introduction par les co-organisatrices de #3DTalk: Barbara Hanna and Nora Toure
6:45-7:45 Table-ronde

7:45-8:30 Networking
PANELISTES

Claire Chabaud is the co-founder of Endeer, disruptive lingerie solutions. Graduated from Sciences po in Business, she discovered 3D printing when she was project manager at Sculpteo. Today, she is working with 3D printing with another goal in mind: Make lingerie from your body and not standards.

Cassandra Delage is a Canadian Social Entrepreneur. Having recently graduated McGill and HEC Paris, she has decided to launch her second startup: PLAST'IF, a 3D printer that allows employees to recycle their plastic waste into new objects. PLAST'IF empowers employees to reduce the waste produced by their company, in creating a micro circular economy for plastic. In the long run, the goal is to reduce the amount of plastic needed.

Pauline Eveno, PhD is the founder of Syos, a company that offers 3D printed custom music instruments. Syos's first products are saxophone mouthpieces that are taylored to the musicien's preferences and musical vocabulary thanks to proprietary algorithms. Pauline is an Engineer from Ecole Central Marseille and obtained her Doctorate in Acoustic from the University Pierre And Marie Curie. She has been passionate about music from a young age on and has turned this passion into the focus of her research, first while writing her thesis at IRCAM and then while working on the acoustic modeling of saxophone mouthpieces at McGill University.
MODERATRICES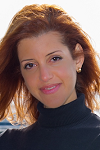 Barbara Hanna, PhD is the founder of Cyant. Barbara is a Technologist and Entrepreneur passionate about fostering technology that educates, empowers and/or connects individuals. Cyant connects art and technology to foster learning, creativity and engagement through products and experiences. A woman owned and led company working towards B-Corp status, Cyant is particularly committed to help empowering women and girls. Cyant is also committed to continuously developing novel tools and experiences for the benefit of its customers and community, and is proud to contribute to women-led tech innovation.

Nora Toure is an Additive Manufacturing expert and engaged in inspiring women to embrace Tech. careers in the 3D Printing industry.She started her career in the Additive Manufacturing in 2010 by joining online 3D Printing service leader, Sculpteo. Nora founded Women in 3D Printing in 2014 to feature women leaders in the Additive Manufacturing industry through interviews and portraits.Pursuing her vision for more social inclusion, she recently joined 3D Africa as Board Advisor. As part of her vocation to contribute to the development of the industry, Nora is also Board Advisor for 3DHeals.