Description
Cyant and Women in 3D Printing are presenting #3DTalk, an industry specific and educational event series focused on 3D printing and related technologies, and featuring leading women in the industry. #3DTalk panels are open to everyone: men and women, kids and adults, novice and experts in 3D Printing. Monthly events are organized in San Francisco, New York area and Paris, France all year long.

Learn more about #3DTalk, our past and future events here.
This 3DTalk will focus on jewelry and how #3Dprinting may open new opportunities for independent creators, and is leading to new jewelry design and production processes.

Thank you to WeWork Dumbo Height NYC for hosting us and this event!

AGENDA
6:00-6:30 Check-in + refreshments

6:30-6:45 Panel Introductions
6:45-7:30 Panel discussion and audience Q & A

7:30-8:00 Networking
PANELISTS

Paula Rosine ("Zine") is a New York based fashion designer and artist. She earned degrees from Duke University, the University Of Cambridge, and Parsons The New School For Design before honing her fashion expertise at Chris Benz and Tommy Hilfiger. After discovering her love for 3D modeling while creating a line of silicone jewelry for designer Geoffrey Mac, she has incorporated 3D design techniques into both her accessories design and fine art practices. Zine's designs have been featured by Kate Spade, FEED, Baublebar, Talbots, Anthropologie, and others, and she is especially passionate about designing for social enterprises and wearable tech.


Mihaela Sarova is a Senior Director at Ahzul (www.ahzul.com). She has led research initiatives for a variety of Fortune 100 clients in retail, fashion, CPG, and tech. Her main role is to gather consumer insights and distill them into stories that inspire companies to build stronger brands, come up with innovative products and stay ahead of the competition. She has been experimenting with 3D printing for the past couple of years. She is mostly self-taught and has a jewelry collection which you can follow on her Instagram account @mishasaro.


Julie Verdugo's passion for design, fabrication, and community has taken her behind the scenes of many production facilities around the world from artisan workshops to industrial factories. She began her career on factory floors as an Industrial Engineer in Turkey, Argentina, and Germany. After pursuing her MBA she joined Adidas to grow their brand and social impact programs overseas. Julie's first exploration of 3D printing was within product development of her own jewelry brand. Julie utilized scrappy design and 3D modeling skills along with her training in silversmithing to co-found Gemela with her twin sister Diana. She channelled her unconventional introduction to 3D printing to set up experiential education-based pop-ups alongside the sale of her jewelry. Julie additionally works as Head of Partnerships and Experiential at Free People and holds degrees in Industrial Engineering from University of Michigan and an MBA from IESE Business School in Barcelona, Spain.

MODERATORS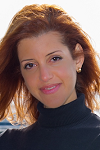 Barbara Hanna, PhD is the founder of Cyant. Barbara is a Technologist and Entrepreneur passionate about fostering technology that educates, empowers and/or connects individuals. Cyant connects art and technology to foster learning, creativity and engagement through products and experiences. A woman owned and led company working towards B-Corp status, Cyant is particularly committed to help empowering women and girls. Cyant is also committed to continuously developing novel tools and experiences for the benefit of its customers and community, and is proud to contribute to women-led tech innovation.

Nora Toure is an Additive Manufacturing expert and engaged in inspiring women to embrace Tech. careers in the 3D Printing industry.She started her career in the Additive Manufacturing in 2010 by joining online 3D Printing service leader, Sculpteo. Nora founded Women in 3D Printing in 2014 to feature women leaders in the Additive Manufacturing industry through interviews and portraits.Pursuing her vision for more social inclusion, she recently joined 3D Africa as Board Advisor. As part of her vocation to contribute to the development of the industry, Nora is also Board Advisor for 3DHeals.