Description
Cyant and Women in 3D Printing are presenting #3DTalk, an industry specific and educational event series focused on 3D printing and related technologies, and featuring leading women in the industry. #3DTalk panels are open to everyone: men and women, kids and adults, novice and experts in 3D Printing. Monthly events are organized in San Francisco, New York area, Paris, France and other locations around the world all year long.

Learn more about #3DTalk, our past and future events here.
This 3DTalk will focus on 3D Printing and Fashion, bringing women working each day in the field to discuss how they are utilizing this new technology area to disrupt fashion design and products.

Thank you to NYU Tandon Maker Space for hosting us!


And thank you to Formlabs for sponsoring this event!

AGENDA
6:00-6:30 Registration + Reception
6:30-6:45 Introduction by co-organizers Barbara Hanna
6:45-7:45 Panel and Q & A

7:45-8:30 Networking
PANELISTS

Sylvia Heisel is Fashion designer and creative director at HEISEL where she is working with new materials, manufacturing and physical computing for fashion and wearables. Sylvia is an expert on 3D printing, functional fashion, design for smart wearables and new materials manufacturing applications for fashion. She is currently developing a work-flow and manufacturing system for 3D printed apparel she was named one of the "12 Amazing People You Need To Know In New York Fashion Tech".

Lizz Hill is Senior Manager, Product Visualization Team - Hardware & Jewelry at Coach Inc, where she fully realizes her love of conceptualizing and engineering hardware for fashion accessories. Lizz grew up in the Pacific Northwest where she spent her days learning, crafting, designing and making. She pursued an education in Textile Development and Marketing and Accessories Design at the Fashion Institute of Technology. Following graduation, she discovered her love of hardware engineering and further focused her career towards a hardware specific role. She landed her dream job as a hardware developer at Coach Inc, where she spent several years developing hardware, traveling overseas to work with hardware suppliers and ultimately trained herself in Rhino 3D, leading to her current position. In her spare time, Lizz also works on her own line of 3D printed jewelry, called Toolry, which is manufactured via Shapeways' online services.


Lauren Slowik is the Director of Education + Designer Evangelism at Shapeways. She also a founding member of the Lady Tech Guild, a group started to connect and inspire women working in the 3D industries. She is occasionally a part-time professor at Parsons School of Design where she also received her MFA in Design+Technology. Lauren has contributed to organizations such as Apple, MoMA, the Ms. Foundation, Eyebeam Art+Technology Center, the Museum of Arts and Design and Etsy.com. Her research is focused on 3D design and 3D printing and the future of creativity in education with a focus on storytelling and user experience/interaction design.

MODERATORS

Victoria Bill is the founding Manager of the NYU Tandon School Of Engineering MakerSpace Lab. She is also an adjunct faculty member in the first-year engineering program, teaching EG 1003 Introduction to Engineering and Design. She received her master's in Electrical Engineering from the University of Texas at Austin, specializing in embedded systems, electromagnetics, and acoustics. Her research interests include IoT, wearable technology, and engineering education. She presents annually at the American Society for Engineering Education and the International Symposium on Academic Makerspaces.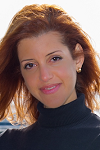 Barbara Hanna, PhD is the founder of Cyant. Barbara is a Technologist and Entrepreneur passionate about fostering technology that educates, empowers and/or connects individuals. Cyant connects art and technology to foster learning, creativity and engagement through 3D modeling and design products and experiences. With a B.Eng. / M.Eng from the University of Cambridge, UK, and a Ph.D. in Computer Vision from the University of Surrey, UK, Barbara has worked in a range of technology areas, from computer vision and real-time video-processing applications, to, more recently, mobile development and 3D printing.

Date and Time
Location
NYU Tandon School Of Engineering Maker Space
6 MetroTech Center, Room 118
Brooklyn, NY 11201