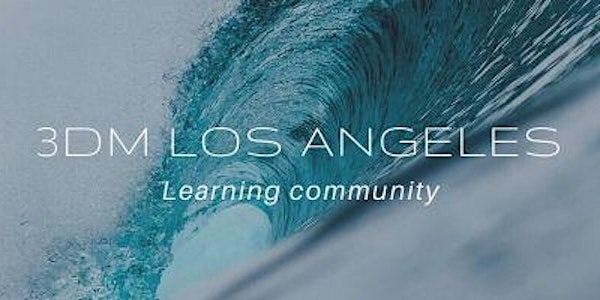 3DM Learning Community
Join us as we continue to follow Jesus and his disciple-making process.
When and where
Location
City Church of Compton 1108 East Peck St Compton, CA 90221
Refund Policy
Contact the organizer to request a refund.
Eventbrite's fee is nonrefundable.
About this event
3DM Los Angeles Learning Community hosted at City Church Of Compton
Come learn to develop the church the way Jesus did!
Join us for the Los Angeles, 3DM Learning Community and then decide if are going to continue with us on this training and planning process! We are hosting the an engaging immersion. This is the beginning of a two-year journey and we want to invite you and your team to begin the process of learning how to develop churches the way Jesus did.
We know the power and effectiveness of the early church, but do we know how to function as they did? We'll be unpacking and training your team in the simple principles, vehicles, practices, and culture that caused the early church to be so impactful.
When: Thursday, November 3rd through Saturday, November 5th, 2022. The Immersion begins on Thursday at 12:30 PM with lunch and we finish by 12:15 PM on Saturday.
Where: City Church Compton, 1108 East Peck Street, Compton, CA 90221
Cost: $199/participant for the single event or you can begin paying monthly for the ongoing Learning Community (see below for cost structure). We strongly advise you bring at least two other leaders and/or spouses from your team if possible.
Contact: Please call Pat Dirkse at 562-900-8932 with any questions you may have. We hope to see you there!
_______________________________
What is a 3DM Learning Community?
3DM Learning Community
The heart of God is to save the whole world, but his strategy has always been to start with a few to save the many. This is the work of discipleship: starting small to go big, starting slow to go fast. But why is this so difficult and so few succeeding at the expense of so much time, energy and resource?
We cannot employ a different strategy than Jesus and expect the same results. The passion of 3DM is to train leaders in the simple church principles and strategies employed by Jesus and those who followed in his footsteps that changed the landscape of the Roman Empire over the next 270 years.
A 3DM Learning Community trains church leaders, church planters, campus planters, and other leaders how to build a missional movement with reproduction in its DNA.
Learn the effective tools, language, vehicles and practices for shaping and multiplying Families on Mission that can impact the world as the early church once did. Discover the integrated reality of weekend services, missional communities, small groups and leadership development. Be coached by experienced church leaders and practitioners from different contexts who are prepared to make their successes and failures the springboard for your growth and journey.
What to expect when joining a 3DM Learning Community
This is a 2-year journey consisting of -
Four 3-day immersions that include teaching, training and tactics at one of our host sites. You can learn more about the basic Learning Community experience at https://3dmovements.com/communities/overview/
Weekly coaching calls via video conferencing with experienced practitioners and experts in the 3DM toolkit.
Annual leader and spouse retreats.
Cost -Team of 3 = $330/month = $3,960/yr. This includes weekly coaching for the team leader, and the annual team leader and spouse retreat (travel & housing expenses additional).
You can add others to the immersion and coaching process for an additional fee.
We highly recommend a team of 3 but are willing to process with you if a smaller team is necessary.
Please feel free to contact Pat Dirkse at 562-900-8932 with any questions you may have or for more information.
Anticipated Schedule We try to adhere to the schedule as much as possible, but small changes are to be expected.
Thursday
12:30 PM: Lunch together
1:30pm Registration
2:00pm Welcome & Worship
2:30pm Community Principles/Arc of Involvement
2:40pm Intro Teaching
3:10pm Social Space (SWOT Analysis)
4:10pm Coffee Break
4:20pm Teaching Input #1
4:50pm Huddle
6:00pm Dismissal (grab some dinner for a potluck)
7:00pm MC Night (UP/IN) @ Host Home
Friday
9:00am Welcome & Worship
9:30am Teaching Input #2
10:00am Q&A
10:15am Social Space
11:15am Coffee Break
11:30am Huddle
12:30pm Lunch Break, on your own
2:00pm Teaching Input #3
2:30pm Q&A
2:45pm Social Space
3:45pm Coffee Break
4:00pm Social Space (Start/Stop & Priorities)
5:30pm Dismissal (with homework)
Saturday
9:00am Social Space (Report Out)
10:30am Coffee Break
10:45am Final Word
11:15am Take Away & Leave Behind
11:45am Worship & Ministry Time
12:15pm Dismissal
3DM Recommended Reading Material
At this event, we will reference content fully explained in the 3DM books Empowering Missional Disciples, Family on Mission, Building a Discipling Culture, Covenant and Kingdom, and Leading Missional Communities.
You can preview these books here:
Empowering Missional Disciples
Leading Missional Communities
Building a Discipling Culture : 3rd Ed.
Family On Mission
Accomodations & Travel
Please note: Each participant is responsible for their own travel, accommodations and meal costs. 3DM will cover the costs of course content, materials, speaker fees, beverages and snacks, etc.
Transport:We recommend flying into Los Angeles International Airport (LAX) or Long Beach Airport (LGB) which are both about 25 minutes from the venue and renting a car.
Lodging: We recommend this fair priced hotel near the venue:
Hampton Inn
767 E Albertoni St, Carson, CA 90746 • (310) 768-8833
https://www.hilton.com/en/hotels/csncahx-hampton-los-angeles-carson-torrance