Description
Join us for an eventful night at the wonderful Bespoke SF to enjoy food and wine and intriguing presentations and network! This event is a combined night reception for 3DHEALS2018 attendees and Fundraising for the two non-profits.
Agenda:
5:30-6:30 pm

- Food and wine
6:30-7:30 pm

- Presentation (Autodesk Foundation, Limbforge, Victoria Hand Project, 3DHEALS)
7:00-9:30 pm

- Networking, Wine reception, Silent Auction
About the Organizer

3DHEALS is a healthcare 3D printing innovation platform, with a mission to educate, connect, and standardize healthcare 3D printing and the bio-printing universe.
This fundraising event is during the 3DHEALS2018 Global Summit. Summit attendee needs to purchase a separate ticket.
More info on 3DHEALS2018.
About the causes you will be supporting:
The Victoria Hand Project (VHP) is a non-profit company with a mission to provide upper-limb prostheses to amputees in need of care. We have designed a high-function, visually-appealing, low-cost, 3D printed prosthesis system, and also created a scalable manufacturing system whereby our prosthesis can be built anywhere in the world. Furthermore, with 3D scanning technology, the prosthesis is customized to the amputee's limb anatomy, to ensure the best fit for each patient while still remaining affordable. Through our international partners, we deliver our prostheses via experienced prosthetic care providers, in as little as one week from a request. We have experienced partners such as the Range of Motion Project (ROMP) in Guatemala, or Limb Care Nepal Pvt in Nepal. By working through professional clinicians we can ensure the highest quality of care. VHP creates the prosthesis designs with a team of engineers in Victoria, Canada, and distributes the base-designs digitally to all partners. We go on-site in countries to set up a 3D Print Center (equipping it with 3D printers, 3D scanners, equipment & tools, computers and software), and then provide training on printing, assembly, and fitting of the Victoria Hand system. With all our international partners, on-going support and updates are provided over the long-term.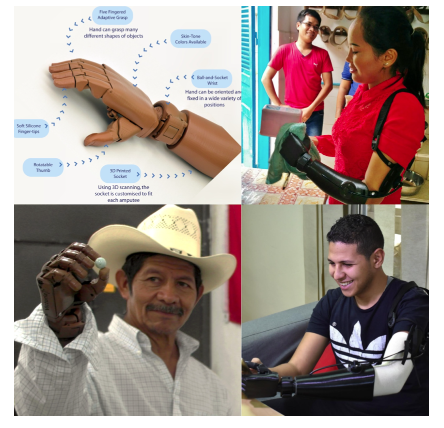 Donate to Victoria Hand Project
---
LimbForge provides software tools that enable clinicians to maximize their time and help more people, providing extremely affordable prosthetics. Addressing the global shortage of prosthetics professionals while also lowering materials and equipment operation costs, our software simplifies access and delivers ultra lightweight, culturally-appropriate, customized prosthetics to the people who need them most. A successful prosthetic is the beginning of a life-long process. As patients age, change their jobs, weight, and activities, they require access to trained clinicians and new devices. LimbForgeR builds capacity by providing tools and creating a network of trained clinicians and non-profit humanitarian groups committed to sustainable care systems. At LimbForgeR, we see prosthetics as one of the greatest human-centered objects of all time: a prosthesis must empower its user both physically and emotionally, reflecting their experiences, culture, wants, and needs.