3D Web Fest

Wednesday, June 15, 2016 from 4:00 PM to 9:30 PM (PDT)
Event Details
The Shift Is On.
3D Web Fest kicks off on June 15th, and you're invited to take part in the festivities. The Festival Pavilion at Fort Mason Center for Arts & Culture (2 Marina Boulevard) is our meeting spot for a night of fun and excitement. RSVP
Program
Wednesday, June 15, 2016
4:00 Early access to exhibit hall at Autodesk Forge DevCon.
6:00 Welcome Reception Drinks & Snacks 
6:30 Theater Opens
7:00 Show Starts - Lasts 2 hours with 15-minute intermission 
9:00 Post-Show Reception - Drinks & Networking
Following the program attendees are invited to participate in a short panel session with the performers on the future of the 3D Web including audience Q&A.  You are then invited to mix and mingle with other industry leaders and influencers at the after show party. Stay tuned for more announcements @CODAME
About The 3D Web Fest
Experience the most innovative commercial, non-commercial, experimental or game-based projects by top thought leaders, influencers and creators in 3D Web. The festival showcases websites that are the best mixture of music, art and technology, and exhibit what is possible with the advent of 3D Web. Come one, come all, bring a guest, and hang loose. You can find out more on 3dwebfest.com
Special Guest
DrinkBot will make a presence. The Dress allows its wearer to decide who to serve a shot to (and who to leave dry). We invite everyone to give it a shot! A project by CODAME labs director Anouk Wipprecht 
Sponsors
Special thanks to the 3D Web Fest Team and Autodesk. All attendee ticket fee's go direct to CODAME in support for our ART+TECH program.
To become a sponsor contact us.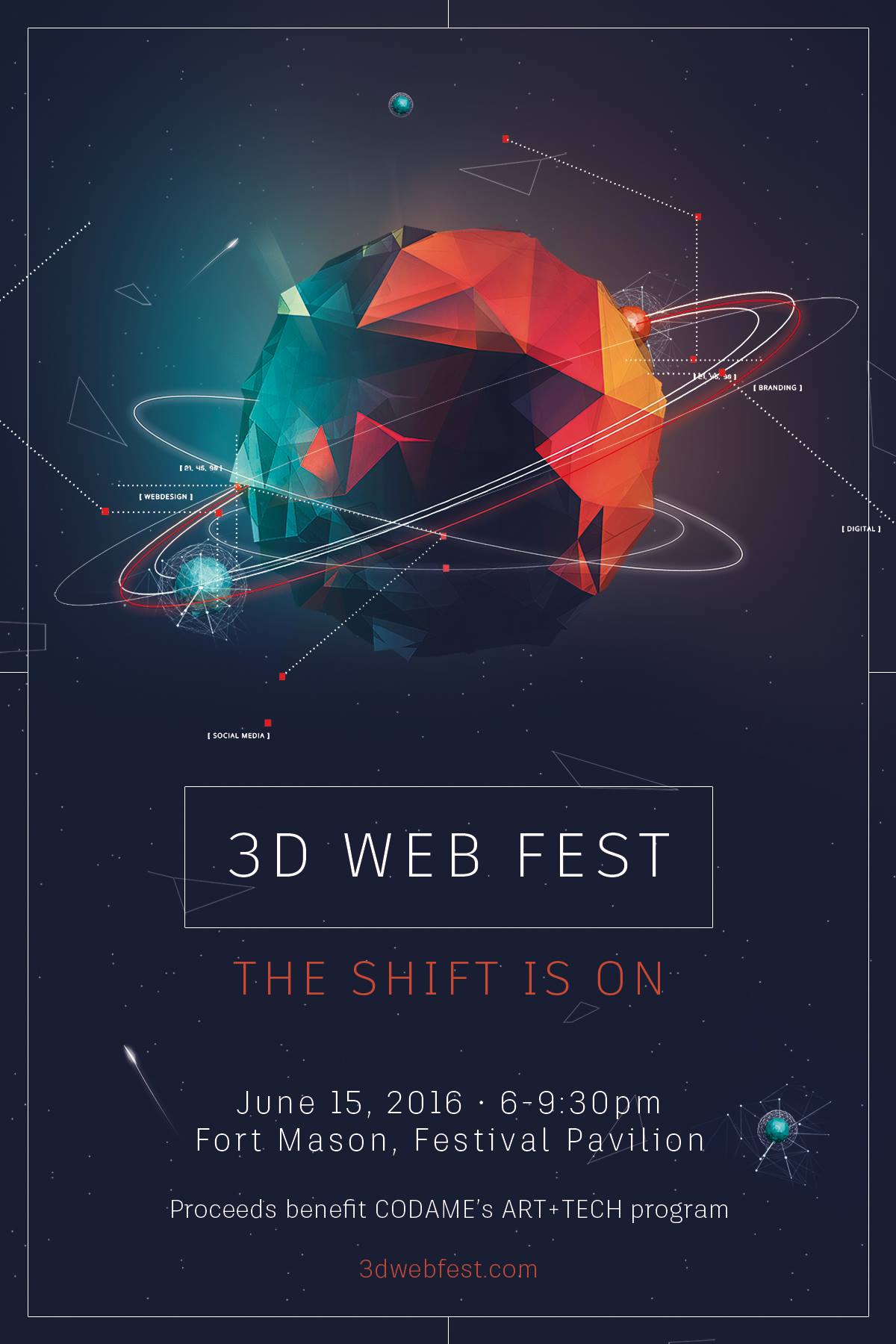 Artists
Marpi, Isaac Cohen, Travis Bennett, Michael Chang, Jason Marsh, Jaume Sanchez, Edan Kwan, Felix Woitzel, David Paul Rosser, Arash Akbari, Xiaohan Zhang, Josh Staples, Tarek Sherif, Augusto Goncalve, Andrew Ray and Brendon Smith.
 Travis Bennett - kineviz.com
 Michael Chang - minmax.design
 Jaume Sanchez - clicktorelease.com
 Felix Woitzel  - cake23.de
 David Paul Rosser - ivxvixviii.io
 Arash Akbari - arashakbari.com
 Xiaohan Zhang - hellochar.com
 Josh Staples - blog.tempt3d.com
 Tarek Sherif - tareksherif.net
When & Where

Fort Mason - Festival Hall
2 Marina Blvd
San Francisco, CA 94123


Wednesday, June 15, 2016 from 4:00 PM to 9:30 PM (PDT)
Add to my calendar
Organizer
ART+TECH projects and nonprofit events, to inspire through experience. 
50+ projects built in collaboration with tech+artists around the globe
60+ events since 2009
200+ tech+artists featured
20k+ top-industry community of engineers, designers and artists 
/// MISSION
Embracing innovation through creativity, play, and collaboration between artists and technologists. We build immersive, engaging, out of the ordinary experiences by:
Playing together with artists, coders, designers, game developers, creators, performers and musicians.
Celebrating creativity by curating magic-inspiring experiences that combine art with technology.
Inspiring entrepreneurs, innovators, startups and companies by injecting creativity into organizations. 
/// NON PROFIT
As members of Intersection for the Arts, a 501(c)(3) org. we are accepting tax deductible donations. 
// SUPPORT ART+TECH
With the support of like-minded partners we plan to triple our numbers and bring the San Francisco innovative, independent, and creative spirit of CODAME around the world. Support us or just Get in touch
/// CORE TEAM
Commodore (in-Chief) @BrunoFonzi
Amiga (Guru Meditation Handler) @staRpauSe
Atari (Artist Canvas) @Mexist
Spectrum (Ultimate Disco) @Irene86g 
Cray1 (TechArt Ninja) @KKoechley
Gravis Ultrasound (Media Munger) @AniMusicSF
JUNO-60 (Markup Master) @Gridwalk 
Beta-23 (Ops Guru) @Al_Dominguez
… and more than 100 amazing artists and volunteers…