Description
Cyant and Women in 3D Printing are presenting #3DTalk, an industry specific and educational event series focused on 3D printing and related technologies, and featuring leading women in the industry. #3DTalk panels are open to everyone: men and women, kids and adults, novice and experts in 3D Printing. Monthly events are organized in San Francisco, New York area, Paris, France and other locations around the world all year long.

Learn more about #3DTalk, our past and future events here.
This #3DTalk will focus on an exciting application of 3D Printing in Healthcare: visualization, education and planning. The panel will discuss how 3D printing is enabling new opportunities for medical professionals in this field, and outcomes both for the patients and for the medical community.

AGENDA
6:00-6:30 Registration + Reception
6:30-6:45 Introduction by co-organizers Barbara Hanna
6:45-7:45 Panel and Q & A

7:45-8:30 Networking
Thanks to the Skirball Institute at the NYU Langone Medical Center for hosting us!
Thanks to our media sponsors: 3DPrint.com! 3DPrint.com will be holding an upcoming medical and dentistry seminar, to learn more visit Addive Manufacturing Strategies!

PANELISTS

Dr. Carrie Stern is the founder of MirrorMe3D, a New York based start-up that provides patient specific 3D printed models to plastic surgeons. Dr. Stern attended medical school at New York University School of Medicine and is currently completing her plastic surgery residency at Montefiore Medical Center in New York. She will be doing a Microsurgery fellowship next year and plans to focus her practice to complex reconstructive plastic surgery She has over 40 publications in peer-reviewed journals, 70 presentations and has been an invited speaker at numerous conferences worldwide. Much of her research focus has been on 3D technology in plastic surgery.

Nicole Wake, a PhD candidate in biomedical imaging at the Sackler Institute of Graduate Biomedical Sciences at NYU School of Medicine, is investigating the intersection of magnetic resonance imaging (MRI), 3D printing, and medical practice. She has coupled MRI data with a range of 3D printing technologies to create individualized anatomically precise cancer models for pre-operative planning. She is using these models to guide clinical care and is investigating the impact that these models can make in pre-surgical planning and patient outcomes.

As VP Medical Devices, Healthcare, 3D Systems, Katie Weimer leads the company's Denver healthcare operations, specializing in Virtual Surgical Planning (VSP®), 3D printed medical devices and patient-specific anatomical models, surgical guides and templates. Katie joined Medical Modeling in 2008 (acquired by 3D Systems in 2014), and is passionate about enabling better healthcare through innovative technologies. Katie received her master's degree in mechanical engineering from the University of Missouri-Kansas City, and writes and speaks frequently on her expertise in personalized surgery.

MODERATORS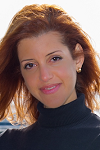 Barbara Hanna, PhD is the founder of Cyant. Barbara is a Technologist and Entrepreneur passionate about fostering technology that educates, empowers and/or connects individuals. Cyant connects art and technology to foster learning, creativity and engagement through 3D modeling and design products and experiences. With a B.Eng. / M.Eng from the University of Cambridge, UK, and a Ph.D. in Computer Vision from the University of Surrey, UK, Barbara has worked in a range of technology areas, from computer vision and real-time video-processing applications, to, more recently, mobile development and 3D printing.

Nora Toure is an Additive Manufacturing expert and engaged in inspiring women to embrace Tech. careers in the 3D Printing industry. She started her career in the Additive Manufacturing in 2010 by joining online 3D Printing service leader, Sculpteo. Nora founded Women in 3D Printing in 2014 to feature women leaders in the Additive Manufacturing industry through interviews and portraits.Pursuing her vision for more social inclusion, she recently joined 3D Africa as Board Advisor. As part of her vocation to contribute to the development of the industry, Nora is also Board Advisor for 3DHeals.